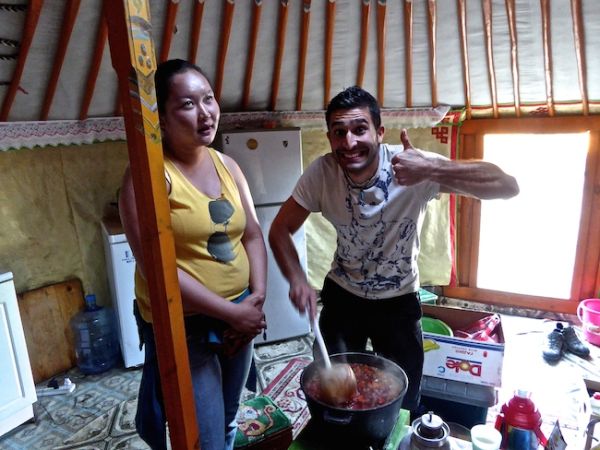 Mongolian food is influenced by the extreme climate. Winter temperatures drop to -40°C and then rise to +50°C during the summer.
Due to the extreme climates, it is difficult or impossible to grow anything. Chicken cannot survive the extreme temperatures, so they are imported. Fruit and vegetables are also imported and are generally very expensive. One of the nomadic families we stayed with told us that fruit and vegetables are considered "unmanly" and traditionally used in Mongolia as food for the animals. Not the best destination for vegetarians or vegans!
Mongolia is also landlocked, so no sign of fish anywhere else.
Therefore, the traditional Mongolian food and drink is based on meat and animal fats, in particular mutton and beef, crops like wheat, barley, oats and potatoes, and a variety of dairy based products.
Mutton mutton and more mutton!
The most common nomadic Mongolian food is mutton, a staple for most foods in rural Mongolia.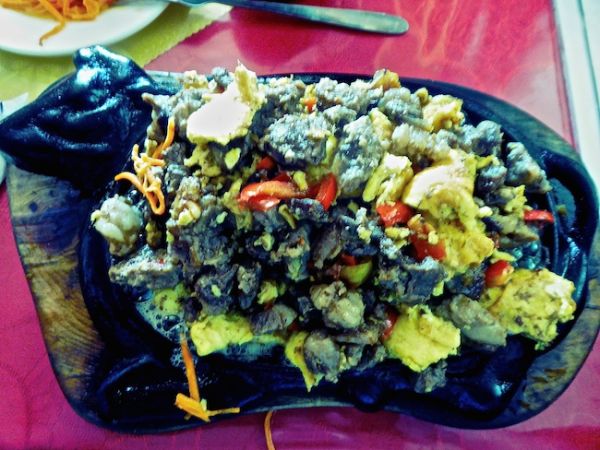 Mutton is eaten with rice ("budaatai huurg"), with freshly made noodles ("tsuivan") or in a soup ("guriltai shol").
Mutton is very fatty meat and he fat commonly served in high quantities. Mongolians love their fat and it is traditionally eaten in high quantities to help survive the extreme winters. We would commonly pick these out to the disgust of the Mongolians around us.
Khorkhog
Khorkhog is a Mongolian barbecue, the recipe for which involves using hot stones in a closed pot fr around 1.5 hours with some vegetables (usually carrots and potatoes). The hot stones help pass heat and therefore cook the meat better.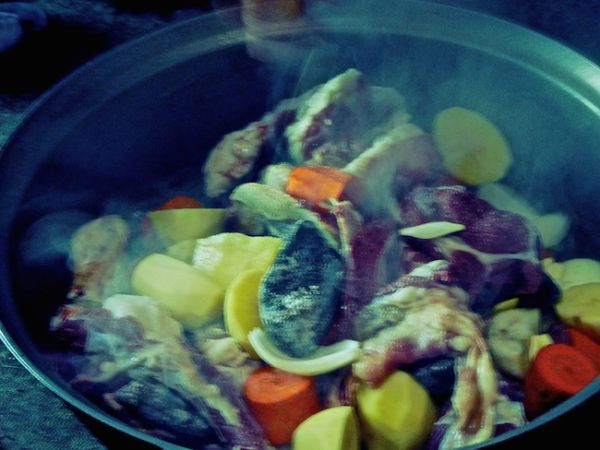 Mongolian nomadic families usually cook khorkhog in a cast-iron or aluminium pot on a small stove in their ger. Wood is used as fuel or dry animal dung fuel (called "argal"):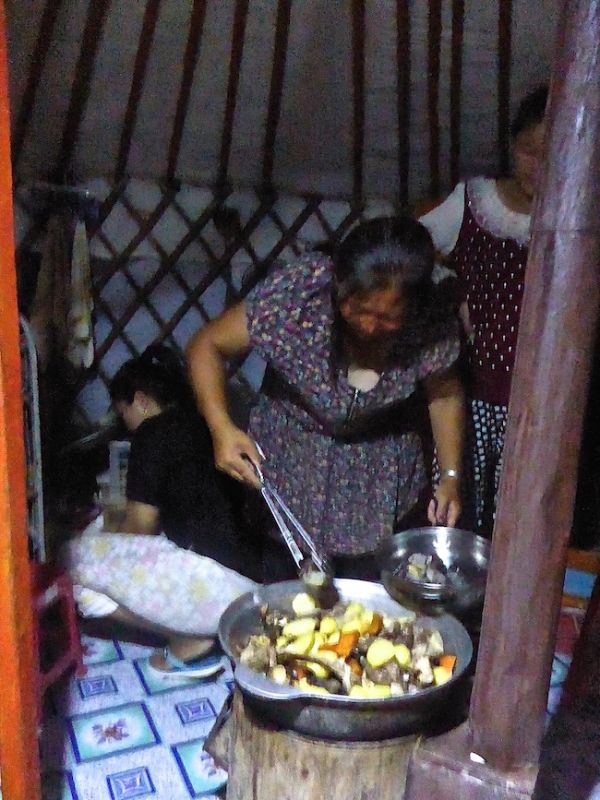 Khorkhog is usually made on special occasions. Therefore, the less used goat meat is preferred over mutton: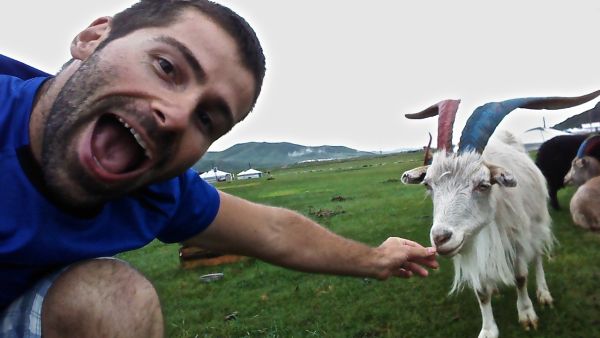 During our tours in Mongolia, we were fortunate to help prepare and then eat khorkhog with the nomadic families we stayed with. Stefan as ever, taking particular care to assist wherever possible in his effort to try to charm the nomadic families:
Khuushuur
Khuushuur are fried meat dumplings usually associated with Naadam but eaten throughout the year. The most common meat used is mutton, of course!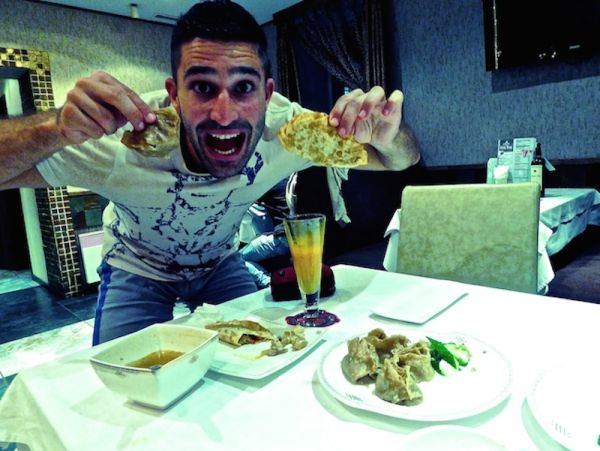 At the Naadam Festival in Ulan Bator, there were a large number of stalls selling freshly made khuusuur which were snapped up in high numbers by locals gathering to watch the games. These khuushuur were made with the mutton grease dripping off, so we were only able to have a few before calling it a day.
Whilst living with the nomadic families during our tours through Mongolia, we again made considerable effort to assist with the preparation of home made khuushuur: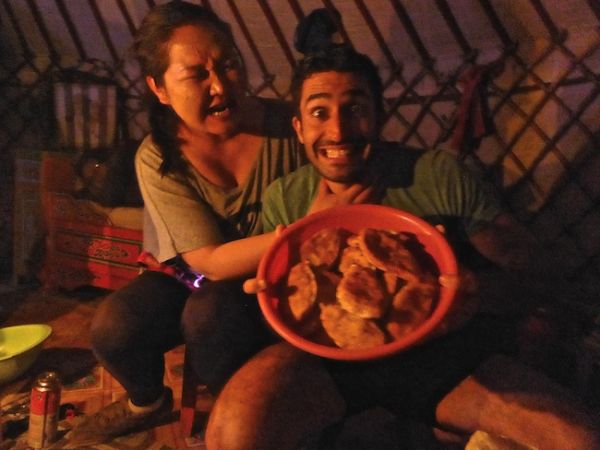 Buuz
Buuz are steamed dumplings with minced meat flavoured with onion, garlic, salt and sometimes with mashed potato, cabbage or rice. Guess which meat is commonly used? (Sometimes beef is used as an alternative to mutton).
Buuz are eaten a lot during the Mongolian New Year celebrations in February called, "Tsagaan Sar" but are common throughout the year as we found: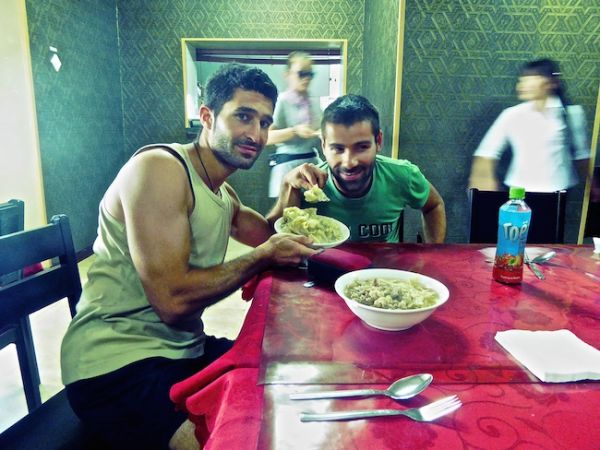 Dumplings are sold everywhere in Mongolia and signs restaurants advertising "Бууз" (buuz) and "хуушууp" (khuushuur) are a common sight: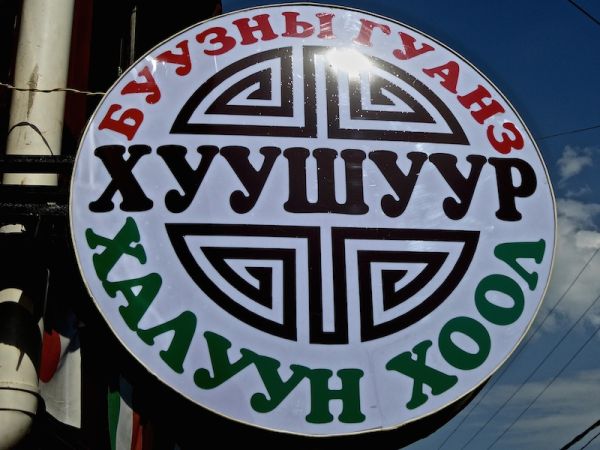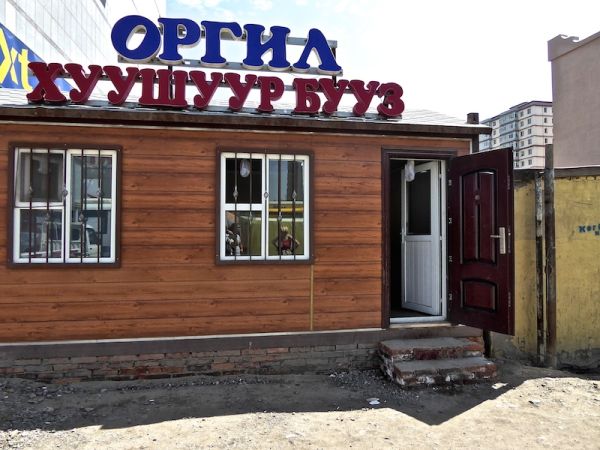 Overall, we quite liked Mongolian food, especially getting stuck into the khorkhog we helped cook when staying with nomadic families. However, after almost an entire month of eating mainly mutton based dishes, we started to crave chicken, and especially fruit and vegetables.