Daal Bhat Daal Bhat Baal Bhat…
That was what 'everyone' told us you would expect from Nepalese food.
Ok, so it's true, this delicious and wholesome lentils/rice based meal is popular in Nepal, but there are a lot of other lovely treaties in Nepal to get a foodie excited.
#1

DAL BHAT

First up the famous Nepalese staple is "Dal Bhat". Dal means lentils and Bhat is rice. Traditionally you will get for around £2-5 (depending on type of restaurant and location) a delicious 'dal bhat set', comprising: lentils soup, rice, pickles, spinach, vegetable and/or meat curry.

Dal bhat is popular throughout the mountain regions of Nepal. Trekkers at high altitudes are encouraged to eat dal bhat for each meal (lunch and dinner) to help with the altitude (ie and avoid fatty foods). The phrase "dal bhat power 24 hour" is commonly used in the trekking community in Nepal.

We took a cooking class in Kathmandu where we learnt to make this delicious recipe for dal bhat. Each recipe varies slightly in the spices used, the quantities and types of ingredients. Therefore, eating daal bhat twice a day for a month is not a bad thing at all. A replacement for lentils is "gundruk" – a fermented, very tasty leafy green vegetable.

However, after eating dal bhat almost twice a day for a month, we instead found that dal bhat was instead responsible for a less odour friendly power, almost 24 hours…!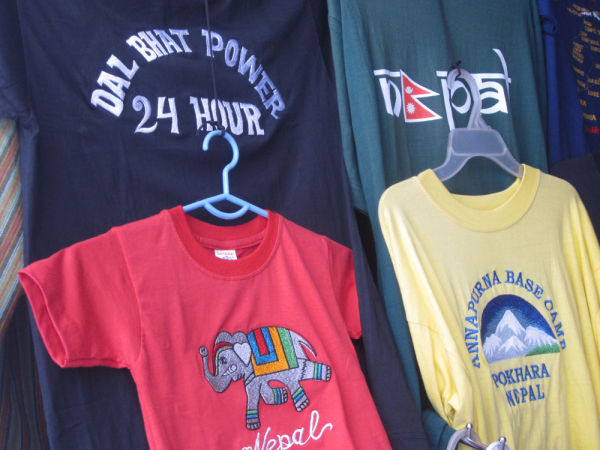 #2

MOMOS, NEPALESE DUMPLINGS

Momos are dumplings popular in Nepal, Tibet and also in parts of North India.

They are steamed and similar to steamed Russian vareniki dumplings, and also to Chinese steamed dumplings. However, Nepalese momos are distinct because they have that curry flavour 'kick' to them – they are cooked with a variety of delicious spices, making them unique: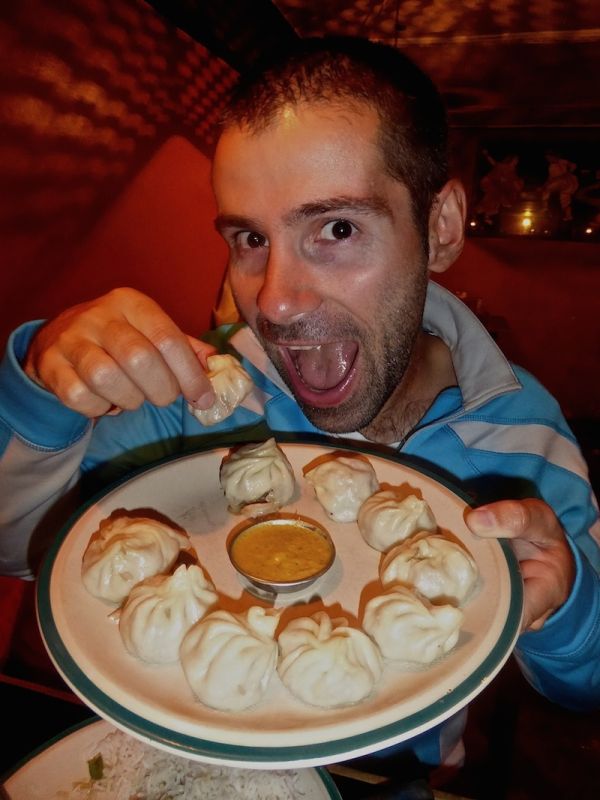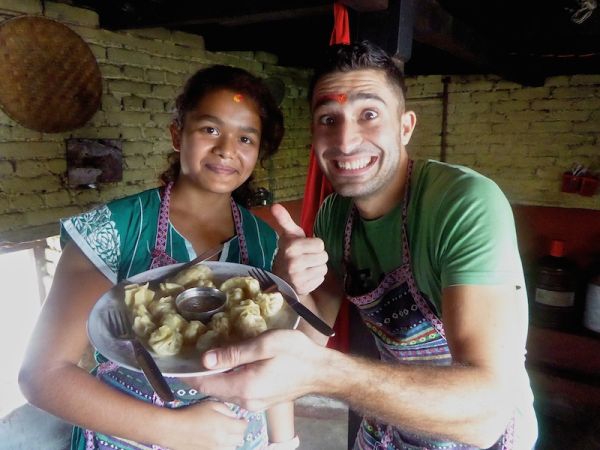 We learnt to make vegetable dumplings as part of our cooking course in Kathmandu: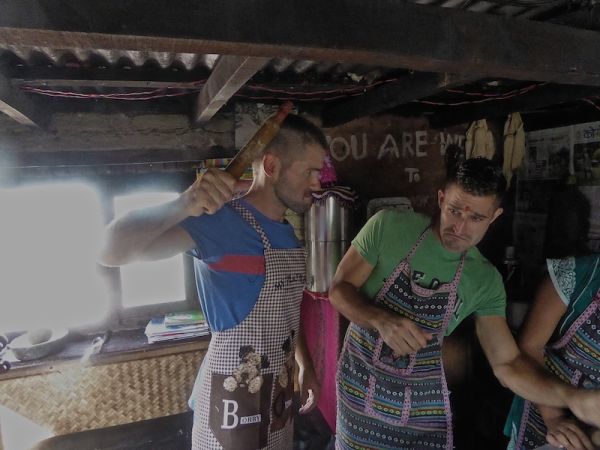 #3

DHIDO

Dhido is literally a lump of cooked dough (boiled in water) and served with curry. It has a halva like consistency and made from wheat, corn flour and buckwheat, then cooked in water.

It is very heavy and even we struggled to finish our plate of dhido: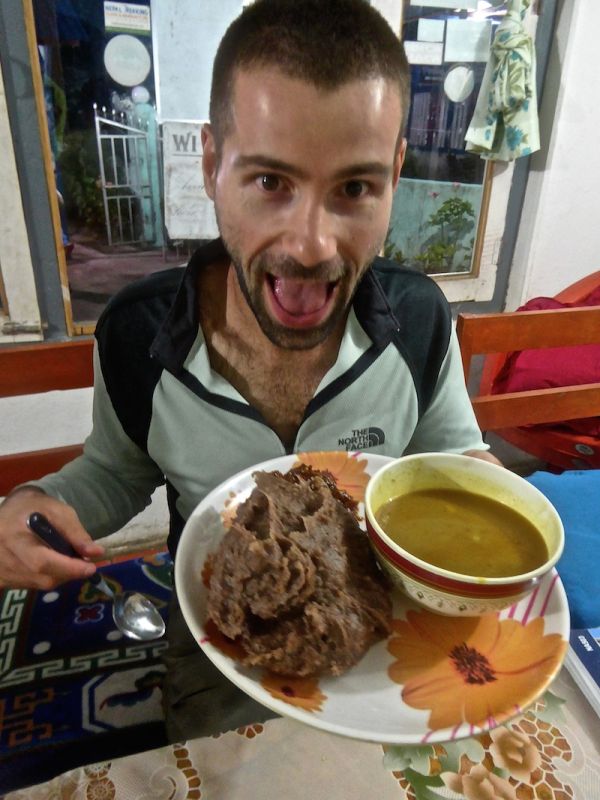 #4

KHEER – NEPALASE RICE PUDDING

Kheer is rice pudding milk based dessert popular in Nepal. It is a delicious pudding to satisfy a sweet tooth after a hearty curry.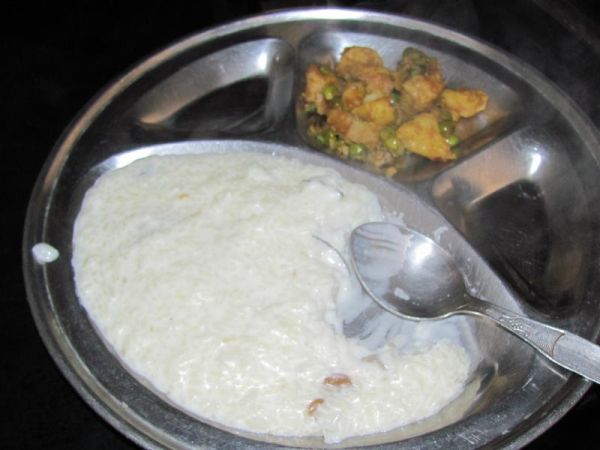 We learnt to make Kheer as part of our cooking class in Kathmandu.
Kheer is similar to European rice pudding but with the addition of spices like cinnamon, cardamon, fenugreek and cloves.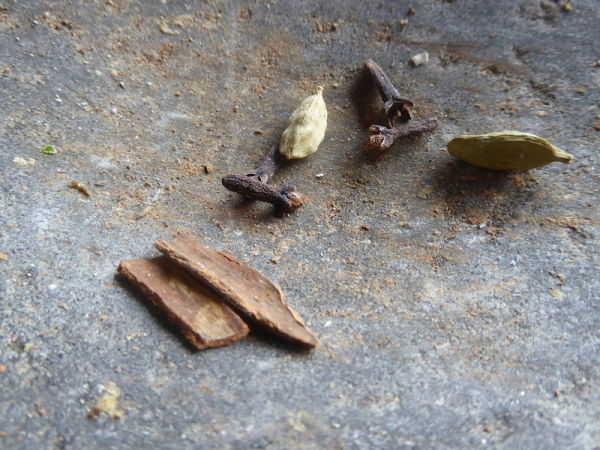 #5

SEL ROTI – NEPALESE SWEET BREAD

Sel roti is a flour based Nepalese desert. It is effectively sweet bread which is deep fried to produce a ring shaped treat.

We learnt to make sel roti as part of our cooking class in Kathmandu.

It is usually prepared during Tihar (a Hindu festival in Nepal, similar to Diwali, celebrated usually in October time).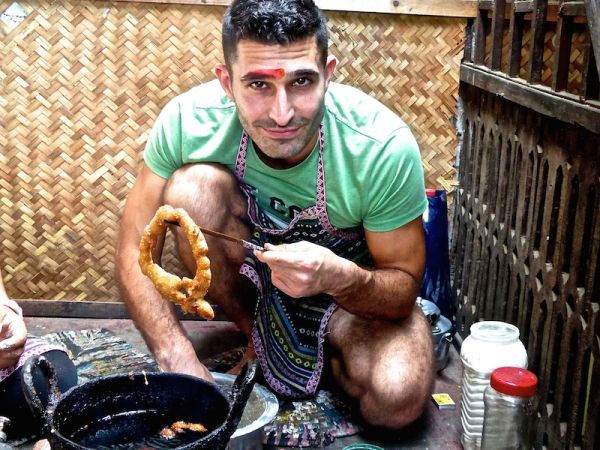 #6

GARLIC SOUP

Struggling with the altitude? Mountain locals will recommend you eat plenty of hearty Garlic soup. It's tasty, almost creamy, and obviously very garlicky (one of Stefan's favourite flavours):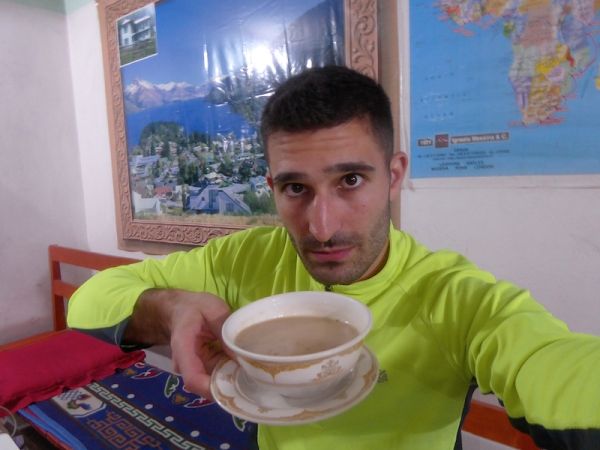 #7

YAK CHEESE

Yaks are popular throughout the mountain regions in Nepal: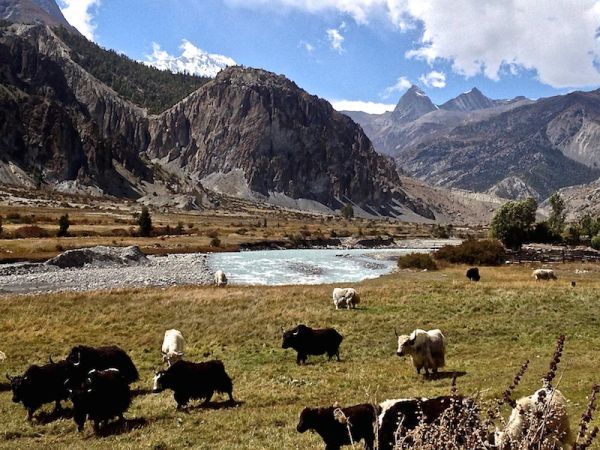 Yak meat is a popular (and very chewy) meat. More popular however are yak dairy products, particularly, yak cheese: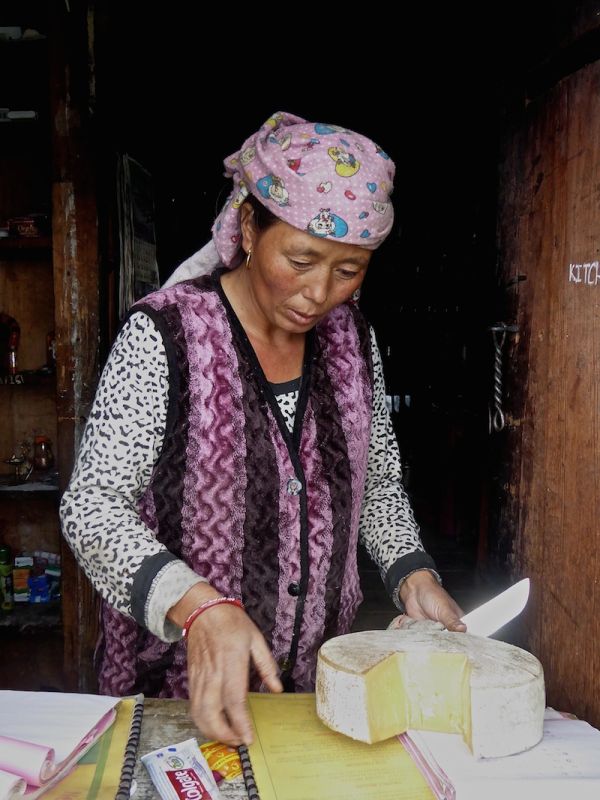 We tried yak curd in Mongolia and were not big fans of it. But Nepalese yak cheese is much different and very tasty, almost like French Comte.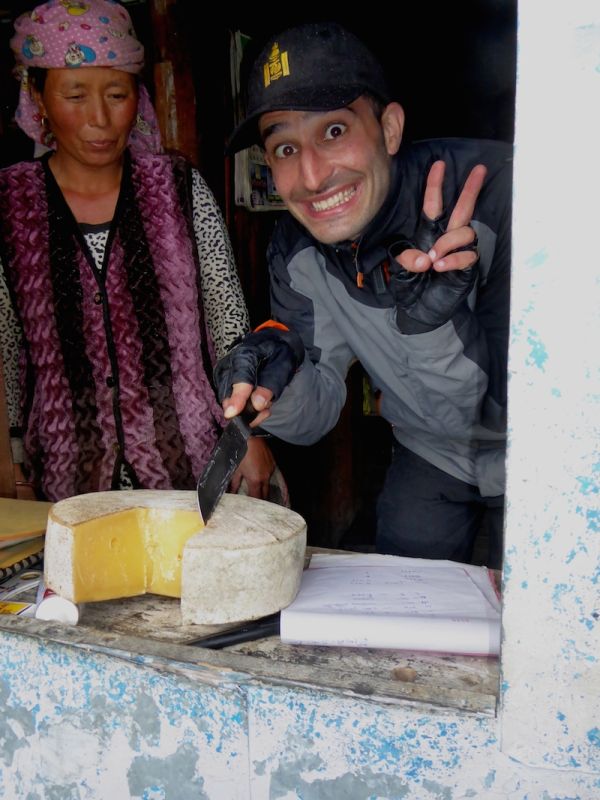 #8

VEGETARIAN CUTLET

Vegetarian Nepalese food in the mountains is the best option, particularly vegetarian daal bhat.

Meat is expensive and not easy to import to high altitudes; yak are more commonly used for their dairy products.

There are many vegetarian alternatives to daal bhat, like chow mein stir fries, or this very cute vegetarian cutlet we commonly saw on menus: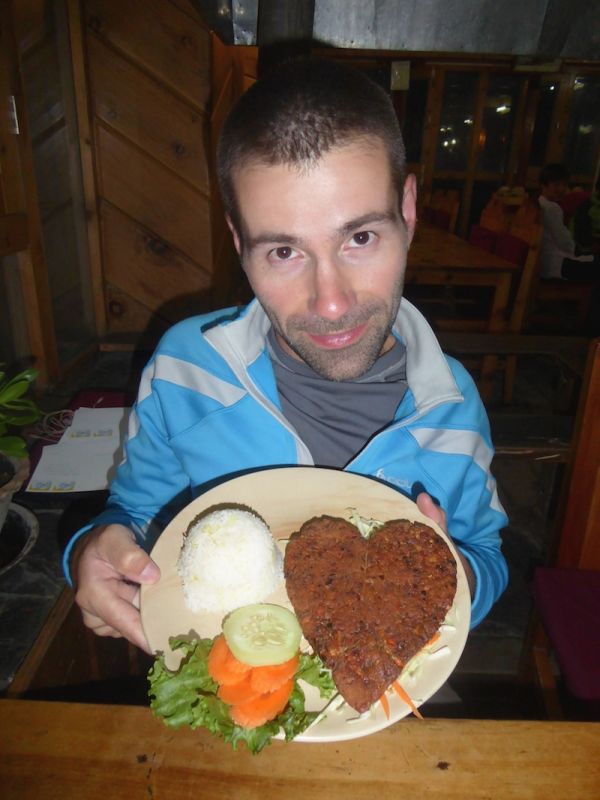 #9

FRUITS

Being health conscious we always try to ensure we have a daily intake of fruit. Obviously this gets harder at high altitudes but not impossible.

Small oranges are popular as are small thick green bananas are popular in the mountains. At first they look like really unripe bananas. But, they are in fact sweet and very ripe.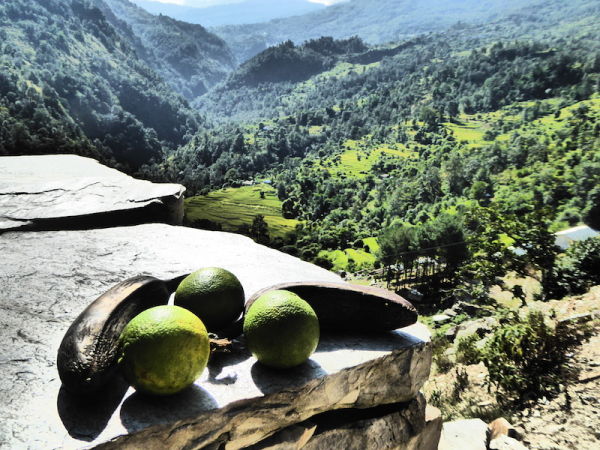 Apples trees are common throughout the mountain regions and can be found throughout the many trails:
#10

APPLE PIE

The Annapurna trek is nicknamed 'the apple pie trail'. There are many apple trees in the mountain areas, which means lots of very tasty apple pie snacks for these two greedy boys: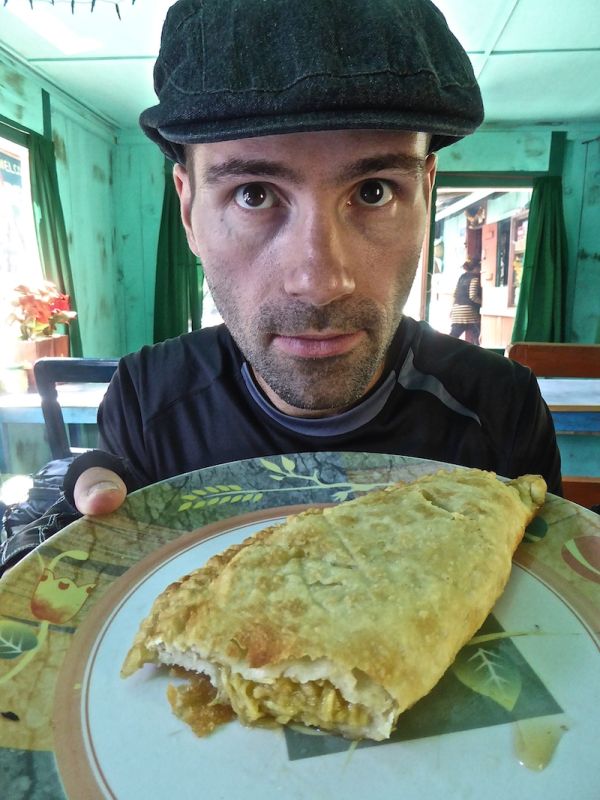 #11

LEMON AND GINGER HOT DRINKS

In almost every menu in Nepal we found lemon and ginger hot drinks listed as a popular drink, usually served with honey.

We found these drinks particularly common throughout the Annapurna trek and were frequently told they helped with altitude sickness.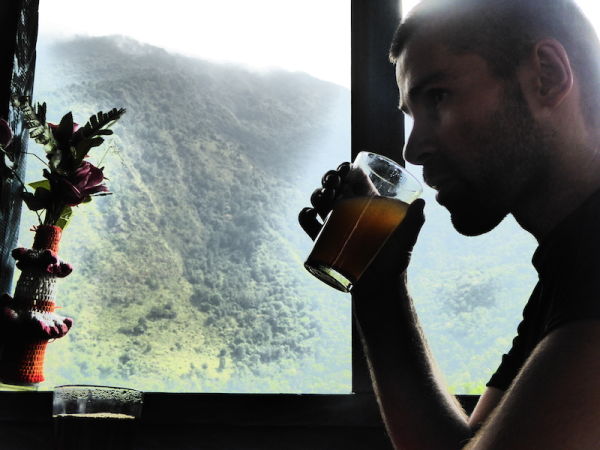 #12

TOILET CLEANER (IE COCA COLA)

As a ground rule we do not like or drink Coca Cola. Coca Cola drinks are commonly known to be bad. One study showed that coca cola drinks make an effective toilet cleaner.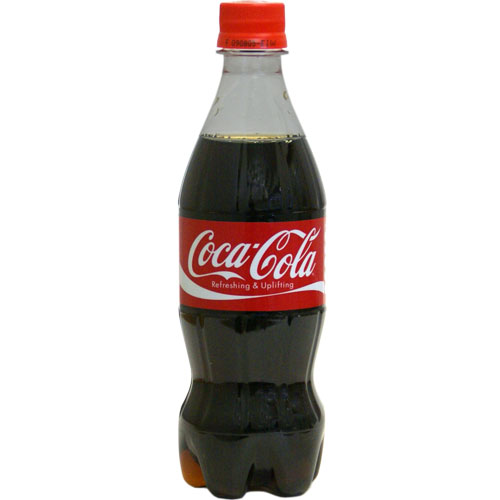 But, at High Camp on the Annapurna trek at 4,800 metres altitude, one of the altitude sickness symptoms we had were headaches. Our guide advised us to drink Coca Cola in small frequent sips (along with plenty of water). After several arguments about this, we agreed…and it really worked!
So, Coca Cola gets a mention here.
#13

NEPALESE BEAR

And why not? After an exhausting two weeks of intense trekking in the high altitudes, a cold Nepalese beer is in order isn't it?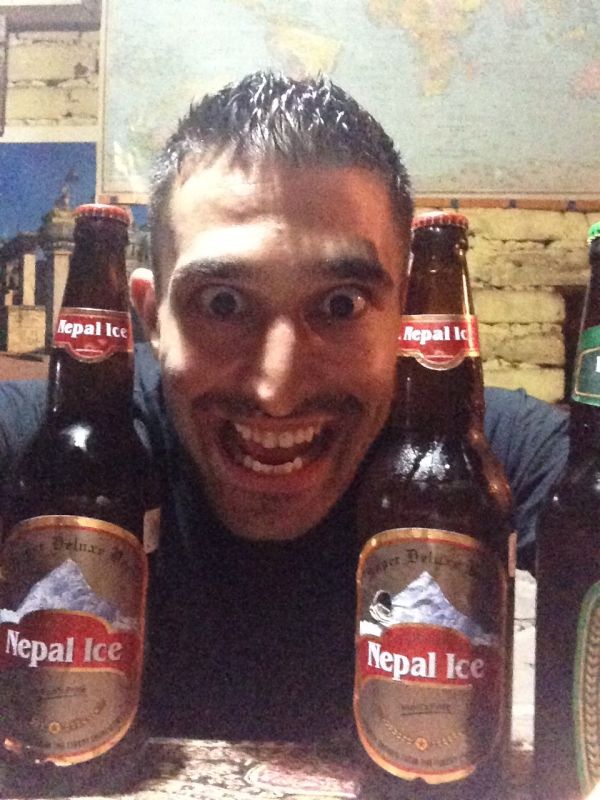 Watch more from our travel in Nepal in our awesome video: