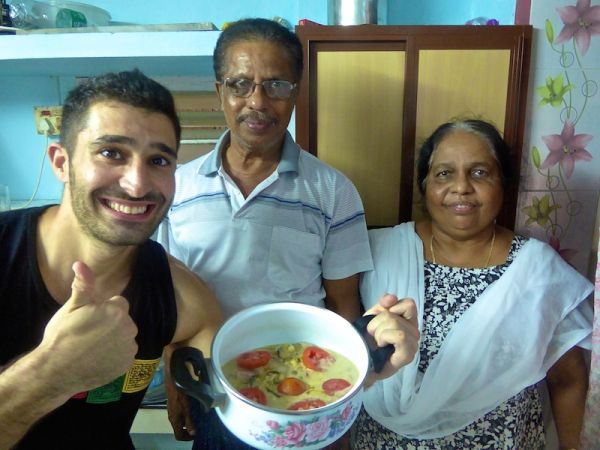 Fish Molee is a popular dish in South India, commonly served at large family gatherings, particularly at weddings.
Molee means 'stew' and the fish is marinated in a spicy coconut mixture. It is served with
palappam
(a type of pancake made with fermented rice batter and coconut milk).
Ingredients to make south Indian fish Molee
500g of white fish (like haddock) cut into small 4cm pieces
2 onions sliced
1 tablespoon of fresh crushed ginger
3 cloves of crushed garlic
3 sliced green chillis
10 curry leaves
4 cardamom
4 cloves
1 cinnamon stick
3 sliced tomatoes
Half teaspoon of turmeric powder
2 teaspoons of chilli powder
around 4 tablespoons of tamarind fruit
150ml of boiling water
200ml of coconut milk
1 teaspoon of salt
1 tablespoon of coconut oil for cooking (alternatively use canola or vegetable oil)
How to make south Indian fish molee
Prepare the tamarind juice: place around 4 tablespoons of tamarind fruit in a bowl and with enough water to cover. Squeeze the fruit in the liquid so it comes off the stone, disregard the stones and let it rest.
Heat oil in a pan and add mustard seeds. Cook uncovered on a high heat until they start to pop.
Add the curry leaves, chopped onions and sliced green chillis and continue to cook uncovered but on a medium heat.
Once the onions start to soften (after around 5 minutes), mix in the chopped garlic, ginger, half teaspoon of turmeric, 2 teaspoons of chilli powder, around 4 tablespoons of the tamarind liquid (adjust according to preference) and a teaspoon of salt.
Cook for a further 2 minutes on a medium heat, uncovered.
Reduce heat to a low simmer and mix in half of the coconut milk (100ml) and 150ml of boiling water. Cook for 2 minutes on a low heat.
Add the pieces of fish and continue to cook on a low heat for 5 minutes.
Add 1 of the sliced tomatoes and the remaining 100g of coconut milk and cook for a further 5 minutes on a low heat.
Remove pan from heat, garnish with the remaining 2 sliced tomatoes and serve hot with palappam.