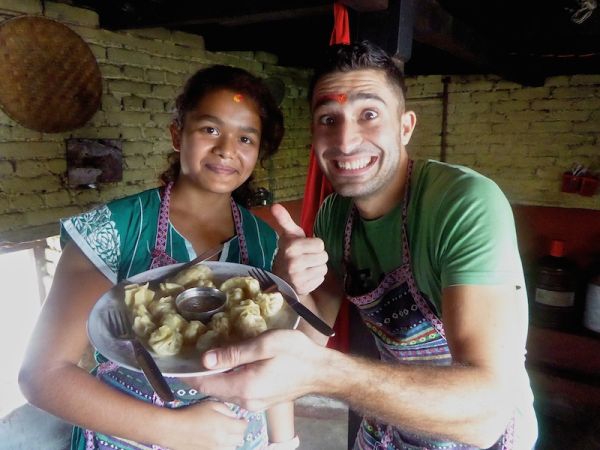 Momos are Nepalese steamed dumplings also popular in Tibet.
They are served with a spicy, tasty sauce for dipping. They can be vegetarian or meat based.
This is the recipe for vegetarian momos and the dipping sauce, which we learnt from the Nepalese Cooking School in Kathmandu.
This recipe uses Momo Masala sauce. This is a powder comprising a mix of coriander chillies, cardamom, fenugreek, cassia, turmeric cloves, cumin, dried ginger, cinnamon, mace, garlic and black pepper.
Ingredients for momos
1 cabbage
1 raddish
1 carrot
1 potato
500g of wheat flour
water (1-2 litres as needed to get the dough consistency right)
2 teaspoons of turmeric powder
salt
vegetable oil for cooking
1 teaspoon of cumin seed
a steamer to steam the momos
2 tablespoons of Momo Masala sauce (if you have it):
How to make vegetarian momos
1. Grate all the vegetables (cabbage, raddish, potato and carrot) for the momo filling and squeeze out all the juice. Put the vegetables in a separate bowl to use later.
2. Make a dough by mixing the wheat flour and water. This is the tricky part as you want to get a dough which is not too sticky (add more flour if it sticks) but being very subtle with the amount of water you add. Add the water to the flour very slowly, kneading it in thoroughly. The test for the dough is that when you touch it it springs back and does not stick to your finger.
The dough should look something like this:
3. And add required amount of salt and 2 tablespoons of momo masala sauce.
4. Heat 2 tablespoons of vegetable oil in a frying pan and fry a teaspoon of cumin seeds for a few minutes:
5. Add 2 teaspoons of turmeric powder then remove from the heat.
6. Add the oil, cumin seeds, turmeric powder mixture to the vegetables prepared earlier and mix it all together.
7. Retrieve the dough, add a pinch of flour and prepare a work top area to roll out the dough – flour the work top area.
8. Cut small chunks from the dough and roll them out into large circle and use a small shots glass or small drinking glass to make circular shapes:
9. Separate these smaller circular shapes out and put half a teaspoon of filling into the centre.
10. Close the momos up by pressing each side together. Doing this way will make ear shaped dumplings. There are more elaborate ways to close the dough together, but for us amateurs, this simple way of closing them shut worked just fine!
11. Boil water at the bottom of a steamer and put oil in all sheets of the steamer so the momos will not stick to it.
12. Steam the momos for around 10-15 minutes.
Ingredients for Momos dipping sauce
1 boiled tomato
1 tablespoon of toasted sesame
1 teaspoon of salt
6 seeds of Sichuan pepper
1 small piece of ginger
2 cloves of garlic
1 chilli (use less to make it less spicy)
2 tablespoons of hot water
How to make the Momos dipping sauce
1. In a grinder, mix the salt, chilli, ginger, garlic and Sichuan pepper seeds.
2. Add the toasted sesame seeds and grind it to make a paste.
3. Add the boiled tomato and continue grinding the mixture.
4. When it's all mixed together add 2 tablespoons of hot water and serve.