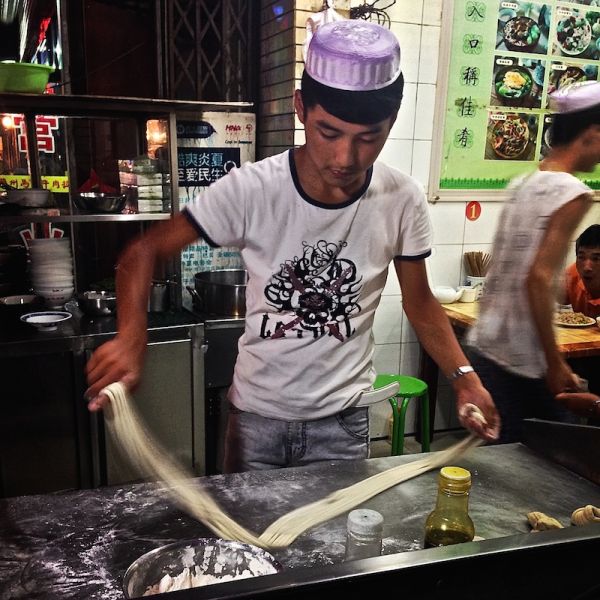 Xi'An is a former capital city of China (called, "Chang'an") and today famous for the Terracotta Army.
The Muslim Quarter in Xi'An (Beiyuanmen Street) is a real paradise for foodies. A walk the Muslim Quarter was one of our favourite food memories of our travels so far. Street sellers make fresh noodles, dumplings and a variety of other mouth watering delights right in front of you.
This made these two greedy boys very very happy!
Barbecued meats in Xian's Muslim Quarter
There are a large number of small stalls selling barbecued meats ranging from tofu to very tasty lamb: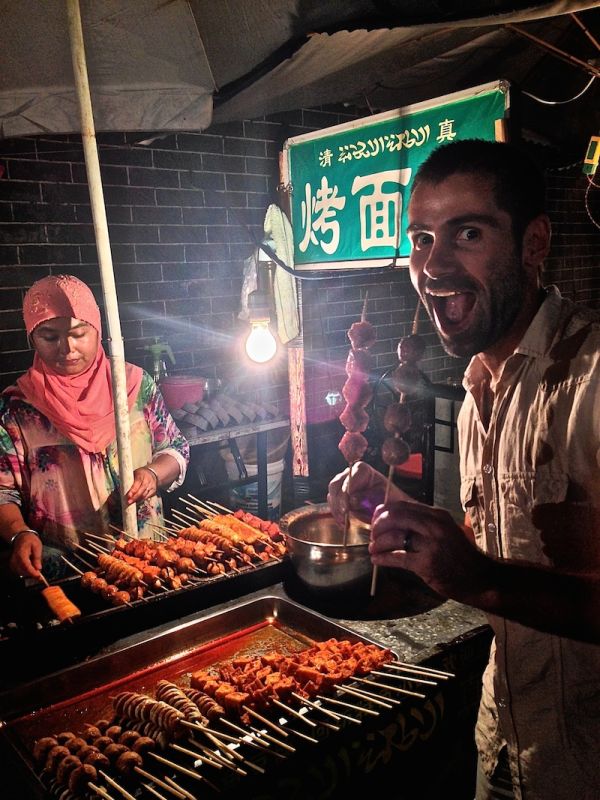 Hand pulled noodles
There are a number of small shops in the Muslim Quarter dedicated to making freshly made hand pulled noodles.
As well as being very tasty, it is a lot of fun watching them being made:
Tasty deserts in the Muslim Quarter
There are a large number of stalls selling yellow glutinous rice deserts called, "gui hua gao". These are made from sticky rice with a sweet syrup drizzled over it and filled with a delicious red bean paste: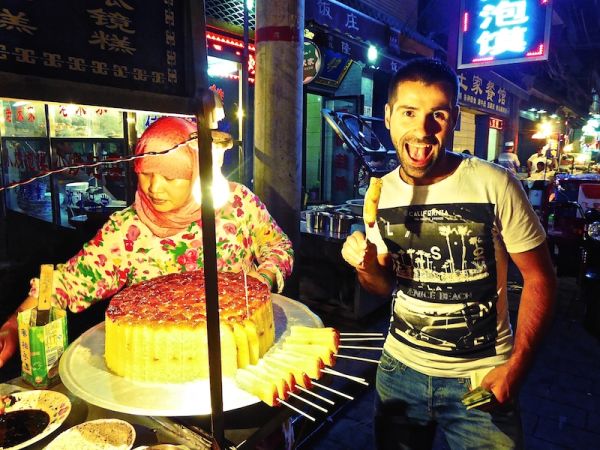 Steamed dumplings
Dumplings are popular throughout Asia, but the steamed dumplings we tried in Xian have so far rated as the best. They were made on the spot and this basket of heaven was just 10 yuan (around £1):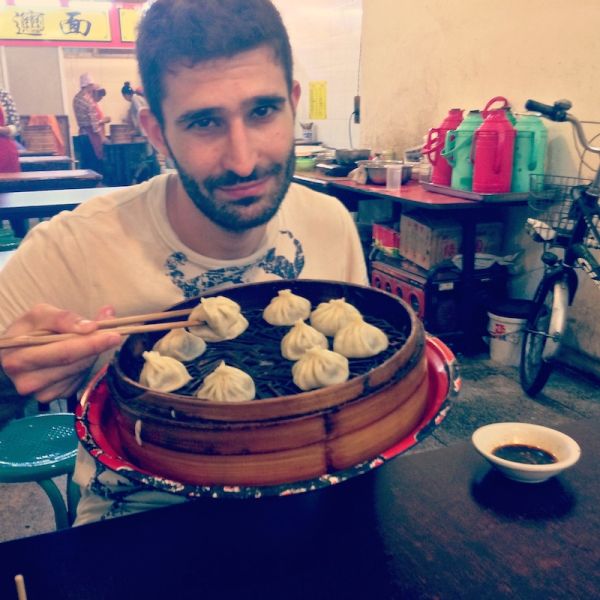 Yangrou Pao Mo (crumbled bread in lamb stew)
"Yangrou Pao Mo" is a crumbled pancake or bread pieces in lamb stew and one of Xi'An's traditional and popular comfort foods.
The restaurants in the Muslim Quarter traditionally serve it by first giving the customer a hard pancake (or hard stale bread) to crumble into their bowl. The lamb stew is then poured into the bowl and is soaked up by the bread and commonly served with "fensi" (glass noodles) mixed into the soup and side of pickled garlic and spice.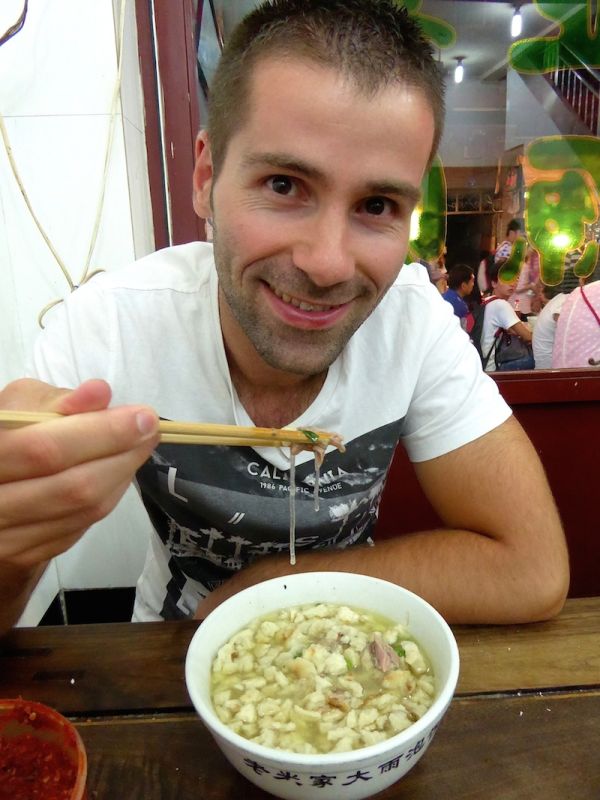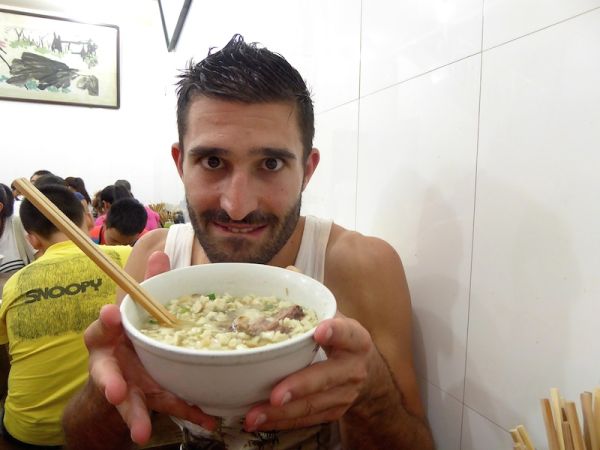 Chinese hamburger "rou jia mo"
Chinese hamburger, "rou jia mo" is a popular fast food in Xi'An. Rou jia mo literally means "meat sandwich" or "meat burger" and is popular street food originating in Xi'An, but now common throughout China.
Pork is usually used, but in the Muslim Quarter, beef is used instead.
The meat is stewed for hours and contains over 20 spices and seasonings. The meat is then stuffed in "mo" – a type of flatbread.
We obviously loved it and gorged on many many rou jia mos in Xian: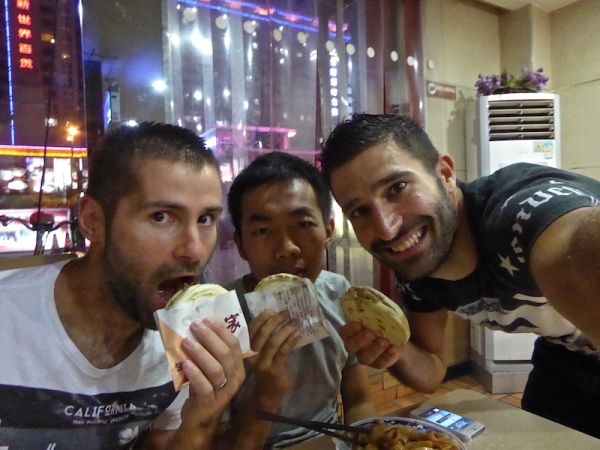 Muslim "nan" flat bread
There are several small shops in the Muslim Quarter devoted to making Muslim "nan" flat bread (sprinkled with sesame seeds) before your eyes (the Chinese add a "g" and call it "nang" bread).
This was particularly interesting for us as bread quite hard to find in Chinese cuisine. As Europeans, bread is a common carbohydrate staple. In China, rice is of course the main carb staple in a meal.
The bread making smelt amazing and was also fun to watch.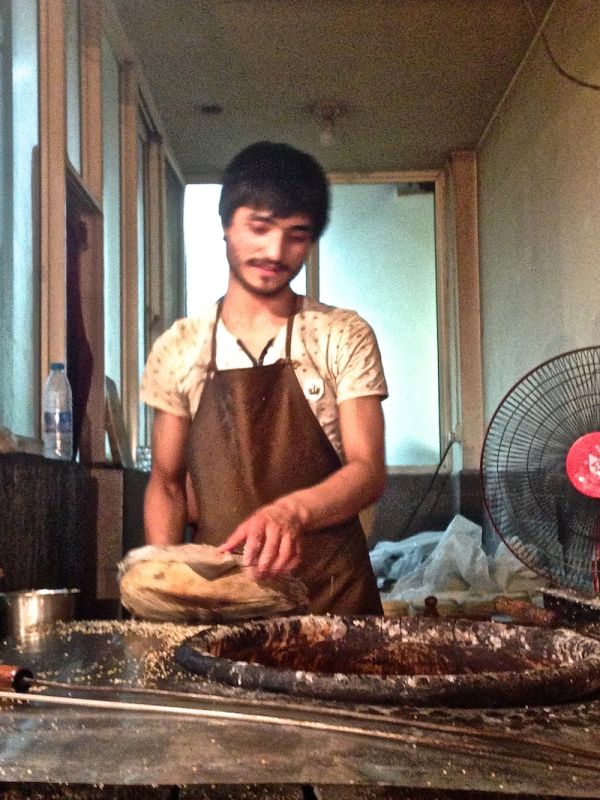 Suffice to say, Xian was a massive highlight for us so far in our travels. A walk through the Muslim Quarter is a huge treat, which we strongly recommend to all travellers.
For more, watch our China travel video as we ate our way from Beijing in the North all the way to the south via Pingyao, Xi'An, Shanghai, Yangshuo through to Shangri-La: