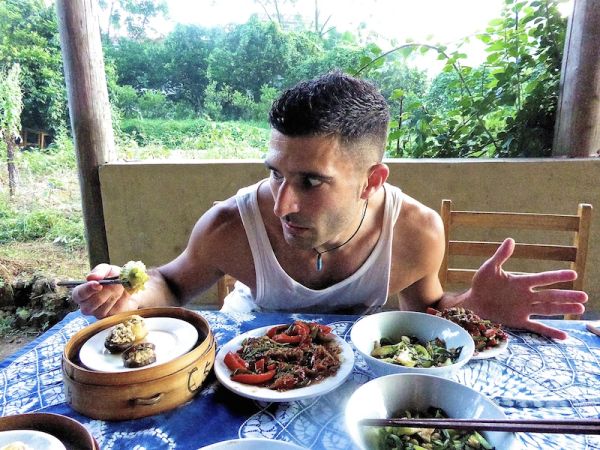 Chinese steamed stuffed vegetables are a lighter alternative to steamed dumplings.
Steamed stuffed vegetables are similar to dumplings in that they involve a similar filling. But instead of being wrapped in dough, vegetables are used instead, making them healthier and less heavy then dumplings.
A variety of vegetables can be used, such as peppers, tomatoes, aubergine, bamboo shoots, shittake mushrooms, zucchini flower, tofu (fresh balls) and even pumpkin flowers:
We learnt this recipe from the Yangshuo cooking school and used shittake mushrooms, tofu and pumpkin flowers.
Ingredients for Chinese steamed stuffed vegetables:
100g minced pork (chicken or beef mince can also be used)

1 spring onion (sliced)

pinch of salt

Half teaspoon of oyster sauce

2 tablespoons of raw, chopped tara

Vegetables for stuffing
How to make steamed stuffed vegetables:
Mix the mince, onion and oyster sauce together.

Prepare vegetables for stuffing.

Stuff roughly a teaspoon amount of mince into each vegetable (if

using pumpkin flowers first cut off stalk at an angle, place stuffing in the flower, push flower petals into stuffing centre one by one overlapping each other then use stalk to pierce through the middle and hold them closed).

Steam on high heat for 15-20 mins in a steaming basket.

You know when it's ready when juice starts to form around the top plate in the steaming basket.