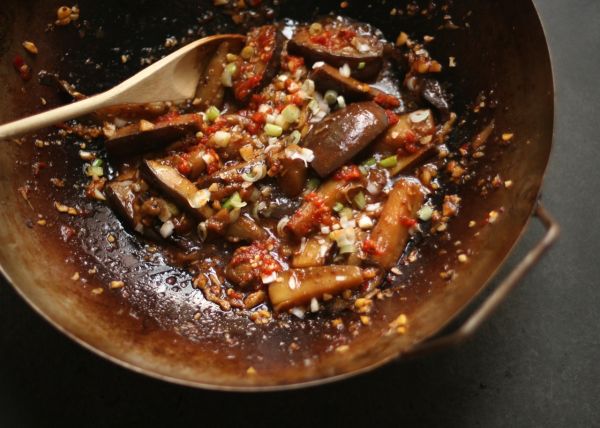 Chinese stir fried aubergine (or eggplant) does not sound particularly alluring. But cooked with the Chinese Yangshuo style sauce it makes an incredibly tasty vegetarian dish or appetiser.
This is the recipe we learnt from the Yangshuo Cooking School, with video underneath:
Ingredients for stir fried aubergine
250g sliced aubergine

2 cloves of garlic – chopped and minced

25g of ginger – crushed and minced

2 spring onions – sliced

2 tablespoons of peanut oil, or if allergic to peanuts, use soy bean oil (never olive oil because it doesn't get hot enough)

1 teaspoon of black bean & chilli paste

1 teaspoon of oyster sauce

4 tablespoons of water

2 tablespoons of oil

garlic shoots/stalks (or celery sticks or green pepper alternative)
How to make stir fried aubergine
Heat empty wok (without oil) on a high heat.

When you see smoke coming out of the wok, add oil and lower the heat.

Slide the aubergines down the side of the wok to avoid the oil spattering and stir fry on a medium heat until browned and soft.

Reduce the heat and add ginger and garlic, mixing it in (on a medium heat).

Add the soy black bean chilli paste and cook until fragrant (on a medium heat).

Add water (do not yet stir) and turn to high heat then add the oyster sauce.

Only stir once water has started bubbling as otherwise this will negatively affect the flavour.

Add spring onions, mixing together until the water has evaporated.

Remove from heat and serve with rice.
This is a video of us making stir fried aubergine as part of our course at the Yangshuo Cooking School: