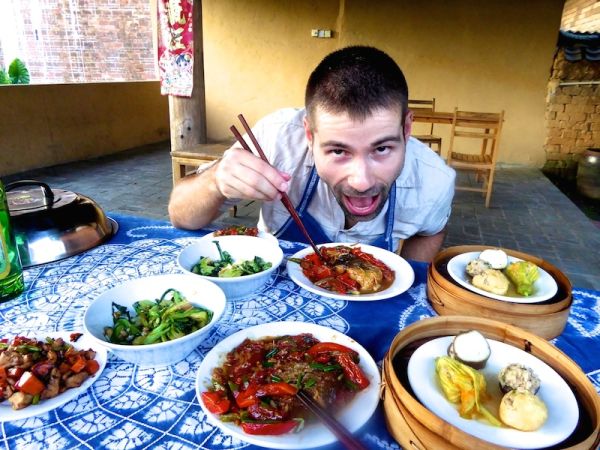 Yangshuo Beer Fish (or "Pijiu Yu") is a specialty of the Yangshuo area of the Guangxi Province in South China.
This is a stir fry based dish using mainly freshwater fish like wild carp or Mandarin fish. This recipe is (obviously) cooked with beer in place of water and preferably served with rice.
We learnt this recipe as part of our course at the Yangshuo Cooking School, which first involved a visit to the local market to buy the ingredients:
Ingredients for Yangshuo Beer Fish
100g firm freshwater white fish (with skin on)

1 chopped tomato Half green pepper – sliced

Half red pepper – sliced

1 spring onion – chopped

1 clove of garlic – crushed

50g ginger sliced

pinch of salt

1 teaspoon of oyster sauce

1 tablespoon of soy sauce

Half glass of beer

1 tablespoon of peanut oil, or if allergic to peanuts, use soy bean oil (never olive oil because it doesn't get hot enough)
How to make Yangshuo Beer Fish
Heat empty wok (without oil) on a high heat.

When you see smoke coming out of the wok, add oil and lower the heat.

Place fish into wok with skin side down – keep spatula on fish for a few minutes to keep it flat and prevent it curling (freshwater fish curls when cooked)

Stir fry fish skin side down and until skin is brown (you will need to turn fish round to check this).

Add garlic and then ginger (ginger helps prevent a fishy smell), and turn the fish skin side up.

Add vegetables and stir fry till soft.

Add oyster sauce, soy sauce and beer – cover and cook for around 5 mins.

Remove from heat, add spring onions and serve.