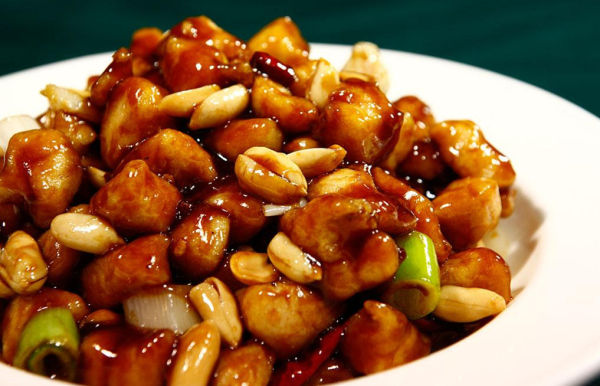 Chinese stir fried chicken cashew nuts (or "kung pao chicken") is a popular dish in China and a particular favourite of these two greedy boys. It has become a popular Chinese food in Western Chinese take aways.
It originated from the Sichuan province in China and ideally uses the popular (and spicy) Sichuan peppercorns. As with all Chinese dishes, this is best served with rice.
This is the recipe we learnt from the Yangshuo Cooking School:
Ingredients for stir fried chicken cashew nuts
50g chicken thighs cut into cubes

Half a cup of cashew nuts

2 tablespoons of peanut oil, or if allergic to peanuts, use soy bean oil (never olive oil because it doesn't get hot enough)

Half a carrot cut into cubes

2-4 garlic tops

1 clove of garlic

1 teaspoon of ginger

Pinch of salt and pepper

Half teaspoon of oyster sauce

Half teaspoon of soy sauce

Half teaspoon of pepper

2 tablespoons of water
How to make stir fry chicken cashew nuts
Heat empty wok (without oil) on a high heat.

When you see smoke coming out of the wok, add oil and lower the heat.

Add cashew nuts and roast them until they are brown on a low heat – keep stirring them. Remove from heat once done and place in separate bowl

Add garlic, ginger and chicken and a pinch of pepper and stir fry on a low heat until chicken is white and cooked.

Add soy sauce and mix – increase heat to medium and let it cook for a bit until it starts bubbling

Add the vegetables (carrots, garlic stalks, pepper and ginger) and then a pinch of salt then stir fry on a high heat for a few minutes until vegetables soften.

Add water (do not yet stir) and turn to high heat then add the oyster sauce.
Only stir once water has started bubbling as otherwise this will negatively affect the flavour.

Add cashew nuts and mix, then remove from heat and serve.
This is our video making stir fried chicken cashew nuts as part of our course at the Yangshuo Cooking School: