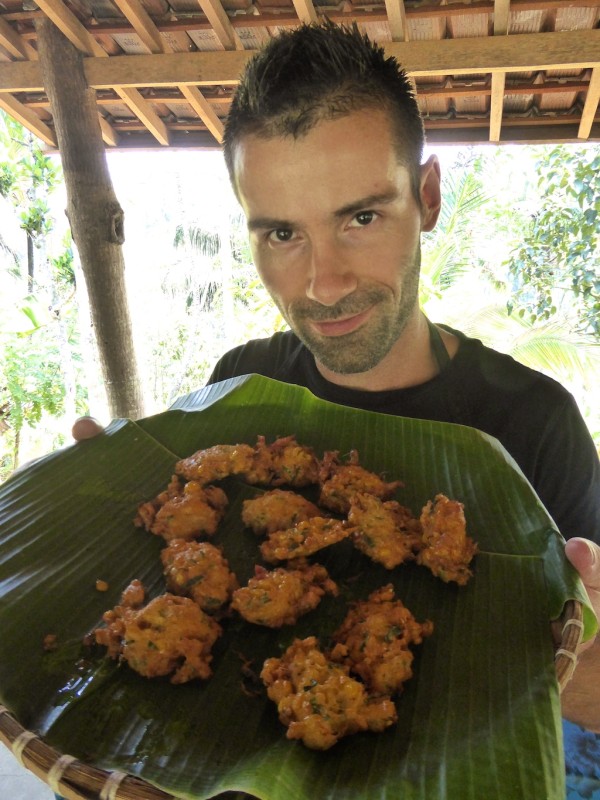 Indonesian perkedel jagung are deep fried corn cookies and usually eaten at a large ceremony like celebrating the birth of new born baby or a wedding. They are also popular street food throughout the country and great for vegetarians.
We did a cooking class in Ubud during our travels in Bali, with Be Bali Day cooking school. The very cute husband and wife team, Made and Kadek showed us how to make sayur urap vegetable salad as well as these Indonesian perkedel jagung corn snacks.
Ingredients to make Indonesian perkedel jagung
5 sweet corns
100g tapioca flour (alternatively use corn flour)
2 sliced spring onions
1 stalk of celery, sliced
2 kaffir lime leaves, sliced
3 eggs
6 shallots
6 cloves of garlic
4 candle nuts
1 chilli
1 teaspoon of pepper
Half teaspoon of salt
Half teaspoon of sugar
120ml of vegetable oil for cooking
How to make Indonesian perkedel jagung
1. Combine the shallots, garlic, candle nut, chilli, sugar, salt and pepper, and grind into a paste.
2. Grate the 5 sweet corn and peel off the remaining kernels. Mix this in with the paste.
3. Mix in the flour, sliced spring onions, celery, kaffir lime leaves, eggs, mixing it all well.
4. Heat up the oil in a deep pan and add the batter to fry one tablespoon full at a time.
5. Fry for around 3 minutes on high heat until both sides are golden brown then remove using a clotted spoon and place on a plate with paper towel to soak up the oil.
6. Eat promptly before greedy Nomadic Boy Sebastien gets anywhere near them!
PLEASE PIN ME: