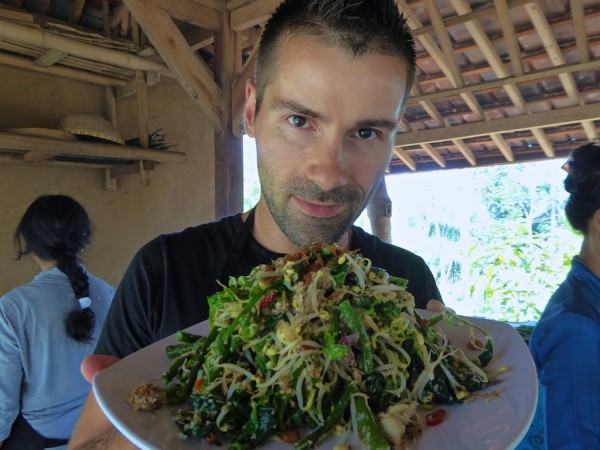 Indonesian sayur urap is a blanched vegetable based salad with shredded coconut dressing.
It originates from Java (one of the largest islands of the Indonesian archipelago).
Sayur means "vegetables", and in this case, sayur urap means mixing blanched vegetables with spices and grated coconut until it is well blended.
In Bali, it is known as lawar and sometimes meat is used, like pork, so it would be called lawar babi. We took a cooking class in Ubud during our travels on Bali with Be Bali Day and learnt to make a vegetarian Indonesian sayur urap.
Ingredients for Indonesian sayur urap
50g of green beans
100g of fern leaves (or cabbage as an alternative)
100g bean sprout
100g bunch of spinach
200g of freshly grated coconut (desiccated coconut is an alternative)
1 tablespoon of shrimp paste
3 shallots, sliced
6 garlic cloves, chopped
1 chilli, sliced
4 kaffir lime leaves sliced
salt
1 tablespoon of coconut oil (use vegetable oil as an alternative)
How to make Indonesian sayur urap
1. Heat the coconut oil in a pan and reduce heat to medium.
2. Fry the shallot, garlic, chilli and sliced kaffir lime leaves for 2 minutes.
3. Mix in the shrimp paste, cooking for another minute and remove from the heat.
4. Cut the vegetables (long beans, fern leaves, bean sprouts and spinach) into small pieces and blanch (lightly cook) them for 2 minutes with a pinch of salt.
5. Remove the vegetables from the heat and place into a pan of cold water to stop them cooking then disregard the water.
6. Mix the vegetables with the shrimp/shallot/garlic paste.
7. Mix in the grated coconut and a pinch of salt, and serve with other Indonesian prizes like perkedel jagung.
PLEASE PIN ME: