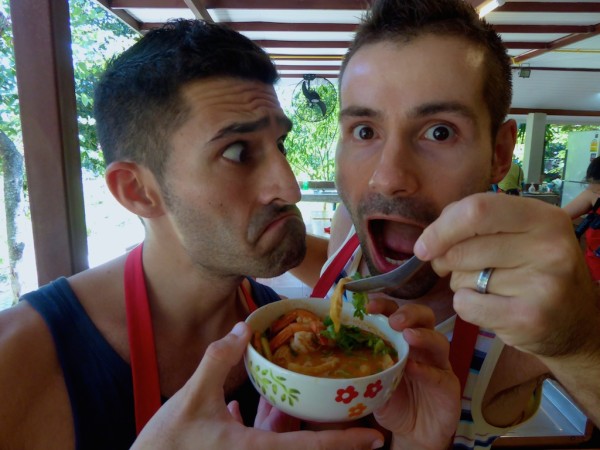 Thai tom yam is one of the popular foods you will encounter in Thailand and Laos, mixing salty, spicy and sour flavours.
It uses spices unique to Southeast Asia, in particular:
galangal: also known as Siamese ginger has roots which are longer than those of common ginger.
lemongrass: is a grey green grass that smells like lemon and is excellent for digestion. The roots are used for curry pastes, the stem (middle part) for soups and the leaves for tea.
kaffir lime leaves: have 2 connecting leaves, used in most curry dishes to give a fresh aroma and need to be sliced to be eaten otherwise are too tough.
We took a cooking class with the excellent Thai Farm Cooking School during our press trip in Chiang Mai where we learnt this recipe for Thai tom yam.
Ingredients for Thai tom yam:
1 crushed red chilli pepper (normally it's 1-5 depending on your spice tolerance!)
60g of sliced mushrooms
1 stalk of lemongrass sliced into 1 inch pieces
30g of sliced galangal (or substitute with ginger)
30g of sliced tomatoes
3 kaffir lime leaves
2 teaspoons of lime juice
2 tablespoons of fish sauce (or soy sauce)
Half teaspoon of sugar
Half tablespoon of tamarind chilli paste
180g of water
5 shrimps (or can also be chicken, pork, tofu or fish according to preference)
1 tablespoon of chopped spring onions
1 stem of coriander
Pinch of salt
2 leaves of Thai parsley
2 chopped shallots
How to make Thai tom yam
1. Make a broth by putting the water in a saucepan and adding the lemongrass, galangal, shallots, tomatoes and mushrooms.
2. Cook on high heat until boiling, then mix in the tamarind chilli paste and chilli peppers, fish sauce, pinch of salt and sugar, and cook for 10 minutes, high heat, uncovered, stirring.
4. Mix in the shrimps, reduce the heat to medium and cook for 5 minutes, uncovered. If any foam builds up, remove it.
5. Mix in the spring onions, Thai parsley, coriander and kaffir lime leaves and cook for a further 10 minutes on a medium heat, uncovered.
6. Remove from heat and mix in the lime juice.
7. If not spicy enough, add more red chilli pepper.
For a more in depth experience, read the Contented Traveller's post comparing Pad Thai to Tom Yum soup.
PLEASE PIN ME: