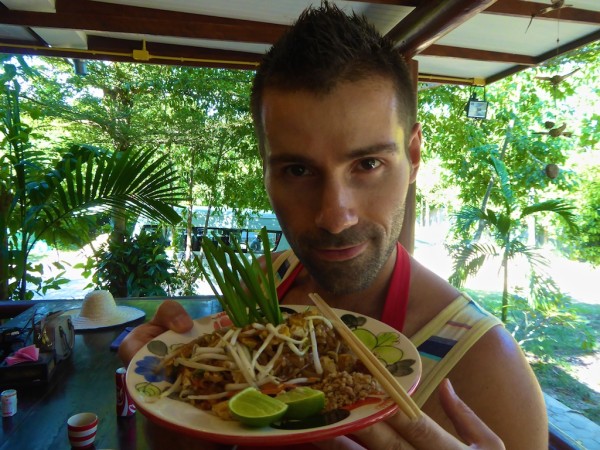 Pad Thai is the national dish of Thailand and you will never get bored of it.
It's so simple to make and is a common street food snack in Thailand. It was popularised during the Second World War and has become one of Thailand's national dishes.
We learnt this recipe from our cooking class with the excellent Thai Farm Cooking School during our press trip in Chiang Mai. It is vegetarian using tofu, but chicken or pork can also be used instead.
Ingredients for vegetarian Pad Thai
80g of rice noodles
1 carrot grated
50g bean sprouts
100g tofu cut into small cubes (chicken or pork can also be used as an alternative)
1 egg
2 tablespoons of crushed roasted peanuts
2 teaspoons of tamarind paste (alternatively 1.5 teaspoons of white vinegar)
1.5 teaspoons of palm sugar (alternatively use brown sugar)
1 tablespoon of fish sauce (or soy sauce)
1 tablespoon of chopped chives (or spring onions)
pinch of chilli powder
2 tablespoons of oil
pinch of salt
40ml of water
1 teaspoon of molasses (thick, dark brown juice obtained from raw sugar during the refining process)
1 lime
2 chopped shallots
How to make Pad Thai
1. Soak the rice noodles in water for 30 minutes until soft.
2. Put the water in a bowl and mix in the tamarind paste, palm sugar, fish sauce, molasses and chilli powder.
3. Heat up the oil in a wok on a low heat and add the tofu, shallots, pinch of salt and fry on a low heat until the shallots brown and tofu starts to change colour. Move it to one side of the wok.
4. Crack the egg and scramble on one side of the wok then mix it together with the already fried shallot/tofu mix. Move this to one side of the wok.
5. Add the noodles and fish sauce and cook them on medium heat for 2 minutes until they soften.
6. Mix everything together and also mix in the bean sprouts, grated carrot and chives, cooking on medium heat for 1 minute then remove the pan from the heat.
7. Serve with crushed peanuts on top and a lime sliced in half.
PLEASE PIN ME: