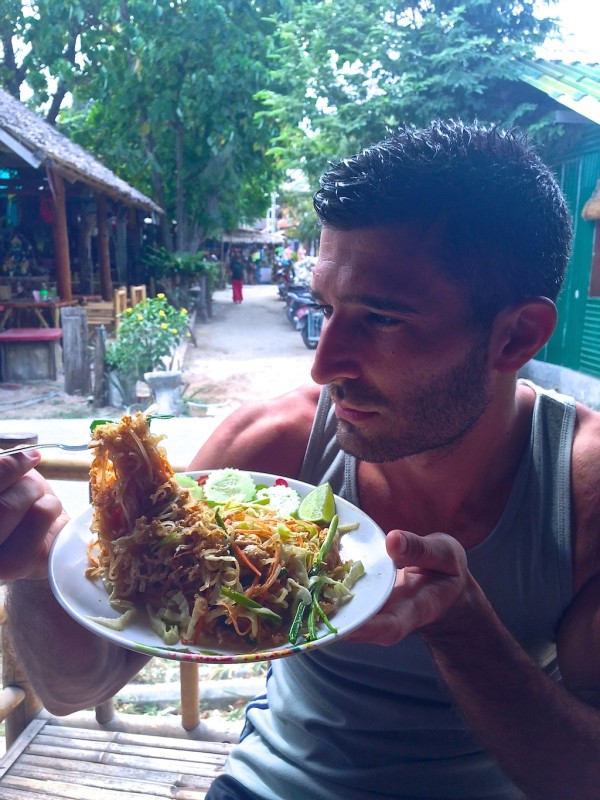 Thailand is world famous for its cuisines, especially Pad Thai and the many curries.
One of our favourite culinary discoveries in our travels is street food, particularly in China and Myanmar. However, the Thais simply take this to a whole new level.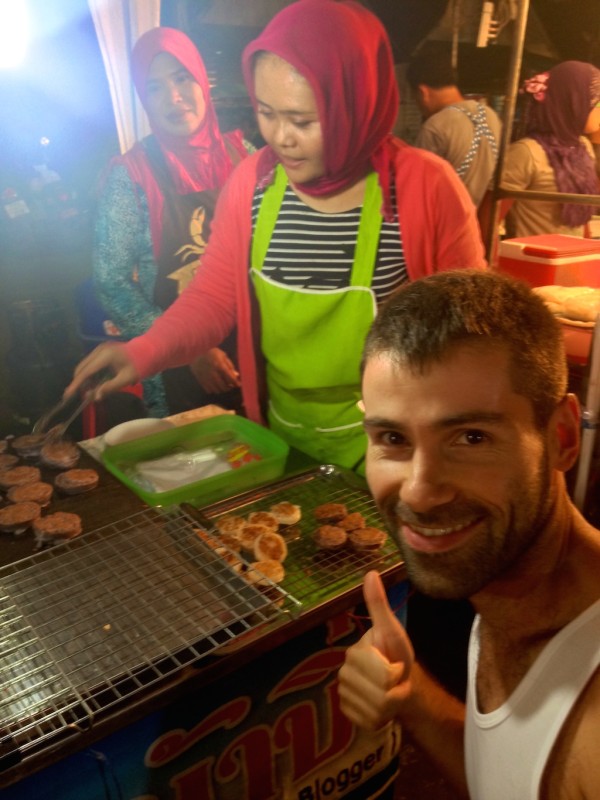 We rarely ate Thai food in restaurants, finding them to be over priced and extremely touristy. The locals are usually found eating in the streets where they gather in their numbers for a freshly made curry, som tam salad, a sticky rice coconut prize and many more.
The street food in Thailand probably ranks as one of our favourite culinary experiences in our travels, if not the best – up there with Sri Lankan food.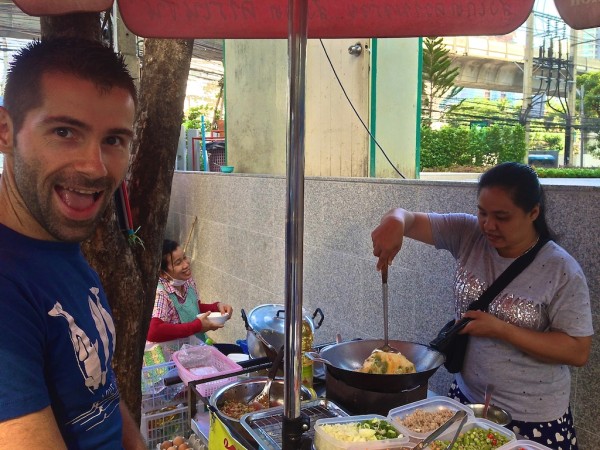 Street food Pad Thai
Pad Thai is a stir fried rice noodle dish cooked with eggs, fish sauce, garlic, shallots, bean sprouts, coriander leaves, tofu or chicken, tamarind pulp and served with spring onions, crushed nuts and lime juice. It was popularised during the Second World War and has become one of Thailand's national dishes.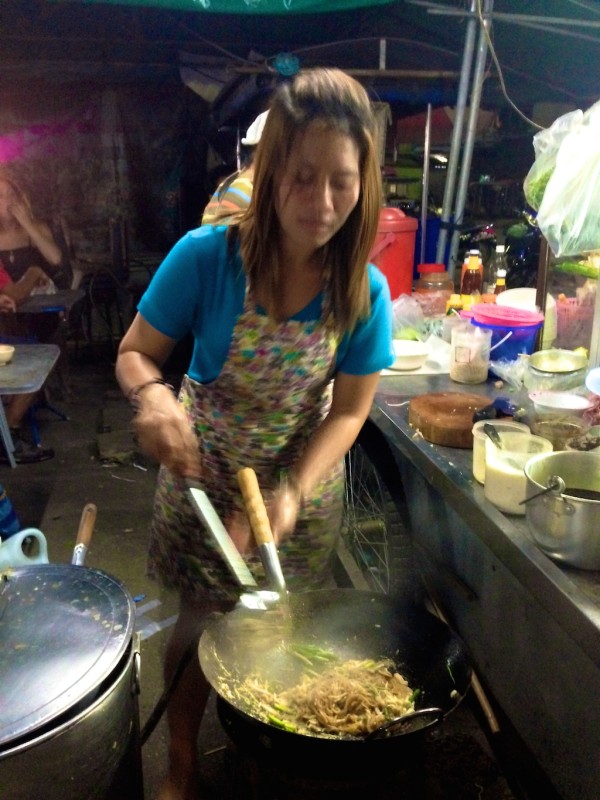 Once the ingredients are all ready, it's really quick and easy to prepare. We learnt the recipe for vegetarian Pad Thai at our cooking class in Chiang. As well as being nutritious, it's absolutely delicious and very cheap.
A serving of Pad Thai cost on average around 50 bahts (around £1 / $1.50) in the market.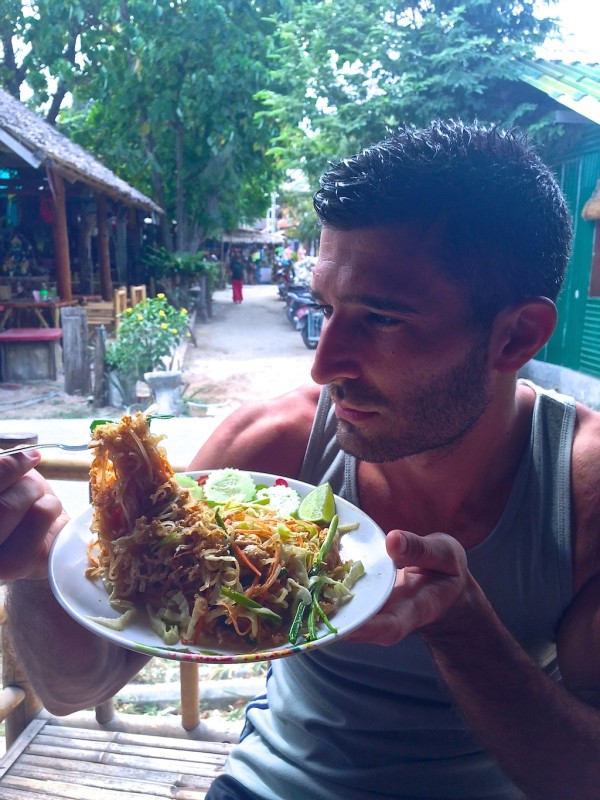 Street food papaya salad (Som Tam)
Som Tam is spicy green papaya salad, which is another staple in Thailand. It is made from shredded papaya, pounded in a pestle and mortar with lime juice, palm sugar, chilli, garlic, shrimp, nut, tomatoes, lime juice, fish sauce, bean sprouts and green beans.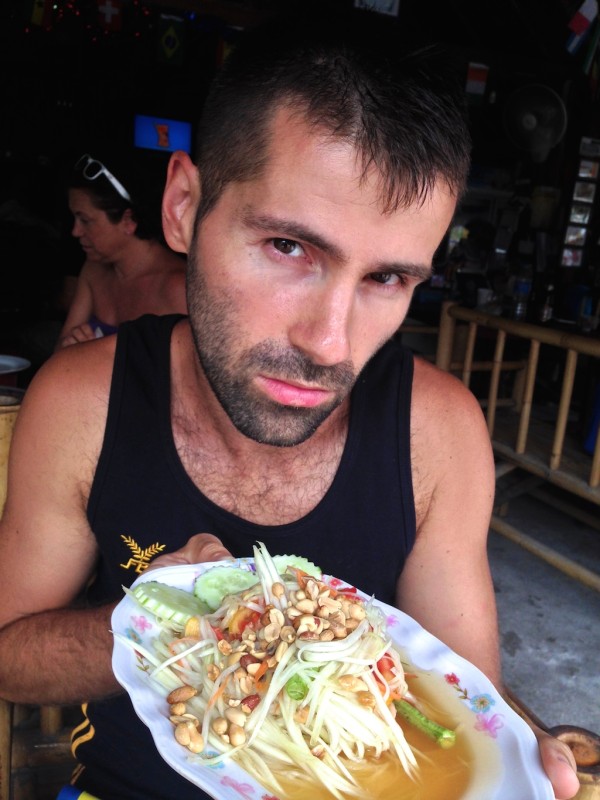 Som Tam is another healthy and yummy Thai prize costing around 40 bahts (around 80p/$1) a serving in the street.
Unfortunately this little gem taught us that we still have a long way to go with spice tolerance: when you crush chillies, they become even more deadly. So this is now the only dish on the planet we request it to be as non spicy as possible! We've also shied away from trying it with a live crab:
The Thai curries
Thailand is popular for its rainbow of coconut milk based curries, named according to the colour the ingredients give it, particularly the chillies used.
Green curry gains its colour from the green chillies and also the variety of herbs used like fresh coriander, kaffir lime leaves and basil leaves.
Yellow curry has more of a South Asian influence, using yellow chillies traditionally and also turmeric, which gives it its colour.
Red curry takes its flavour from the large number of red chillies used – traditionally around 20! We've yet to recover from this one…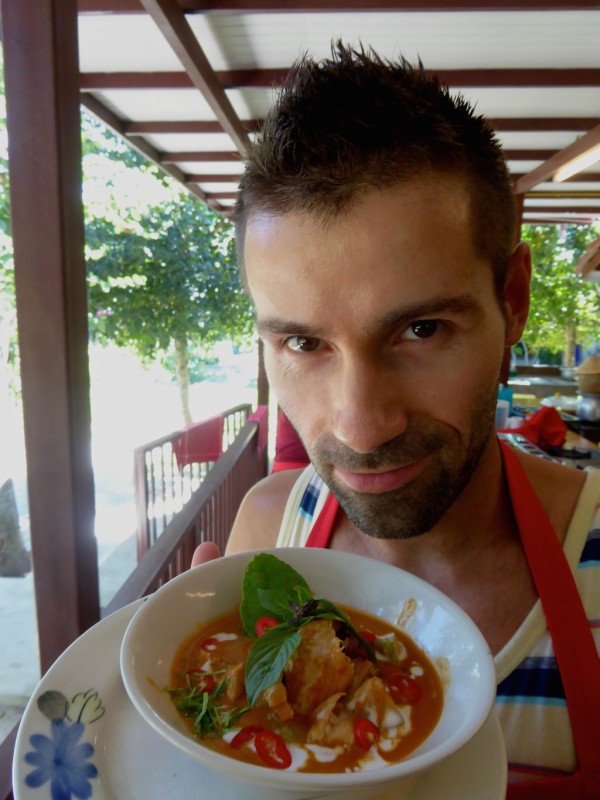 Street food coconut sticky rice
No visit to Thailand is complete without discovering the many sticky rice treaties available. They are usually sweetened with coconut and palm sugar and make some really tasty deserts.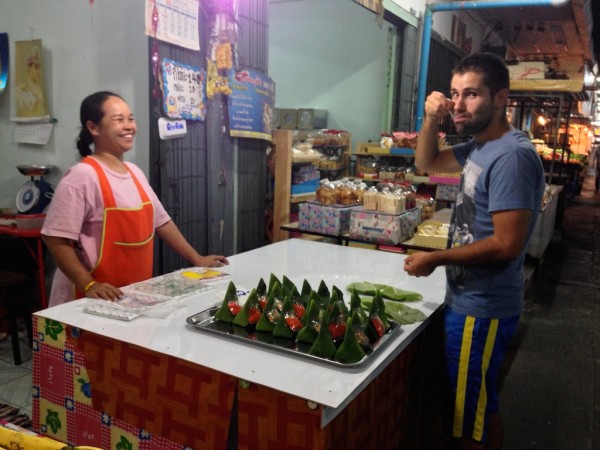 Fruits are also used to sweeten the sticky rice, particularly mango. Mango sticky rice (usually served with coconut milk) was a big highlight to any street food market for us!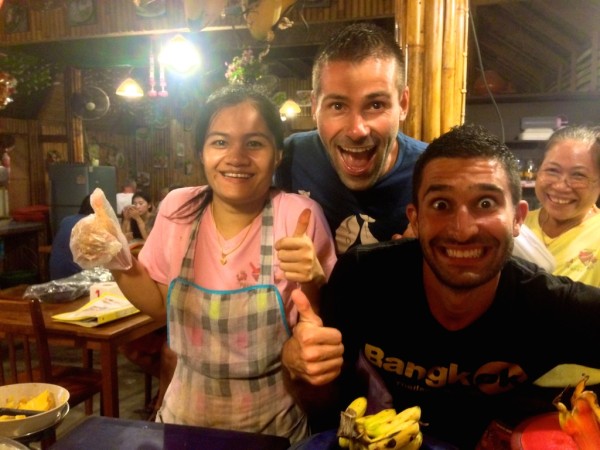 Favourite Thai fruit: tamarind
This seems quite random, but was a food discovery we made and quickly became a popular treat of ours in Thailand. In Sri Lankan and south Indian cuisine, tamarind is mixed with water and then used as a souring agent in a curry. We therefore associated tamarind as a curry ingredient.
We were pleasantly surprised to learn that in Thailand, you can buy tamarind to eat as a tasty, sweet fruit and then spit out/disregard the stone.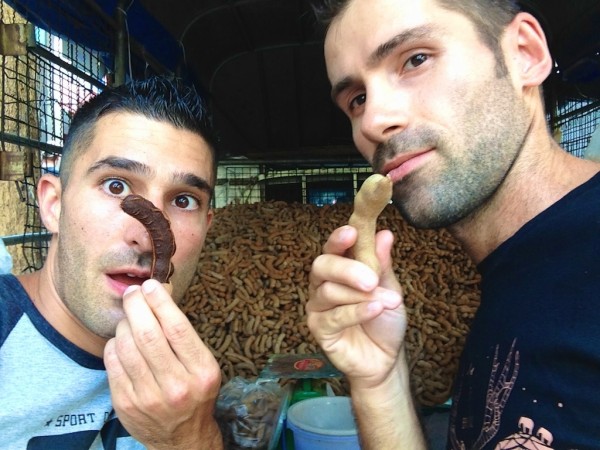 Thailand was the first country we visited in Asia several years before this trip and one of the reasons we fell in love with the idea of eating our way through Asia.
Returning to Thailand on this trip, we fell in love with the wide array of street food available and is one of the many things we will miss about this beautiful country.
Watch our video Thailand travel video and enjoy our underwater adventures as we island hopped through this beautiful country:
Read more about our favourite Thai street food for Mr Hudson Explores and get inspired with this Thailand travel guide.