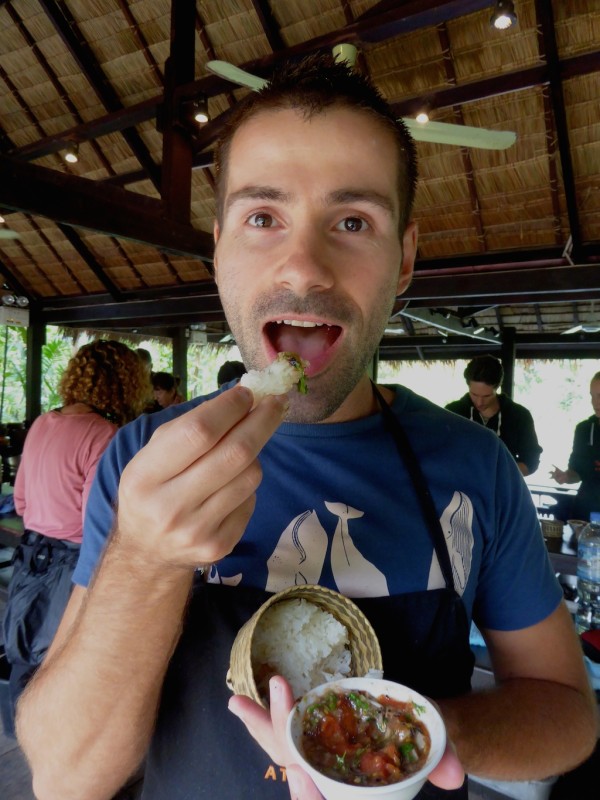 Jeow is a spicy dipping sauce served as an accompaniment to Lao meals, like laap (minced meat salad). Like sticky rice, a jeow dish is a staple of a traditional Laotian meal.
Jeow can be made from cooked meat, grounded to a paste mixed with various ingredients.
This is our vegetarian recipe using 1 cooked aubergine and pepper.
Ingredients for Lao aubergine jeow
1 aubergine
1 pepper
half a teaspoon of salt
2 cloves of garlic
bunch of chopped coriander
1 tablespoon of fish sauce
2 spring onions chopped
1 shallot
1 red chilli (add more if you're mad better than us at tolerating spicy foods!)
How to make aubergine jeow
1. Pierce a few holes into the pepper, aubergine and chilli with a knife (to let out the moisture while cooking).
2. Grill the aubergine, chilli, shallot and garlic cloves over an open flame until the skin blackens. The chilli only needs a few minutes. Rotate to ensure the entire skin is blackened.
3. Allow to cool then peel and scrape off the burnt skin and place into a pestle and mortar.
4. Pound the ingredients then add half a teaspoon of salt, the chopped coriander and keep pounding until a soft paste has formed.
5. Add 1 tablespoon of fish sauce, a tablespoon of water, spring onion and continue pounding to mix it in. Then serve.
A popular alternative is Jeow Mak Len, ie tomato salsa, where lime juice and 5 cherry tomatoes are used in place of the aubergine.
You can read more about our experiences discovering food in Laos and watch our Laos travel video.