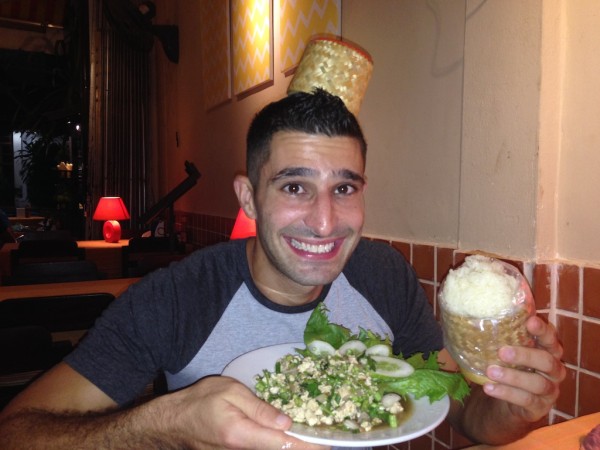 Laap is the national dish of Laos. It is a minced meat (or fish) salad, served with large amounts of fresh vegetables and herbs.
Like the recipe for Peruvian ceviche, the meat in a laap is traditionally raw and "cooks" in the large amount of lime juice used. A more farang (foreigner) friendly version involves the meat being cooked first.
Buffalo is a common and delicious meat base for laap. Any meat or fish can be used, but buffalo was our favourite: it is the tastiest we tried and very chewy.
For vegetarians, substitute buffalo meat with tofu, aubergines or mushrooms.
Ingredients for buffalo laap
150g of buffalo minced meat
half teaspoon of salt
1 tablespoon of fish sauce
5 cloves of garlic finely chopped
1 shallot sliced
1 tablespoon of fresh galangal finely chopped (similar to ginger, which is a good alternative to use)
1 red chilli (more if you dare, less if you prefer less kick)
a handful of beansprouts (soaked briefly in hot water to soften)
1 long bean or 5 chopped runner beans (uncooked but washed)
a handful of chopped coriander
4 saw tooth leaves if you have it (these are popular leaves in Southeast Asia, like coriander but stronger)
1 small handful of finely sliced banana flower (optional – if you can find it)
3 spring onions finely chopped
juice from 1 lime
a handful of chopped mint
1 tablespoon of roasted sticky rice powder (buy from local Chinese supermarket)
1 teaspoon of dried chilli powder
1 stalk of lemongrass (white section) – use around 5 finely sliced pieces like this:
How to make buffalo laap
1. Lightly cook the buffalo meat in a pan, adding the salt and a tablespoon of fish sauce.
2, Remove the meat from the pan and place it into a deep mixing bowl and using your hands, mix in and combine all the other ingredients.
3. Arrange on a serving platter, garnish with green leafs and serve with sticky rice, a spicy jeow dish and washed down with a Beerlao or two.
You can read more about our experiences discovering food in Laos and watch our Laos travel video.