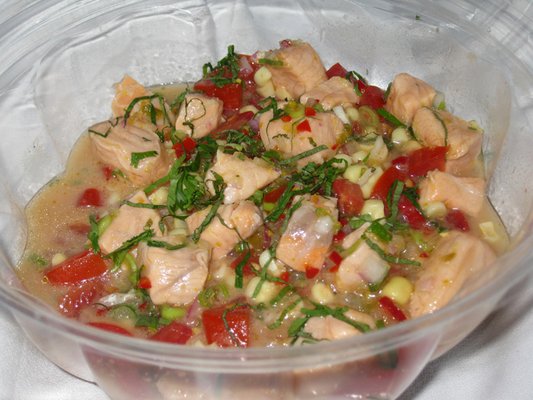 Ceviche is a Peruvian dish made from fresh raw fish marinated in citrus juices, usually lime and spiced with herbs like chilli peppers.
Ceviche is an old tradition in South America used by the Incas to preserve their fish with fruit juices, salt and chili peppers. The Spanish conquerors later introduced the lime, which is now more commonly used.
The fish will essentially be "cooked" by the lime juice. The citric acids in the juice alters the fish's protein structures, just as if it had been cooked with heat.
It is therefore important to use the freshest and cleanest fish possible, which will largely depend on where you are. If you're by the coast, like in Lima, then sea fish like sea bass is common. If you're in the mountains, like in Cusco, then river fish, like trout will be most fresh.
If however you're shopping in Sainsburys in London, you'll most likely find salmon the most fresh fish to hand. This is why we've altered this recipe slightly to suit the type of fish we'd find commonly in the supermarkets back home.
Also, best accompaniment to a Peruvian ceviche? A Pisco Sour of course!
Ingredients for salmon ceviche:
600g of skinned salmon fillet

x4 fresh limes
x2 red chillies, seeded and finely chopped
bunch of fresh coriander, chopped
a quarter teaspoon of ground cumin
x2 garlic cloves, peeled and finely chopped
a few fingers worth of fresh ginger, peeled and grated
salt and pepper to season
Preparation for salmon ceviche:
1. Mix all the ingredients in a bowl. Ensure the salmon is cut into small bite sized pieces.
2. Cover bowl and put in the fridge for a few hours to marinade. The longer you leave to marinade, the longer the fish "cooks" in the lime juice and spices.
Salmon ceviche makes a delicious side or lunch main, guaranteed to always impress. It is traditionally eaten around South America at lunch time, using the fresh fish caught from the morning's catch.
A good ceviche restaurant (cevicherias) will close after lunch as the fish caught in the morning is no longer fresh by afternoon.
For more inspiration:
IF YOU ENJOYED READING PLEASE PIN ME: