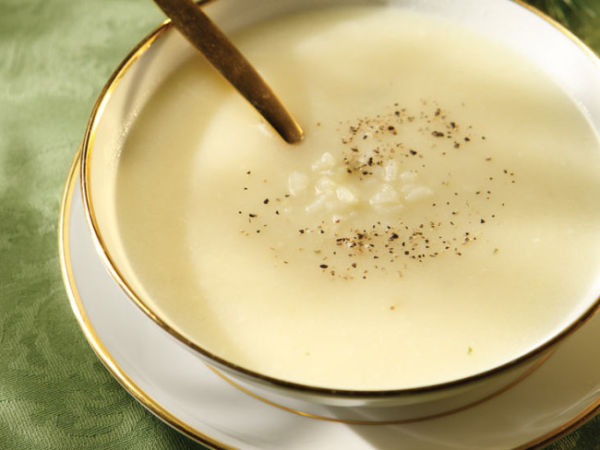 Greek egg lemon chicken soup, or "soupa avgolemoni" in Greek (σούπα αυγολέμονη), is a traditional Greek Cypriot soup served as a starter or even as a main course.
"Avgolemono" means egg-lemon in Greek and is a common style of Greek cooking for soups where the egg and lemon juice are mixed with broth and heated until they thicken. In Arabic it is called "tarbiya" and in Turkish, "terbiye".
It is usually made just before the Orthodox Easter and served just after the midnight service on the Easter Saturday to mark the end of Lent.
This Greek egg lemon chicken soup recipe is prepared in a chicken broth and it is commonly served with the same boiled chicken used to make the broth. It contains plenty of protein from the chicken, and also vegetables. To make it a complete meal, serve with bread or increase the quantity of rice used.
Ingredients for the Greek egg lemon chicken soup:
Around 1.5kg of chicken (ideally with skin and excess fat removed)
Around 3,000ml of water
several carrots (depending on preference)
several celery stalks (depending on preference)
x1 large onion
x2 bay leaves
x3 eggs
x3 fresh lemons
x5 whole black peppercorns (crushed)
x2 teaspoons of salt
150g of rice
lemon zest from the fresh lemons
How to make Greek egg lemon chicken soup:
1 In a large pot put the water, chicken, carrots (sliced), celery (sliced), onion (chopped up), bay leaves, peppercorns, salt and bring to the boil then reduce to a low heat and let it simmer partially covered for around 1.5 hours.
2. Drain the broth into a large bowl and keep the chicken and vegetables aside.
3. Return the broth to the pan and bring to the boil.
4. Add the rice to the broth and reduce heat to a low simmer, cover the pan, and cook for around 10 minutes – until the rice is tender, then turn off the heat.
5. In a separate bowl, whisk and beat the eggs until frothy, then whisk in the zest and juice from the x3 lemons.
6. Use a ladle to scoop around x2 ladle's worth of the broth into the egg/lemon mixture, and whisk it to mix in.
7. Pour the egg/lemon mixture into the broth and cook it on a low heat for around 5-10 minutes. Do not increase the heat as this will curdle the eggs and avoid the broth mixture boiling over.
8. Return the chicken and vegetables to the broth and flavour with salt and pepper.
Greek egg lemon chicken soup is also the base for many other Greek dishes, including meat ball giourvalakia and it goes nicely with Cypriot Easter bread if prepared during the Orthodox Easter.