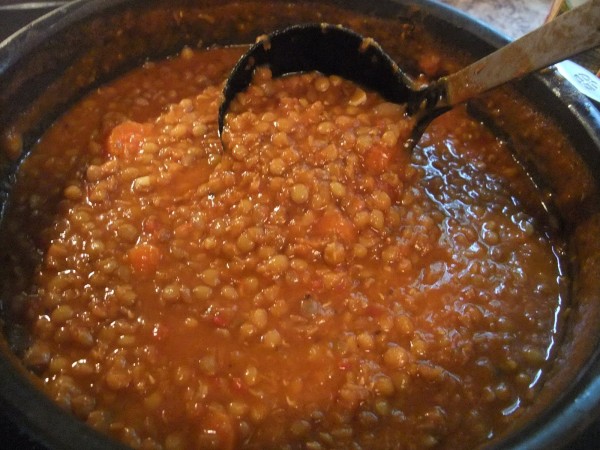 Greek lentil soup is called "fakes" in Greek ("φακές", pronounced fah-KESS) and is a staple in the Greek kitchen.
Greek lentil soup is a very healthy and nutritious meal, easy to make and ideal for vegetarians. It is also popularly eaten as a fasting food during the Lent period before the Orthodox Greek Easter, as well as other times during the year.
You can use any lentils, but in Greek cuisine, small brown lentils are traditionally used. If using different lentils, check the packet for cooking times and adjust this recipe accordingly; the following is a general guide:
green and brown lentils: 35-45 minutes

red Split lentils: 15-20 minutes

puy lentils: 20-25 minutes

yellow lentils: 15-20 minutes
As a general rule for boiling lentils, use a 3:1 water to lentils ratio and avoid cooking them with anything acidic, such as vinegar.
In this Greek lentil soup recipe, we use a greater amount of water to make it more soup like, and the vinegar mixture is added at the end before serving.
Ingredients for Greek lentil soup:
300g of small brown lentils
water: use 5:1 water to lentils ratio, so here use 1,500 ml of water

x6 tablespoons of red wine vinegar

x4 garlic cloves

several sprigs of oregano
several sprigs of rosemary
x2 bay leaves
olive oil
x1 large onion
x5 chopped carrots
x5 sticks of sliced celery
x1 teaspoon of dried cinnamon powder
300g of canned tomatoes
How to make Greek lentil soup:
1. Pre-heat oil in pan and on a low heat cook, covered, add the chopped onions and cook until they brown and soften.
2. Put x6 tablespoons of the vinegar in a separate bowl, add x1 bay leaf, the sprigs of fresh oregano and thyme, and x1 clove of chopped garlic. Leave this bowl mixture aside to marinade.
3. Rinse the lentils and once the onions are done, put lentils in this pan together with around 1,500 ml of water and add x3 chopped garlic cloves, a bay leaf, around x6 tablespoons of olive oil, chopped carrots, sliced celery, cinnamon and bring to the boil.
4. Skim and disregard any starchy foam that may form, then reduce heat to a low simmer, cover, leaving the lid ajar a bit so they do not boil over, and let it cook for around 10 minutes.
5. Add the tomatoes and salt/pepper and cook for a further 30-40 minutes, covered, but with the lid slightly ajar, until the lentils have softened and the soup mixture has taken a thick and soap like consistency.
6. Check on the lentil soup occasionally to make sure the water has not boiled down below the level of the lentils; if this happens add more water as needed.
7. When cooking has finished, turn off the heat and mix in the vinegar marinade and leave to stand for a few minutes before serving.
Greek lentil soup is best served hot with olive oil drizzled on it according to preference and goes well with vegetables, bread, feta cheese or olives.