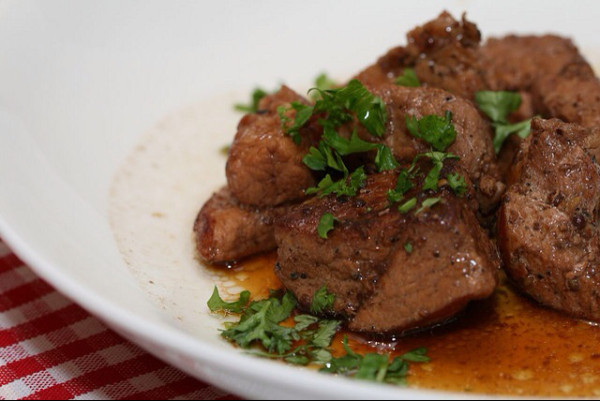 Afelia is a delicious and very traditional Greek Cypriot food, and really easy to make.
Afelia is similar to beef Bourguinon in that is meat based (here pork not beef), which has been marinated then slowly cooked in red wine with coarsely crushed coriander seed.
Ideally you need coriander seeds here as opposed to the coriander leaves. The difference is that the coriander seeds have a slightly stronger flavour than the coriander leaves.
Ingredients for Afelia:
1kg pork chops (can use fillets, legs or shoulder, but the more fat in it, the more flavoursome it will be)
1 bottle of cooking wine
x4 tablespoon of dried coriander powder
Olive oil to cook the meat
x2 onions
salt and pepper to season
Method for making Afelia:
1. Cut the pork into small bite size chunks and place into a deep bowl.
2. Crush the coriander seeds (if you don't have a pestle and mortar, place them in a tea towel and use a rolling pin).
3. Add half the bottle of cooking wine, the crushed coriander seeds, salt and pepper to the pork, mix it all up with your hands.
4. Cover bowl and leave it in the fridge overnight (ideally) to marinade and for the meat to soften (if not overnight, then go for 4 hours – the longer the tastier it will be).
5. Pre-heat the oil in a deep cooking pot and add the chopped onions and cook for around 10-15 minutes on a low heat till they soften and start to brown (sautéed), then add the meat in bunches (using a slotted spoon ideally) and keep the wine sauce aside for later.
6. Cook meat on both sides for around 10 minutes on a medium heat until it starts to change colour.
7. At this point, pour the wine sauce in and bring it to the boil for 2-3 minutes.
8. Reduce heat to a simmer, cover and let it cook for at least an 1 hour on a low heat until the pork is fork tender and not pink in the middle.
9. Keep checking every so often: if the liquid is nearly absorbed, add more of the cooking wine. We like to just pour in the remainder of the bottle for good measure and flavour.
Afelia is best served with pligouri (a Greek bulgur based side dish) and yoghurt. We also like to eat it with some freshly made tzatziki, which is a Greek yoghurt / cucumber based side dish.