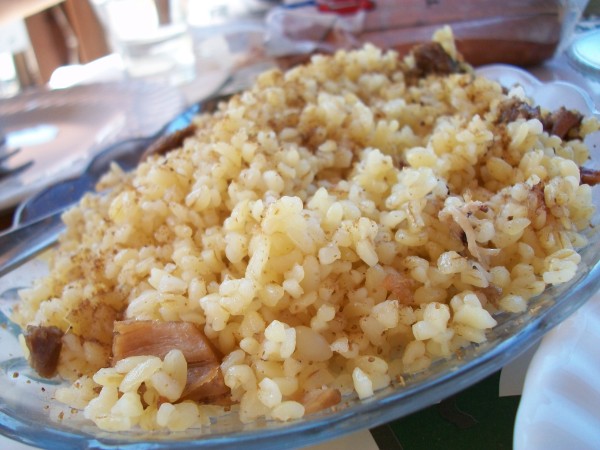 Pligouri ("πλιγούρι" in Greek) is a bulgur based dish in Greek cuisine. Pligouri is its name in mainland Greece, whilst in Cyprus it is referred to more commonly as pourgouri (πουργούρι).
Bulgur is originally a Turkish word. It was popular in all regions of the Ottoman Empire and as a result, variants of the name can be found in the surrounding area. For example, "bollgur" in Albania and "jarish" in Saudia Arabia.
Bulgur is a pre-cooked whole wheat, specially prepared to decrease cooking time. This makes it a healthy alternative to white rice, but packed with more protein, fibre and higher levels of most vitamins and mineral. One serving of cooked bulgur, or pligouri has 151 calories, 5.6 grams of protein, 8g of fibre and 33.8g of carbohydrates. Bulgur contains some soluble fibre, but about 90% of it consists of insoluble fibre. This is the type of fibre that keeps food moving through your digestive tract and prevents constipation.
Like rice, x1 serving is around 75g (around half a cup). The consistency of water to bulgur is 2:1, so however much bulgur you use, you should use double the quantity of water.
Pligouri ingredients for x2 people:
x1 chopped onion
x2 fresh tomatoes (not canned as these are too liquid)
150g of bulgur (1 large cup)
300ml of boiled water (ie double the quantity of bulgur)
1 chicken stock
vegetable oil for cooking the onions
How to make pligouri:
1. Pre heat oil in pan and cook the chopped onions on a low heat, covered, for around 10-15 minutes until they brown.
2. Add the boiled water from the kettle into the pan, mix in the stock, bulgur and chopped tomatoes.
3. Bring it to the boil then switch the heat off and cover the pan to let it absorb the water – the longer you leave it the better (around 30 minutes works fine).
Pligouri goes well with "Afelia" (Greek based recipe of pork marinaded and slowly cooked in red wine) and yoghurt. We like to eat it with freshly made tzatziki (Greek yoghurt/cucumber based side dish).