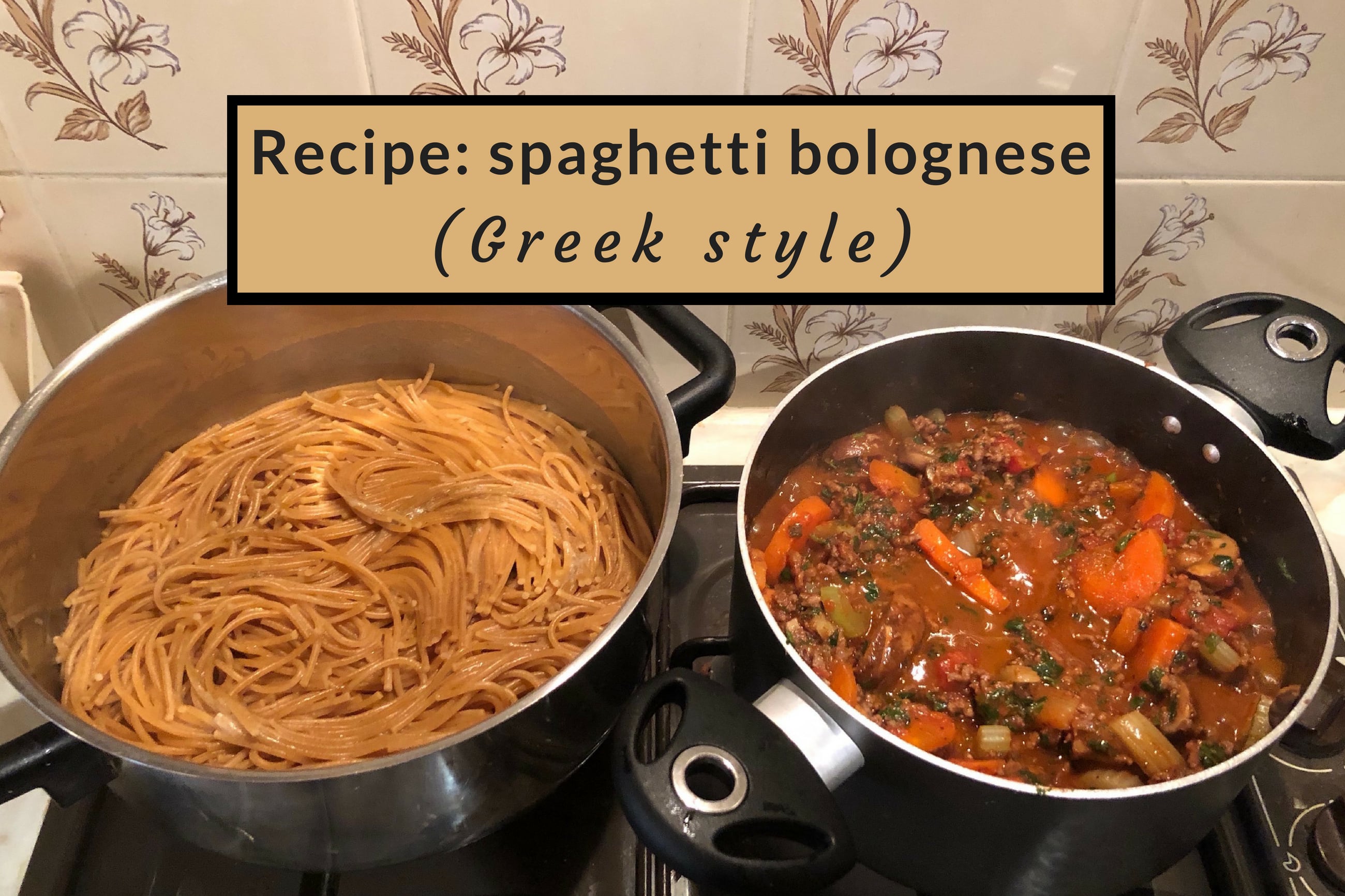 This is an old family recipe from Stefan's mother for Greek-inspired spaghetti bolognese.
The difference between the Greek and the Italian versions is the use of spices and herbs. In Greek-Cypriot cuisine we use a lot of cinnamon in both sweet and savoury dishes. In addition, Greek cuisine uses mint a lot, and sometimes allspice. Italian sauces are more likely to have mainly basil and fennel seeds.
Another subtle difference is the name. In Greek, spaghetti bolognese is called, "μακαρόνια με κιμά" (pronounced, makaronia me kima), or "pasta with minced meat".
Ingredients for our spaghetti bolognese recipe
around half a packet of spaghetti (you can always make more for leftovers)
500g pork or minced beef
x1 onion finely chopped
x2 cloves of garlic chopped
bunch of fresh parsley chopped
x5 sprigs of fresh oregano
bunch of fresh basil leaves
x2 teaspoons of ground cinnamon powder
half teaspoon of nutmeg
x1 tin of chopped tomatoes
x1 tablespoon of tomato paste
x8 mushrooms (depending on preference)
a few sticks of sliced celery depending on preference
a few chopped carrots depending on preference
salt/pepper for seasoning
vegetable oil for cooking
For serving: grated parmesan or halloumi for a Greek-Cypriot twist
How to make our spaghetti bolognese
1. Heat the vegetable oil in a large frying pan.
2. Sautéed the onions (ie cook them on a low heat, covered, for around 15 minutes until they brown; this brings out a sweeter flavour whilst softening them avoiding bad onion breath).
3. Add the chopped garlic and the meat and cook a bit until meat starts to change colour from pink to red/brown.
3. Add the mushrooms, chopped carrots and sliced celery and cook further for a few more minutes.
4. Mix in the chopped parsley, oregano, basil, cinnamon and nutmeg.
5. Add the chopped tomatoes and x1 tablespoon of tomato paste to thicken the mixture a bit.
6. Add around a cup of water to loosen the mixture and let it simmer on a low heat uncovered until the liquid is almost absorbed.
7. Add salt and pepper to taste.
8. Prepare the spaghetti according to packet instructions (usually add the spaghetti to a large pan of boiling slightly salted water and let it boil for around 15-20 minutes until it's tender, but taking care to stir it occasionally to avoid it sticking to the bottom of the pan, drain and serve).
9. Serve the spaghetti with the meat on top and add some grated parmesan.
IF YOU ENJOYED READING, PLEASE PIN ME: