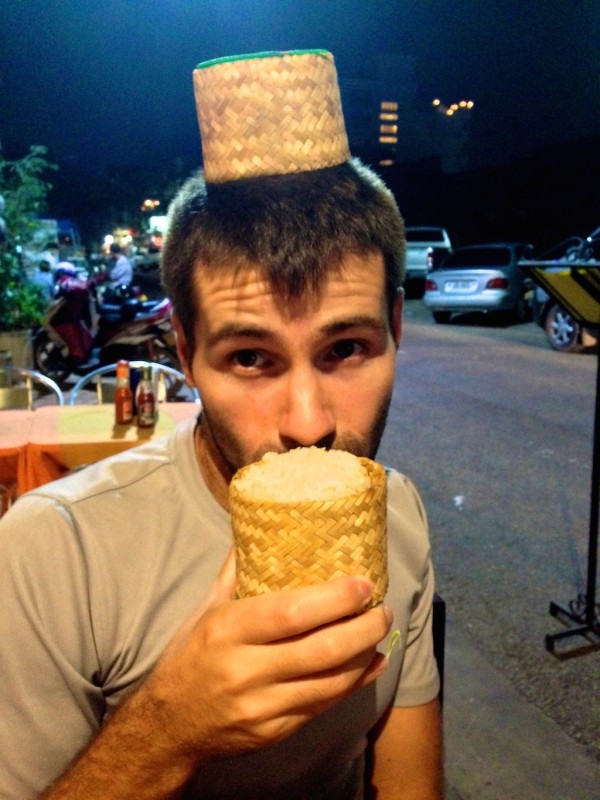 Sticky rice is the staple food of any Laotian meal. It is called "khao niaow" and made from glutinous rice. It contains a higher sugar level than normal rice, which gives it its stickiness.
Despite the name (glutinous rice), Laotian sticky rice is gluten free and therefore great for people with celiac.
Sticky rice is steamed and traditionally served in small cute bamboo baskets in Laos called "lao aep khao".
Ingredients for Laotian sticky rice
300g of sticky rice
water for cooking
How to make Laotian sticky rice
Wash 300g of rice under running water until the water runs clear.
Place the rice in a saucepan with just enough water to cover it and soak it over night for up to 10 hours. Packaged sticky rice only needs 2-3 hours.
Drain the rice and rinse under cold running water 3 times.
Place the rice in a steamer on medium heat for around 20 minutes before all the water evaporates and the rice is soft and sticky but not over cooked and mushy.
Let it cool and serve at room temperature in a bamboo container.
This is a good accompaniment to a laap (minced meat salad) or to soak up a spicy jeow dipping sauce. Sticky rice also forms a base for a tasty coconut milk based desert.
You can read more about our experiences discovering food in Laos and watch our Laos travel video.