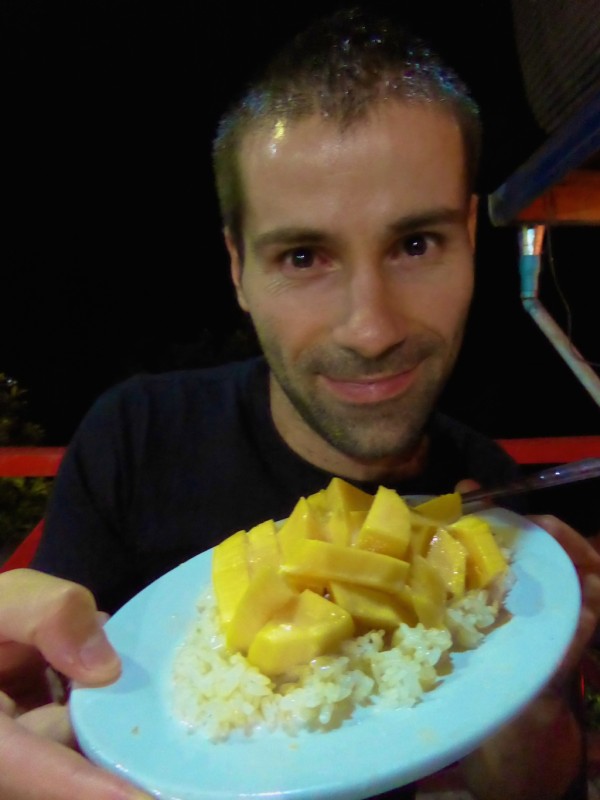 Laotian coconut sticky rice is a delicious desert usually made from purple sticky rice and coconut milk.
Purple (or black rice) is a healthier grain of glutinous rice and more commonly used in Laos in deserts. The purple rice is not essential and normal white glutinous rice can be used, but the purple variant looks cooler.
Ingredients for Laotian coconut stick rice
300g of prepared sticky purple rice
375ml of coconut milk
100g of sugar
pinch of salt
How to make Laotian coconut sticky rice
Steam the sticky rice as stated in the packet or follow our recipe for preparing Lao sticky rice.
While the rice is steaming, heat 300g of coconut milk with 100g of sugar and a pinch of salt in a saucepan, stirring until the sugar and salt are dissolved.
Remove the hot rice from the steamer and pour most of the coconut milk sauce over it, reserving a few spoonfuls for serving, and allow it to stand for 15 minutes for the flavours to be absorbed.
Pour the remainder of the coconut sauce over the rice.
Mound the rice on a plate and serve with sliced fruit like mango, dragon fruit, strawberries, bananas or other fruit.
PLEASE PIN ME: