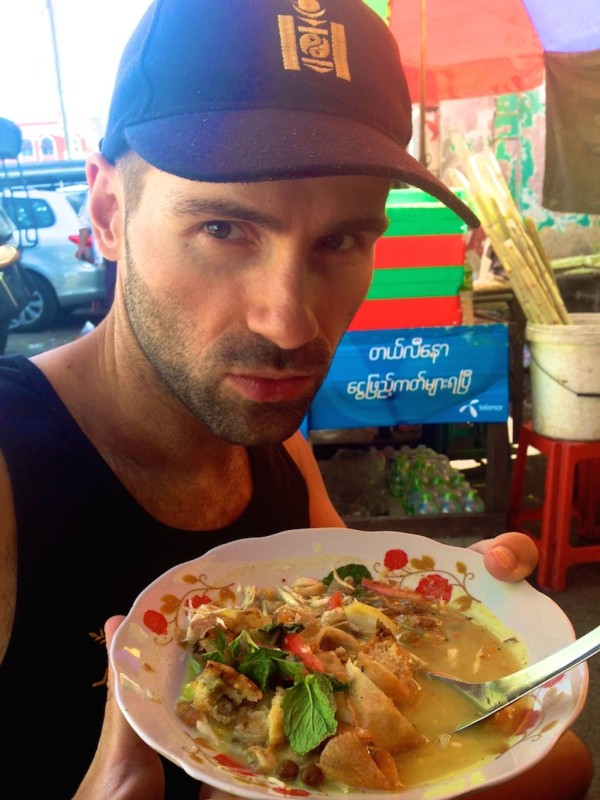 Burmese food startled us at first because it can be quite oily.
And just as we started to get used to spicy foods (particularly after Sri Lankan food), we were surprised to find that Burmese food is quite mild – by Asian standards of course!
The tea houses and street food scene of Yangon and variety of Burmese curries we tried in Mandalay kept these two greedy boys very happy.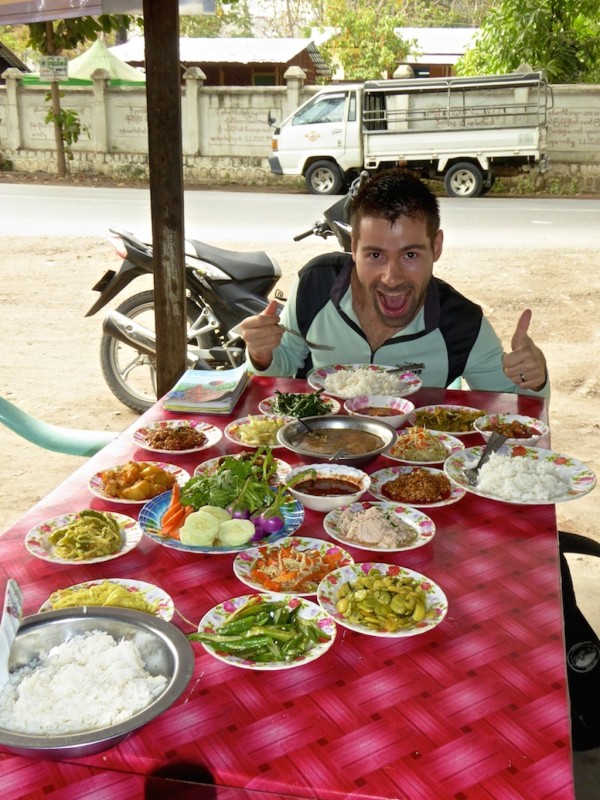 #1

Burmese food: curries in Mandalay
In Mandalay we stayed at the excellent Nan Bwe – The Vibe Hostel with the really sweet owner Nan Bwe, who taught us about Burmese food, in particular how to prepare a Burmese meal.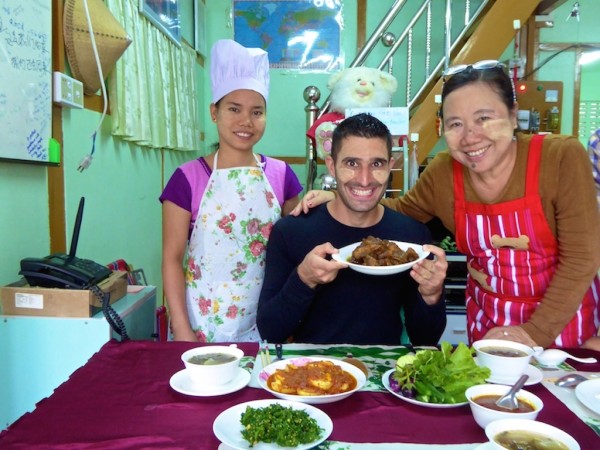 Burmese meals usually evolve around rice and many different curries. It reminded us a lot of the Sri Lankan 'rice and curry' whereby a meal involved many many little dishes of excitement.
These many little dishes would include a variety of different vegetable and non vegetable curries. Our favourite recipe was Burmese chicken curry, which involved large amounts of garlic.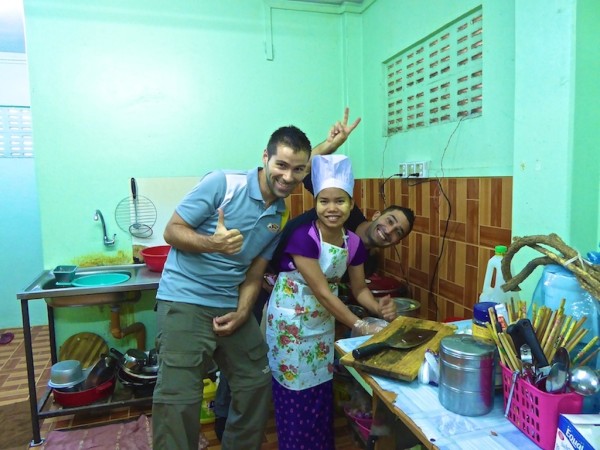 Burmese curries are served with rice, a soup broth (usually lentils or other vegetable), a plate of quickly boiled raw vegetables and a fish based sauce to dip the raw vegetables into. Unlimited green tea is usually also served alongside it.
We also learnt that there is no real uniform recipe for each curry. So each Burmese meal was a new culinary journey of flavours.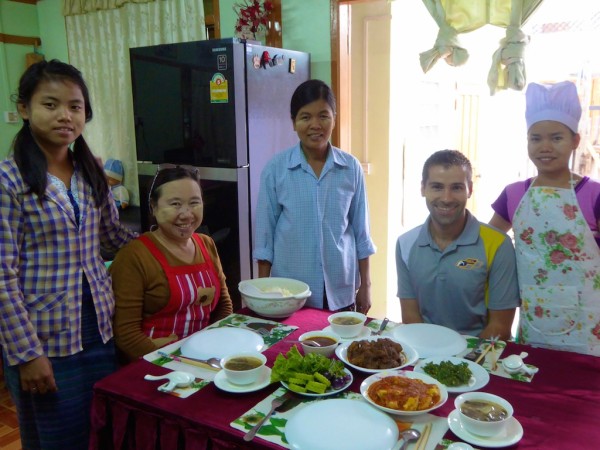 #2

Street food in Yangon
In Yangon we loved the variety of delicious street food on offer. Meals here are commonly taken on the streets creating quite a buzzy atmosphere:
Along with all the different fruits, noodles and curries available, we particularly liked the freshly squeezed sugar cane juices and samosa salads available on the streets of Yangon.
#3

Samosa salad
We love samosas. But the Burmese have taken this to a whole new level, chopped it up and served it in a delicious salad with more vegetables added and fresh mint tossed in.
Sebastien went face down in quite a few of these…
#4

Freshly squeezed sugar cane juice
We saw many stalls in Yangon with large sugar cane sticks and wondered what they were for. We discovered the sticks are pressed and a sweet, sticky juice is squeezed out, creating a very yummy drink.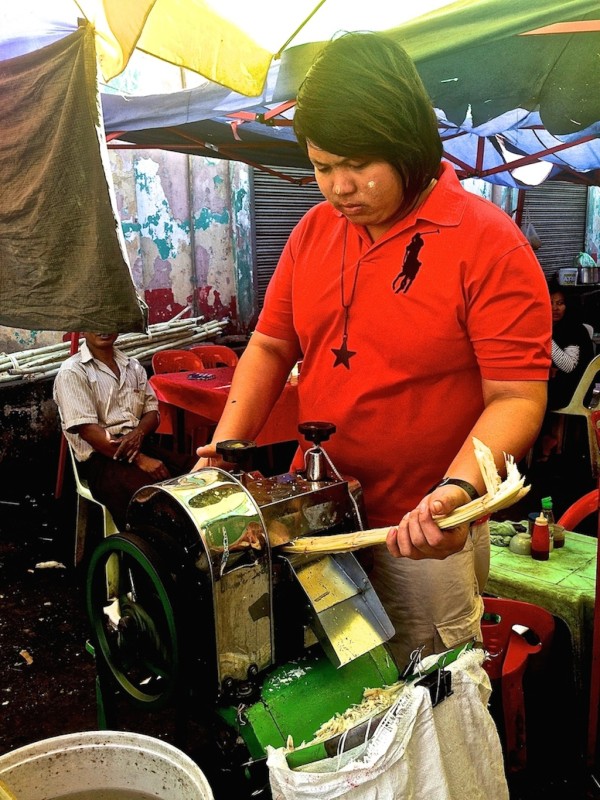 No ice, water, extra sugar is needed. It's plain and simple, and one of the tastiest natural drinks we've ever tried. Stefan's sweet tooth loved these!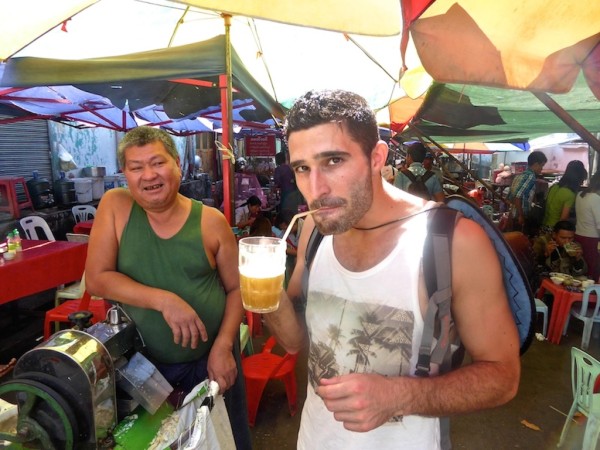 #5

Semolina cakes in Yangon tea houses
Tea houses are prevalent in Myanmar, especially in Yangon where we noticed there was one on every other block. But the real highlight for us in a Burmese tea house were the delicious freshly made prizes placed on each table.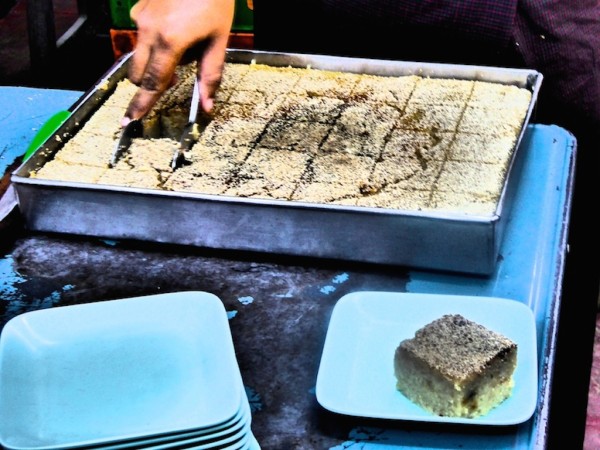 Our favourites were the freshly made semolina, coconut cakes topped with poppy seeds called "shwe kyi". This was one of the tastiest treats we tried in Myanmar and again, appealed nicely to Stefan's sweet tooth…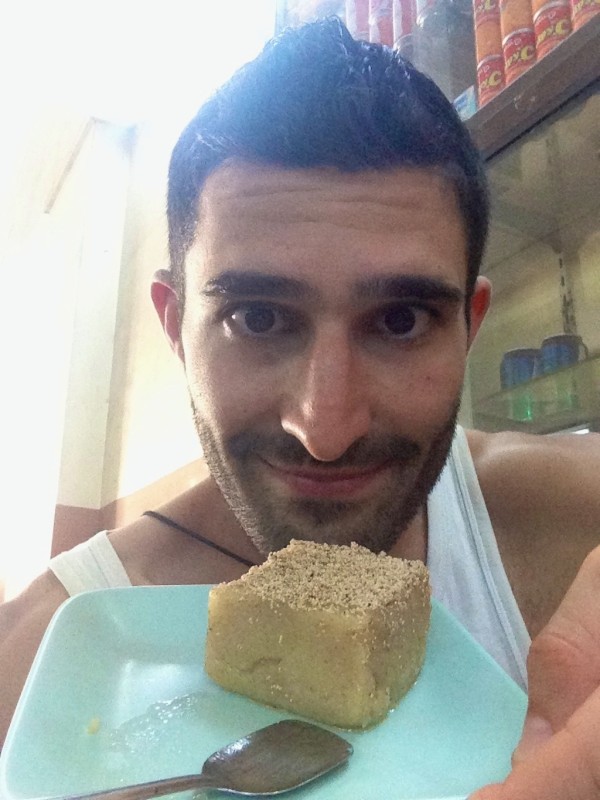 #6

Myanmar beer
Finally, no post by us about food is complete without a mention of the country's national beer.
In this case, it was particularly important as it was the deciding factor in determining why we call this country Myanmar and not Burma.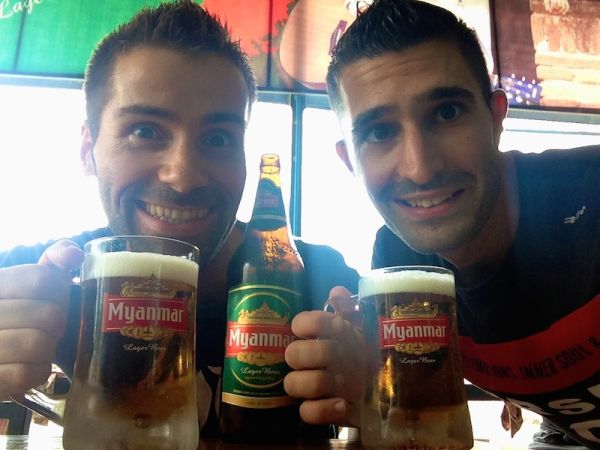 Watch our video Myanmar travel video as we made our way from Mandalay to Bagan, Inle Lake and Yangon: