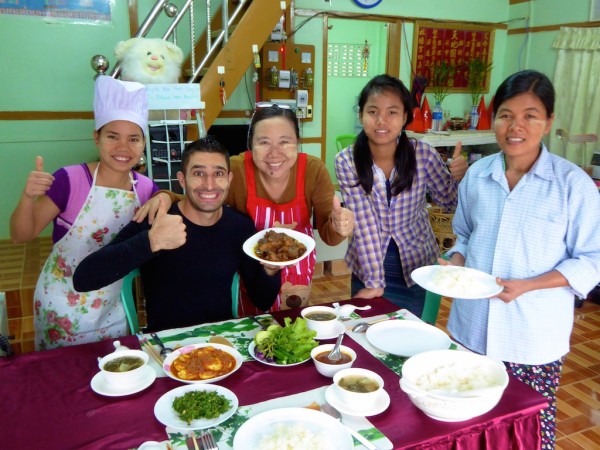 Rice is a staple in the Burmese cuisine and usually eaten with a curry, soup or salad.
A typical Burmese meal we encountered usually involved several small pots of various curries with a succession of small dishes including a soup, a plate of slightly boiled vegetables for dipping, a fish based sauce to dip the vegetables into and rice.
In Mandalay we stayed at the excellent Nan Bwe – The Vibe Guesthouse. The very charismatic owner, Nan Mwe taught us a lot about Burmese life and in particular about Burmese cuisine.
We highly recommend a visit to this excellent guesthouse for all travellers to Mandalay.
One of the more popular Burmese dishes is chicken curry, which we learnt to make with Nan Mwe.
This particular dish uses 5 boiled eggs and a lot of garlic (an ingredient we both love).
Ingredients for Burmese chicken curry
1kg of chicken breasts keep skin and bone for flavour skinned and boneless
5 tomatoes chopped
7 onions peeled and chopped
1 red chilli pepper, chopped (use half to make it less spicy)
1 teaspoon of salt
1 teaspoon of turmeric powder
15 garlic cloves peeled
1 stick of peeled fresh ginger
65ml of cooking oil (peanut oil ideally, otherwise use vegetable oil)
100ml of cold water
1 tablespoon of soya sauce
lemon zest from a whole lemon
5 hard boiled eggs
How to make Burmese chicken curry
1. Put a third of the onions, chopped red chilli pepper, 15 garlic cloves and ginger stick into a food processor (or pestle and mortar) and grind into a puree.
2. Add a teaspoon of salt and turmeric powder.
3. Rub the chicken with this puree mixture.
4. Heat 65ml of cooking oil in a frying pan on medium high heat then add the chicken.
5. Cook the chicken uncovered on a medium heat, until both sides brown, for around 10 minutes.
6. Remove the chicken from the pan.
7. Add the remaining onions into the pan and cook on a low heat, uncovered, until they brown. Stir occasionally to avoid them sticking to the pan.
8. Mix in 100ml of cold water, 1 tablespoon of soya sauce and the lemon zest and leave to cook for 3 minutes on a medium heat, uncovered.
9. Add in the chicken and cook, uncovered on a low heat for around 20 minutes.
10. Slice the 5 boiled eggs in half and add them. Cover and cook on a low heat for another 15 mins (or at least until the chicken is no longer pink). Gently stir so as not to turn the eggs.
Remove from the heat and serve with rice and lots of other Burmese goodies mentioned above.
PLEASE PIN ME: