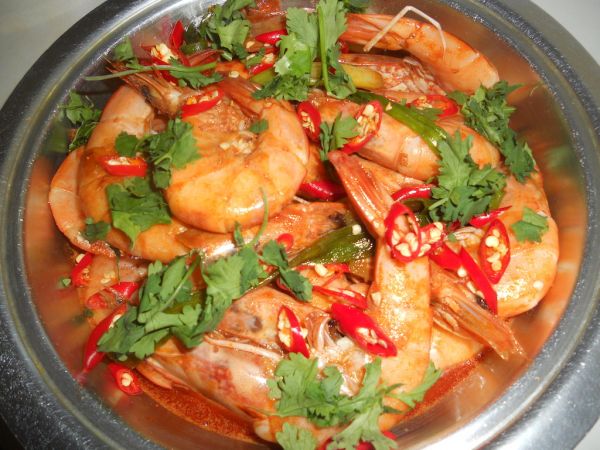 In Sri Lanka, "deviled" means spicy.
Anything with deviled in the title means you are going to have a foodgasm of flavours going on in your mouth!
Sri Lankans love their food spicy. But the reddish appearance of devilled prawns is not from the red chillies, but from the tomato sauce used.
This recipe was enough to fill up these two greedy boys.
Ingredients for deviled prawns
around 500g of prawns, shelled and deveined
2 onions, peeled and roughly chopped
2 tomatoes, roughly chopped
3 cloves of garlic, peeled and chopped
1 large chunk of ginger, peeled and roughly chopped
1 tablespoon of soy sauce
2 tablespoon of tomato sauce or ketchup
2 teaspoons of chilli powder
1 chopped red chilli (or half to make it less spicy)
1 tablespoon of vegetable oil
pinch of salt and pepper to taste
handful of fresh coriander, roughly chopped – for garnish
How to make deviled prawns
Heat a pan with 1 tablespoon of cooking oil and add the chopped onions. Cook on a high heat, uncovered for around 5 minutes until they are golden brown (keep stirring every so often to avoid them sticking to the pan).
Mix in the chopped garlic, chilli powder and ginger, cook on a medium heat for 1 minute, stirring.
Mix in the 2 tablespoons of tomato sauce (or ketchup), 1 chopped green chill, 1 tablespoon of soy sauce and cook for 1 minute, stirring.
Add the prawns and cook until they become a pink colour (around 3 minutes) – careful not to over cook.
Stir in the chopped tomatoes, add a pinch of salt and pepper to flavour, remove from heat.
Garnish with the chopped fresh coriander and serve with rice.
Watch our travel video diary of our adventures through Sri Lanka as we ate our way through this tropical island, took some beautiful train journeys and enjoyed excellent safaris spotting leopards at Udawalawe and blue whales at Mirissa.