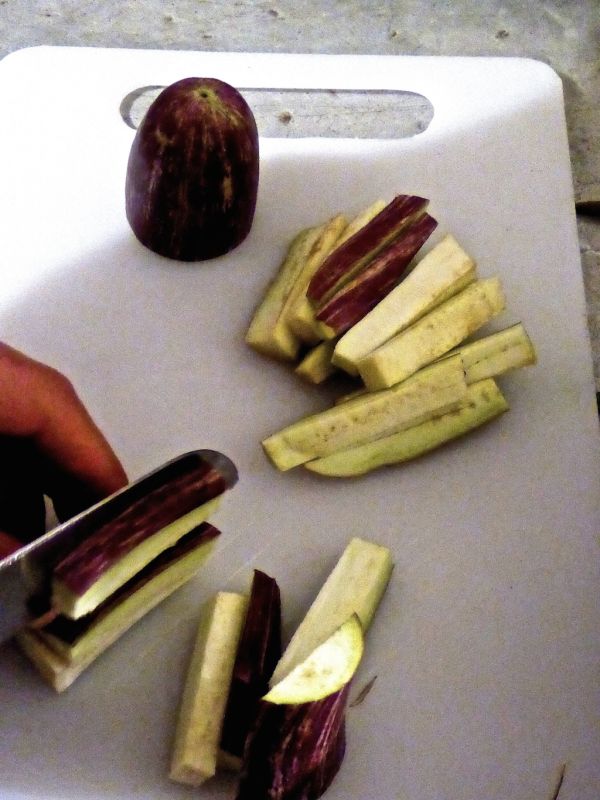 Sri Lankan rice and curry surprised us for its variety of delicious curries. There is no universal way of cooking a Sri Lankan curry, so each one is a new culinary experience – rather like a Nepalese dal bhat or an Indian thali.
The variety of really tasty vegetarian Sri Lankan curries available also surprised us, particularly aubergine curry.
This is the recipe we learnt for Sri Lankan aubergine curry:
Ingredients for aubergine curry
1 large aubergine (egg plant) – around 350g
1 teaspoon of turmeric powder
1 teaspoon of salt
100g (half a cup) of coconut oil for deep frying(use vegetable oil as an alternative)
2 teaspoons of oil for cooking
1 teaspoon of mustard seeds
1 red chilli, chopped (use half to make it less spicy)
Handful of curry leaves
4 cloves of garlic
1 large chunk of fresh ginger, peeled and roughly chopped
2 tomatoes, chopped
1 onion peeled and roughly chopped
salt to flavour
1 teaspoon of chilli powder
fresh tamarind
250ml of coconut milk mixed with 250ml of water
How to cook aubergine curry
Prepare the tamarind- squeeze around 4 chunks of tamarind in a small bowl of water, removing the stones and leave it aside.
Wash and cut the aubergine (egg plant) into thin long slices around 2 inches thick – like the size of chips.
Place the aubergine slices in a bowl and mix 1 teaspoon of turmeric powder and 1 teaspoon of salt. Leave to rest for around 30 minutes for the salt to drain off the bitter juices from the aubergine.
Heat 100 grams (half a cup) of coconut oil in a deep pan and add the aubergine slices. Deep fry until the aubergine slices are golden brown.
Remove the aubergine with a clotted spoon and place them in a strainer to remove excess oil, then place them on a plate covered with kitchen towels to absorb excess oil.
In a separate pan, heat 2 tablespoon of oil on high heat, uncovered and cook the chopped onions for around 5 minutes until they brown.
Mix in the chopped garlic, ginger add mustard seeds and cook until the mustard seeds start to pop.
Reduce the heat to a simmer and add the chopped red chilli and curry leaves, and cook for a minute, stirring occasionally.
Mix in the chopped tomatoes and continue cooking for a further 5 minutes on a low heat, until the tomatoes are tender.
Whilst it's cooking, retrieve the tamarind mixture, disregard the fruit and stones.
Mix the tamarind mixture, 1 teaspoon of chilli powder and a pinch of salt into the pan and cook for a further 2 minutes on a low heat.
Mix in 250g of coconut milk and 250g of water to the mixture, cover and cook on a medium heat for around 10 minutes, until it thickens.
Mix in the fried aubergine strips and combine the mixture gently.
Cook for a further 2 minutes and remove from heat. Serve with rice.
Watch our travel video diary of our adventures through Sri Lanka as we ate our way through this tropical island, took some beautiful train journeys and enjoyed excellent safaris spotting leopards at Udawalawe and blue whales at Mirissa.