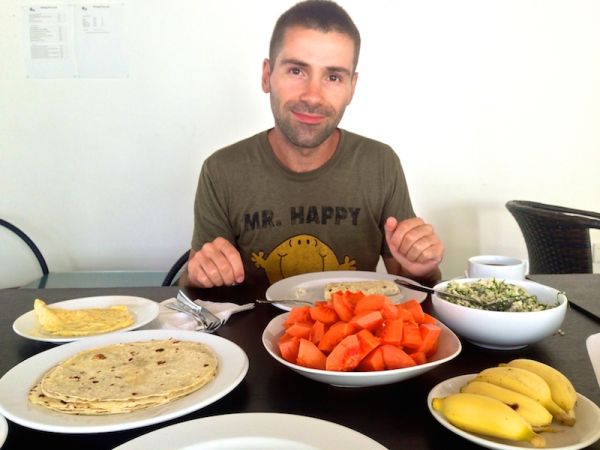 Roshis are like Indian rotis (tasty flat breads) but made with all purpose flour instead of wholewheat flour.
Roshis are usually served for breakfast in the Maldives with mashuni.
Apparently this recipe feeds 4, but we comfortably polished everything off between the two of us.
Ingredients for Maldivian roshi
400g of all purpose flour: 300g for the dough and around 100g for dusting
1 tablespoon of vegetable oil
1 teaspoon of salt
50g of shredded coconut
around 500g of warm water to knead the dough (don't use all of it, but enough to create the dough)
How to make roshi
Mix 300g of flour, 1 teaspoon of salt and 1 tablespoon of vegetable oil into a deep bowl.
Very slowly add warm water and knead it in. Keep adding more warm water slowly, kneading as you do this.
Whilst kneading, add around 50g of shredded coconut to the dough to add flavour to the roshi dough.
Keep kneading and adding small amounts of warm water each time until you have a dry, smooth dough.
Put the dough aside to rest for an hour, at room temperature, the bowl covered with a table cloth.
Break the finished dough into golf ball sized pieces.
Smoothen out the balls using your hands and dust each with flour.
Using a rolling pin, evenly spread out each flattened ball into circles about 6 inches in diameter.
Heat a shallow frying pan, reduce heat to medium, place a roshi on the pan to cook for a few minutes, then flip the roshi to cook the other side for a few minutes.
Continue cooking each roshi until all the dough is utilised and serve with mashuni.