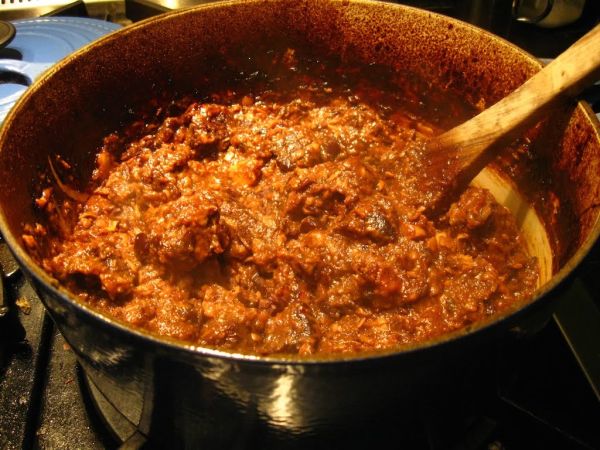 Skordostoumbi is a popular recipe from the Greek island of Zakynthos (also called Zante in Italian) on the Ionian sea, on the west side of the Greek mainland:
Skordostoumbi literally means "stuffed with garlic": skordo means garlic and "stoumbosame" is Greek slang meaning "we are stuffed!" after eating a heavy meal.
This recipe has a lot of garlic: around 100 cloves (10 full heads). That's a lot more than the garlic curry recipe we discovered in Sri Lanka.
The other main ingredient is sliced aubergine, which is first deep fried and then baked.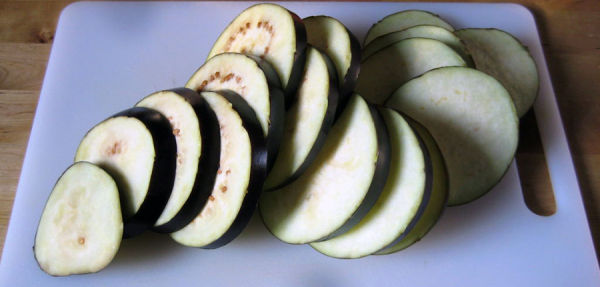 Ingredients for skordostoumbi
3 medium aubergine, sliced into thin slices like in the picture shown above
10 garlic heads, coarsely chopped
600ml of extra virgin olive oil
2 tablespoons of white wine vinegar
5 tomatoes, chopped
around 4 tablespoons of salt to sprinkle on the sliced aubergines to dry them
pepper and more salt to flavour
How to make skordostoumbi
Sprinkle salt over the aubergine slices in a colander and leave them to dry out for 1 hour. Rinse and pat dry.
In a deep pan, heat 600ml of oil and deep fry the sliced aubergines on a high heat, uncovered, for 1 minute on each side until they brown.
Remove the aubergines and add the chopped garlic. Cook them for around 10 minutes on a high heat, uncovered, until they brown, stirring every few minutes.
Mix in the chopped tomatoes, flavour with salt and pepper and stir in 2 tablespoons of vinegar and cook on a low heat, uncovered, for around 10 minutes.
Pre heat the oven to 180 degrees celsius.
Grease a baking tray and put the sliced aubergines in layers in the dish and pour a little bit of the garlic vinegar oil sauce over it. Then continue adding the sliced aubergines on the next row, in layers, adding more sauce – continue until all the aubergine slices have been used up.
Bake in the oven for around 40 minutes or until the aubergines are tender and the sauce thickens.
Serve with pitta bread and feta cheese.