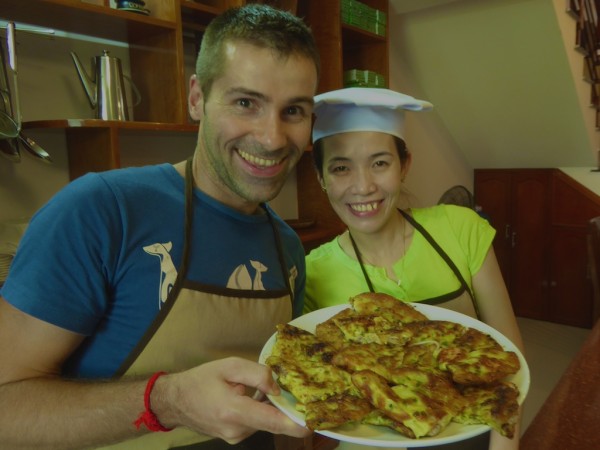 Banh Xeo are Vietnamese pancakes, which have been deep fried and cooked with pork, shrimp and bean sprouts.
They are served with a yummy sweet, fish, chilli, garlic based sauce for dipping.
We took an excellent cooking class in Hoi An with the Golden Lotus Cooking school where Sebastien learnt this recipe for these finger licking Vietnamese savoury pancakes.
Ingredients for Banh Xeo Vietnamese savoury pancakes
300g pork fillet
300g shrimps or prawns (de-vained and peeled)
50g green spring onion finely shopped
100g bean sprouts
3 shallots (thinly sliced)
1 tablespoon of turmeric power
100g of fresh herbs (like mint and coriander) and green salad
1 tablespoon of vegetable oil and more oil for frying
Salt and pepper for flavouring
Banana leaves or kitchen roll to put the pancakes on after cooked
1 litre of water (ie water to rice ratio is 2:1)
500g rice flour or specific Banh Xeo rice flour:
Ingredients for Banh Xeo Vietnamese savoury pancakes
3 tablespoons of fish sauce
6 tablespoons of water
6 tablespoons of sugar
1 tablespoon of chilli (finely chopped)
1 tablespoon of garlic (chopped)
3 tablespoons of lime juice
How to make Banh Xeo Vietnamese savoury pancakes
1. Peel and de-vain the prawns or shrimps.
2. Cut the pork into small pieces and mix together with the shrimps, together with the shallot, garlic, a teaspoon of salt and pepper, and 1 tablespoon of vegetable oil.
3. Whisk together the rice flour, turmeric powder with 1 litre of water to form a runny batter.
4. Heat 2 tablespoons of vegetable oil in a frying pan and using a ladle, add one scoop of batter then two tablespoons of the shrimp and pork and a handful of bean sprouts.
5. Ideally use two stoves/two frying pans to speed up the process.
6. Cover the pan and cook on a low heat for around 5 minutes, until the pancake is crispy.
7. Fold in half, remove from pan and place on a plate with kitchen roll (or banana leaves if you have them) ready to serve with the dipping sauce.
8. Repeat the above process until all the batter is used up.
How to make the dipping sauce for Vietnamese savoury pancakes
1. Mix in the fish sauce, water and sugar in a frying pan and bring to a boil.
2. Let it cool down and mix in the lime juice, garlic and chilli.
Travel with us as we made our way from Saigon up to Hanoi in our Vietnam travel video.