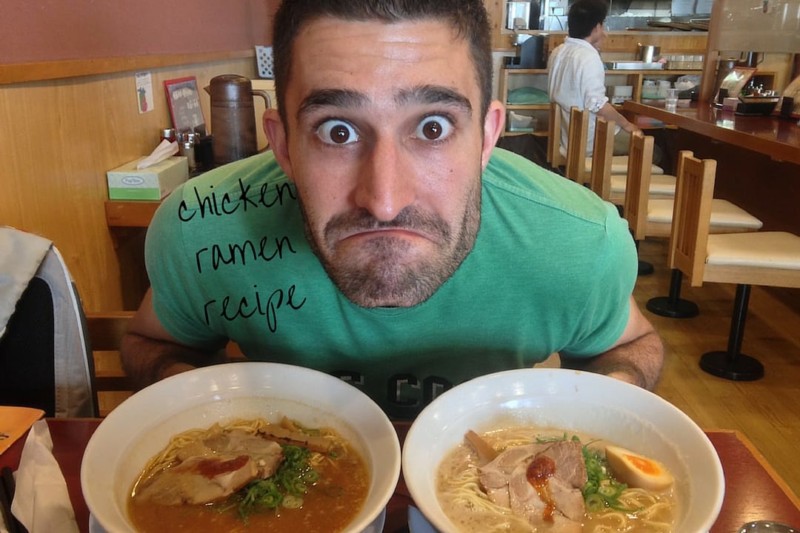 Ramen is comfort food in Japan and one of our 10 favourite traditional Japanese foods.
Chicken ramen is made in four stages: first the broth, second the noodles, third the meat, fish, or vegetable base and lastly, the toppings.
The broth is the hardest and most time consuming. But the longer it cooks for, the tastier it becomes.
Ramen was originally considered a food for special occasions, but has now become an everyday food in Japan, served in one of the many ramen bars across the country. Ramen bars have also become popular across Europe and the USA.
Our chicken ramen recipe comfortably served these two greedy boys and left plenty for lunch the next day. For ease of reference, we have split this recipe into four parts:
1. Chicken ramen recipe: the broth
Ingredients for the chicken ramen broth:
4 Chinese leaves

450g potatoes (peeled)

2 carrots

2 tablespoons of chopped canned tomatoes

1 small sweet potato

1 butternut squash

1 white onion

1 red onion

1 leak

3 litres of water
How to make the chicken ramen broth:
Roughly chop all vegetables and put in a large pan with the x3 litres of water.
Bring to the boil, then lower the heat to simmer and cook uncovered for x3 hours.
After x3 hours, turn off the heat, allow to cool, then strain (ie keep the liquid and disregard the solids).
Season the broth with x2 teaspoons of salt, sugar and a pinch of pepper.
2. Chicken ramen recipe: the noodles
You will need 250g of the ramen noodles and 1 litre of the broth to boil them in.
You can buy the thin, wavy ramen noodles from your local oriental shop.
3. Chicken ramen recipe: the meat base
We made a chicken ramen so used around 500g of boneless skinless chicken breasts. But you can use pork, prawns, tofu, clam, squid, crab etc, or a mix of these.
Whichever you use, cook it so both sides (around 4 minutes) so it is cooked but tender. Then set aside to rest and cut into bite size pieces ready for serving later.
4. Chicken ramen recipe: the toppings
For the toppings, you can use a mix of these, with some other suggestions below, depending on your preference:
x2 pak choi, trimmed and roughly chopped (or x2 handfuls of baby spinach alternative)
x12 pieces of menma (canned bamboo shoots, drain it first)
x4 spring onions, trimmed and finely sliced for serving
sprinkling of bonito flakes (these look like wood shavings, they are thin strips of dried smoked fish, which we bought from our local Japanese supermarket)
topping suggestions to up the protein content (especially if making a vegetarian based ramen) by adding a soft boiled egg, peanuts / cashew buts or grated cheese
other topping suggestions: seaweed, corn, cabbage, pickled ginger or scallion
salt and pepper for seasoning
Serving the chicken ramen:
Add noodles to a pan of boiling water and boil them for around 2-3 minutes until they are just tender, then drain, rince under cold water and divide between x2 bowls for serving.
Heat up the broth, bring to the boil.
Serve the pak choi (or baby spinach) on top of the noodles then add the broth.
Top with the meat/veg base, so in our case, the sliced chicken.
Add the toppings, so in our case, the menma and sliced spring onions.
When in a ramen bar in Japan, it is considered polite (well at least very acceptable) to loudly slurp your bowl of noodles. To find out more, check out our 8 quirky and interesting facts about Japan.
Ramen is a main dish by itself and goes down very well with a traditional Japanese drink like sake (alcoholic Japanese drink made from fermented rice) or high ball (whisky with soda water).
Also check out our Japanese green tea cake recipe for a yummy dessert and our recipe for yaki udon for an alternative noodles experience.
Read more about our Japanese experiences, such as when we dressed up as geisha in Tokyo, gay guide to Tokyo and for first timers visiting, our 10 days itinerary to Japan. Also, big Japan travel tip from us: look renting a WiFi router to cut down your roaming charges.
IF YOU LOVE ME, PLEASE PIN ME: