"I will never forget my first time trying Japanese food…
I moved to London from my small village in France back in 2006 and my friends took me to Wagamamas – a Japanese chain restaurant."
We ordered lots of sushi rolls, sashimi, gyoza, a Chicken Katsu to share, and finally, a bowl of Yaki Udon. I don't know if it was the novelty of trying Japanese food for my first time or the freedom of being in London away from family, but when I took those initial slurpy spoonfuls of this simple Japanese stir fry noodle dish, I instantly fell in love!
Fast forward a few decades and I've now visited Japan several times with Stefan, each time leaving with a thirst to return. We both love Japan, particularly the food, which you may not know is, in fact, part of UNESCO's Cultural Heritage List. But for me, Yaki Udon will always hold a special place in my heart!
So, after plenty of obligatory Yaki Udon sampling, I grabbed Stefan, headed to our local Asian supermarket for the ingredients and together we tried out this recipe.
🍜 Our recipe for Japanese Yaki Udon is inspired by our friend Shintaro from Tokyo. We have tried and embellished this recipe many times, each time adapting and improving it.
Now we publish it here for you to try out as well:
What is Yaki Udon exactly?
In a nutshell, Yaki Udon is Japanese stir-fried udon noodles made with your choice of protein and vegetables then seasoned with a savoury sauce. It's very simple to make requiring little skill. It's also highly delicious – one of our favourite foods from Japan.
Yaki is Japanese for pan-fried and udon are the thick and chewy noodles, made from wheat flour (as opposed to soba noodles which are thinner and made from buckwheat flour). Yaki Udon originated in Kokura, Fukuoka Prefecture in southern Japan after the Pacific War (1941-45) when food was scarce and soba noodles were hard to find. As an alternative to soba noodles, the owner of the Darumado noodle restaurant used udon noodles instead and just like that – a new dish was born!
Yaki Udon can be served as a main dish, although when we visited Tokyo we noticed that it is more traditionally served as a snack in the many izakayas (after-work Japanese pubs) we visited.
However you eat it, Yaki Udon goes well with a chilled or heated sake (alcoholic Japanese drink made from fermented rice).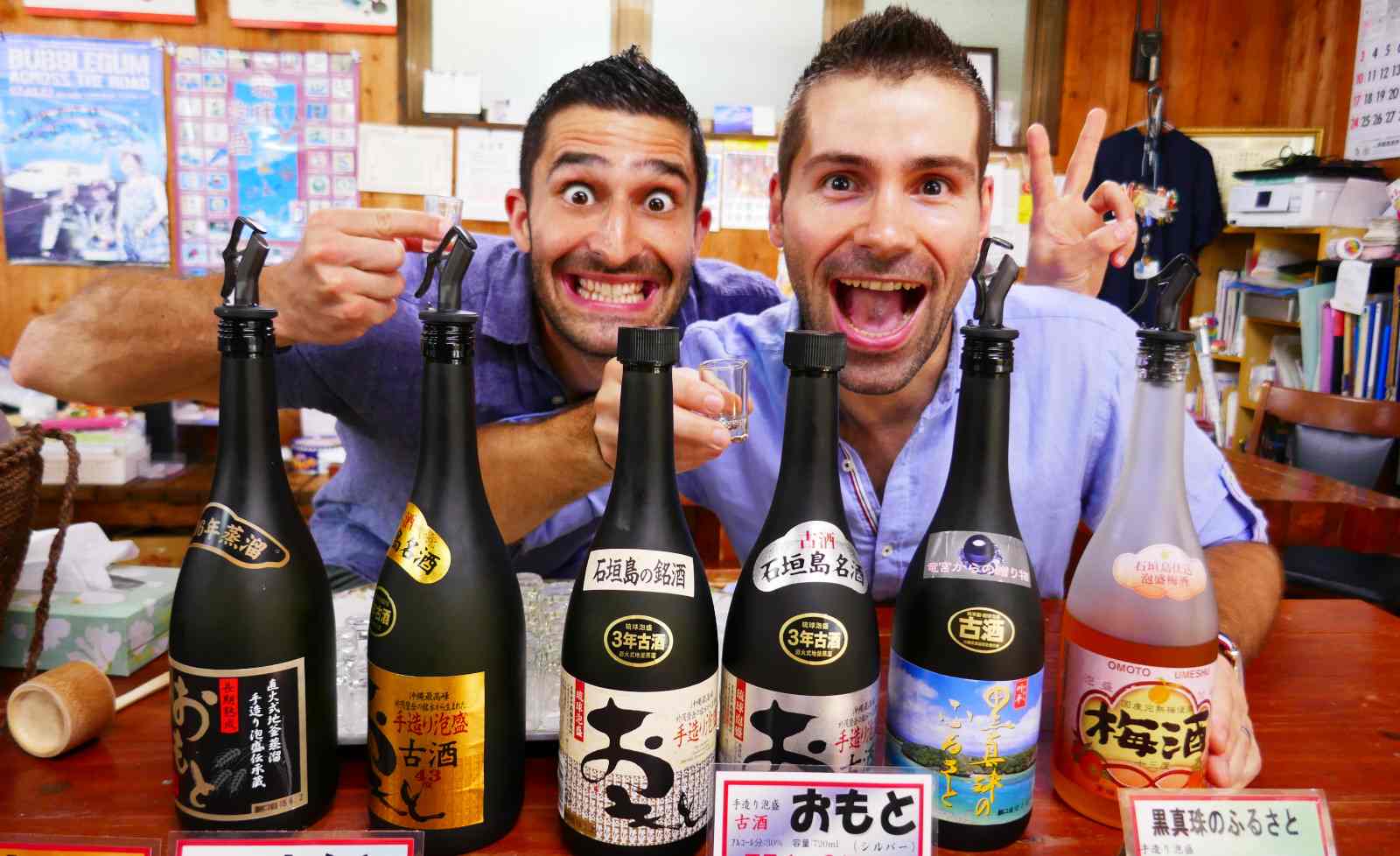 What are udon noodles?
Udon noodles are thick and satisfyingly chewy – one of the reasons I love this dish so much! They are made from wheat flour and can be served as a hot noodle soup (called "Kake Udon"), or cold, with dipping sauces (called "Zaru Udon").
There are many different stories behind the origins of Udon noodles in Japan. One thing they all suggest is that udon noodles originated in China during the Tang Dynasty (618-907 AD) when it was referred to as konton. Back then it was made from wheat flour with sweet fillings resembling a dumpling. Gradually, over time, the konton evolved. It lost its sweet filling, it became longer – more noodle-like, less dumpling-like, but it retained its chewy yumminess that I love so much!
🍜 Udon noodles are thick and satisfyingly chewy noodles made from wheat flour: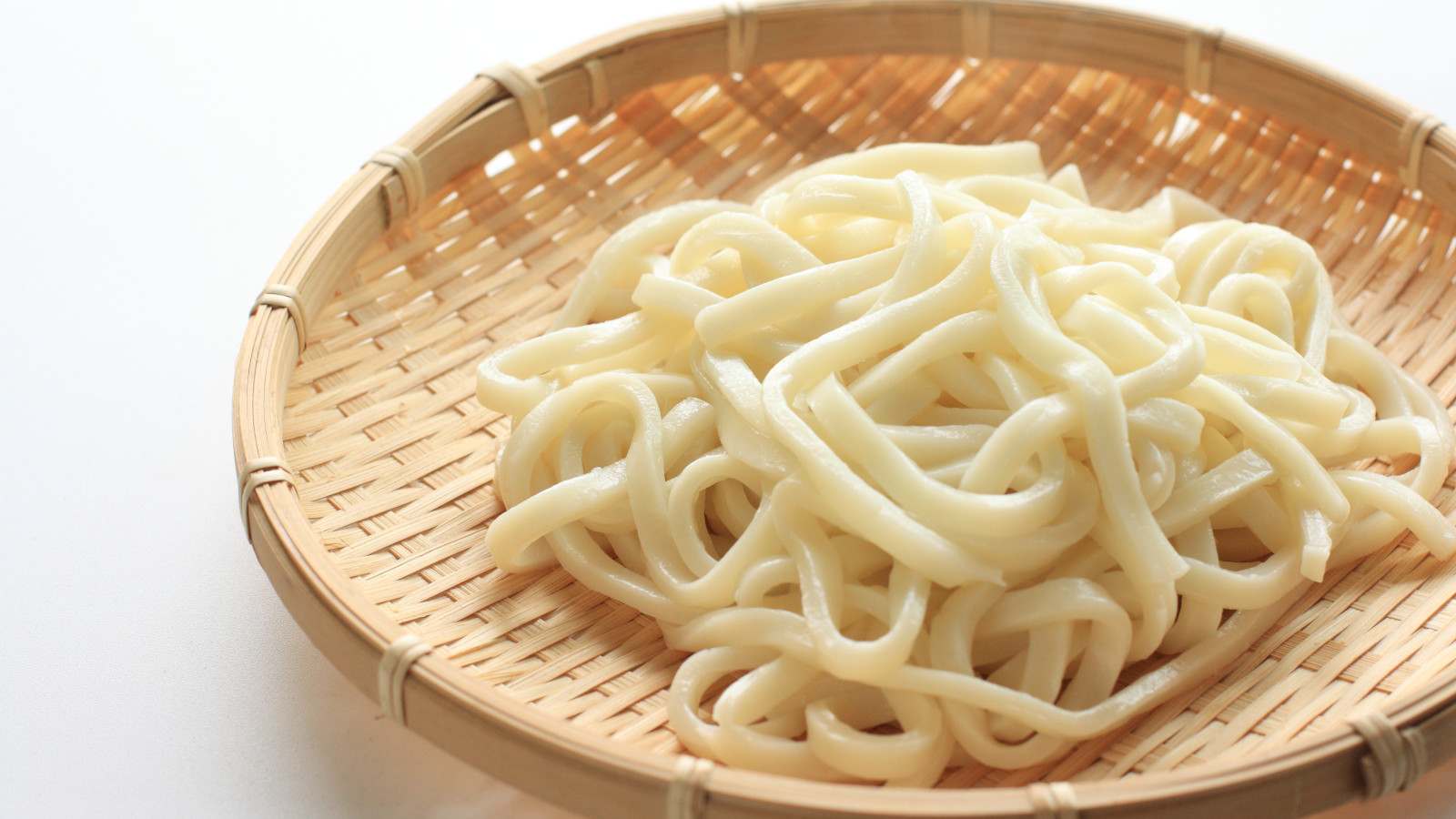 How to prepare udon noodles?
For our simple Yaki Udon recipe, we buy pre-cooked vacuum packed udon noodles from our local Asian supermarket (though lately the larger supermarkets have also started to sell dry vacuum packed udon noodles). Is it cheating? Well the title of this post wouldn't have "simple" in it otherwise would it…
We loved the packed noodles because they feel fresh and you find them pretty much anywhere.
If you're a bit lazy like us, you can just buy your Udon noodles online and get it delivered straight to your door.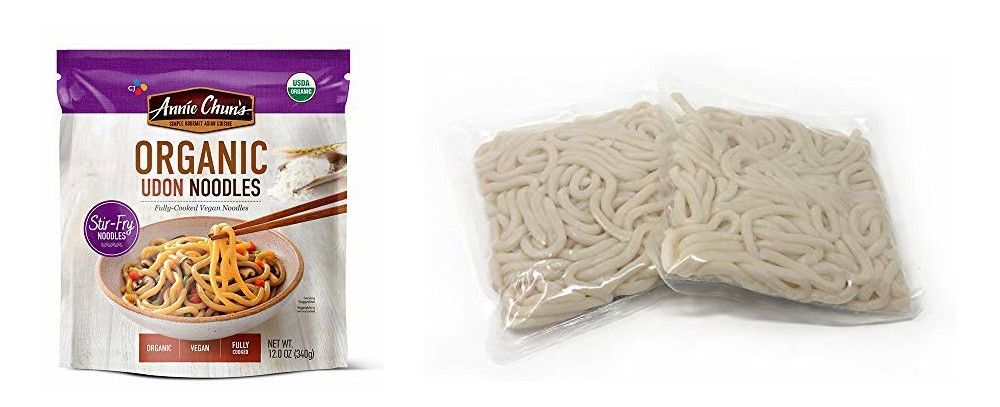 If you cannot find packaged Udon noodles, you can buy dry Udon noodles and cook them as per the instructions on the packet. We found them to be not as good but when added to the stir fry and all the seasoning, they'll still be delicious
You can also make your Udon noodles from scratch. If you have time, we certainly encourage this, least of all to maximise the flavour. There are many excellent online recipes for making udon noodles from scratch, which usually involve/kneading together flour, water and salt. Some recipes we found add some tapioca starch or cornflour to increase the udon noodles' unique chewiness.
The magic ingredient for Yaki Udon…
🐟 Dried bonito flakes!
Dried bonito flakes (called "katsuobushi") are shaved flakes of dried, smoked bonito fish that look a bit like wood shavings. They are a crucial component for most Japanese dishes, particularly Yaki Udon.
They have a smokey and savoury taste which gives a rich (and quite satisfying!) flavour to Yaki Udon. For us, we consider it to be the key, magical ingredient! It's also quite spectacular to watch: sprinkle a few pieces of dried bonito flakes on a freshly made plate of Yaki Udon and watch them move about as they react to the heat!
Don't worry, the dried bonito flakes are not alive! They simply move when they touch heat because they are so thin and light in structure.
If you cannot find dried bonito flakes in your local Asian supermarket, you can buy them online here.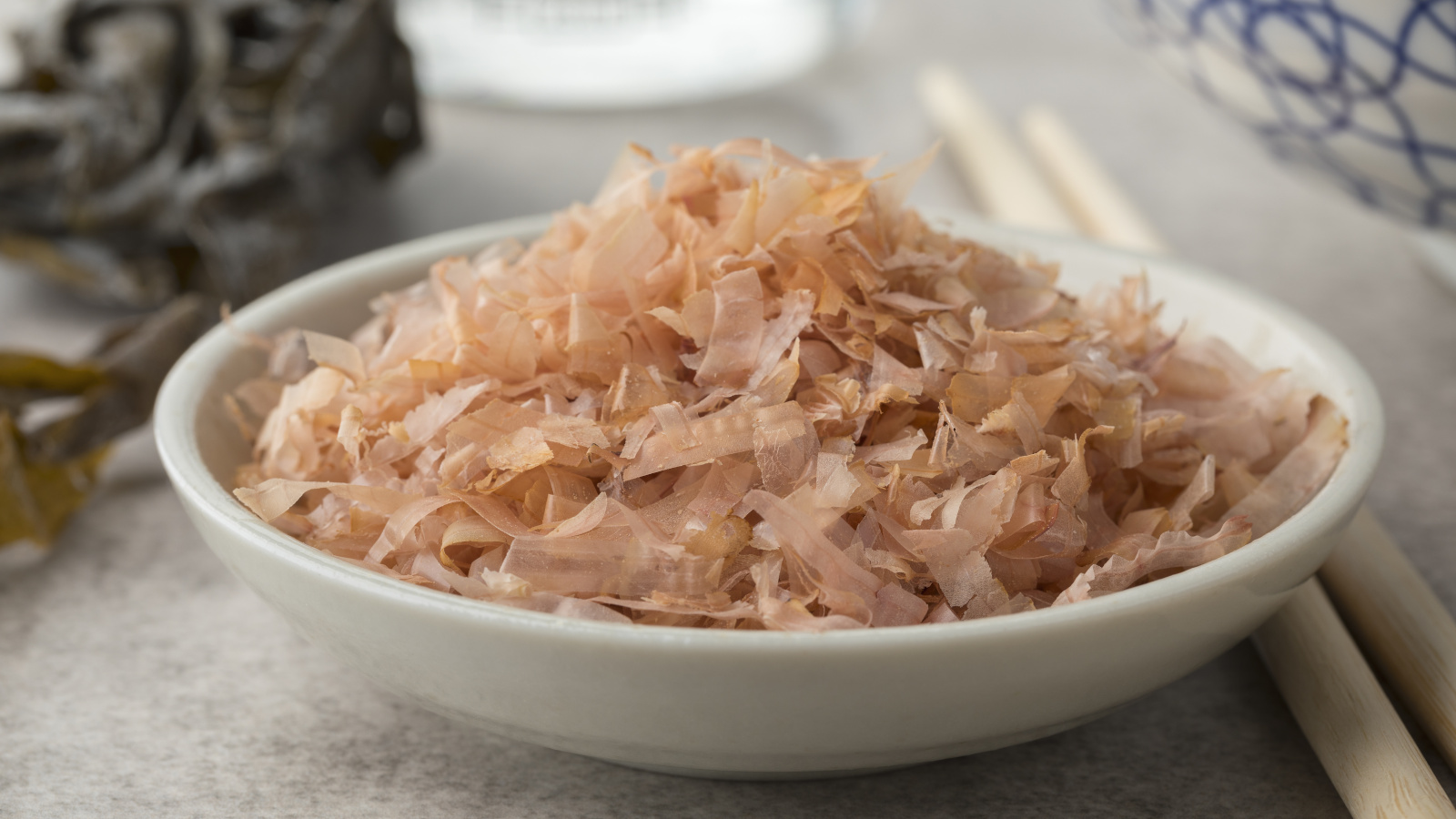 Main ingredients for yaki udon recipe:
x2 bundles of udon noodles (run water through them to separate them)
x2 tablespoons of sesame oil
x2 cloves of garlic, peeled and chopped
x1 tablespoon of rice vinegar
ginger: a couple of fingers of ginger, peeled and grated
x1 pepper, deseeded and sliced into bite size chunks
250g of chicken or other meat or seafood (or without if you want vegetarian), chop into bite sized chunks
x1 onion peeled and chopped into small pieces
x1 carrot, peeled and sliced
x3 cabbage leaves, washed and chopped
x2 shiitake mushrooms chopped
x1 spring onion sliced
x2 tablespoons of Mentsuyu sauce for seasoning (Mentsuyu is a sauce made from soy sauce, sugar, dashi, which is a cooking broth, and mirin, which is a rice wine with a lower alcohol and sugar content)
x1 tablespoon of soy sauce for seasoning
x1 packet of "katsuobushi" (dried bonito flakes, which is tuna which has been dried, fermented and smoked)
x1 tablespoon "kizami shoga" (pickled pink looking ginger strips)
salt and pepper to season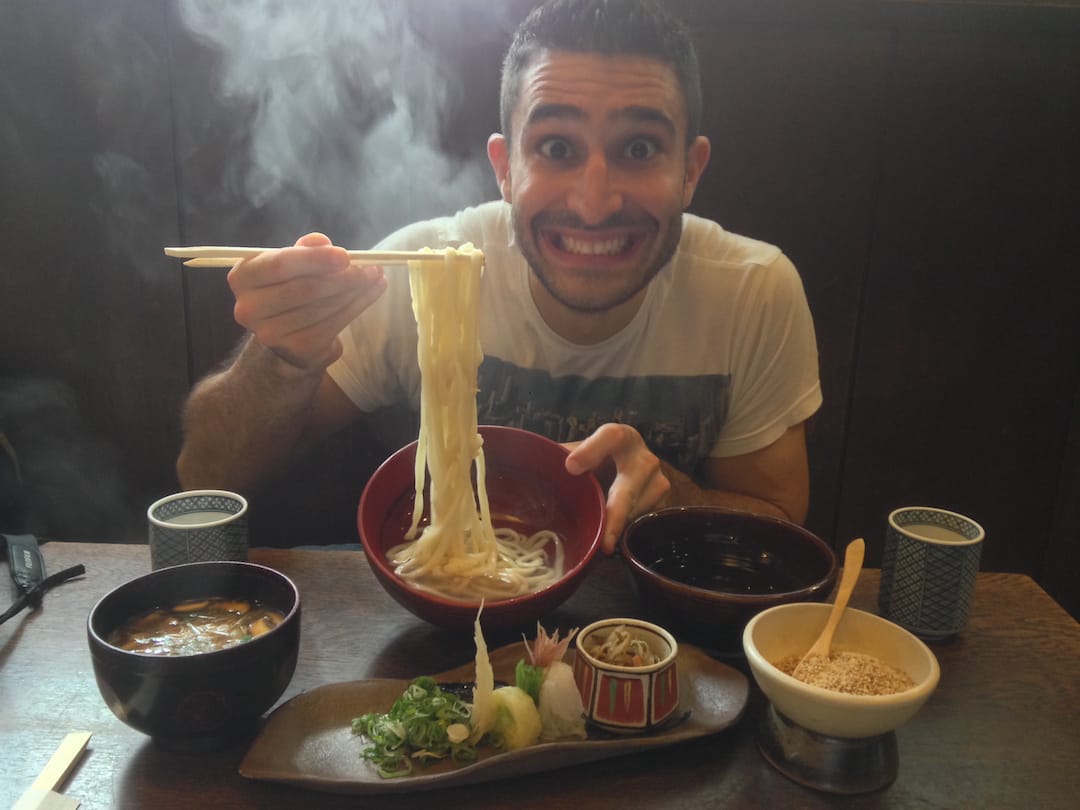 How to make Japanese yaki udon
1. If like us you don't like bad onion breath, then sautéed the onions first (pre heat oil in a pan, then add the chopped onions, lower heat to a simmer, cover and let them cook for around 10 minutes until they brown and become tender).
2. Add more oil if necessary and ideally in a wok or large frying pan and stir fry the meat until it is almost cooked.
3. Add the ginger and season with salt and pepper.
4. Add the chopped carrots, pepper, mushrooms, spring onions and fry for a couple of minutes.
5. Add the noodles and around x3 tablespoons of water, cook and cover for x2 minutes.
6. Mix in the Mentsuyu and soy sauce, then serve on a plate and sprinkle with the bonito flakes, spring onions and pickled ginger on top.
Yaki udon is a main dish by itself and goes down very well with a chilled or heated sake (alcoholic Japanese drink made from fermented rice).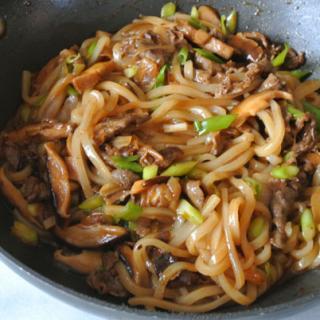 Japanese Yaki Udon
A simple and easy recipe to follow for the Japanese Yaki Udon. Add the Bonito flakes just before serving so that your guests can enjoy the show!
Ingredients
Yaki Udon stir fry
2 tbsp. sesame oil
2 cloves of chopped/crushed garlic
1 white onion chopped into small pieces
1 bell pepper (sliced into bite-size chunks)
1 carrot, peeled and sliced
3 cabbage leaves, washed and chopped
2 shiitake mushrooms chopped
9 ounces of chicken breast (thinly sliced)
12 ounces of Udon noodles (= 2 packets)
Yaki Udon toppings
5 tbsp. bonito flakes
2 tbsp. chopped spring onions
1 tbsp. pickled ginger
Sauce
2 tbsp. Mentsuyu sauce
1 tbsp. soya sauce
1 tbsp. of rice vinegar
Instructions
Preheat your wok or pan on medium heat.
Add the sesame oil.
Add in the chopped white onions, garlic and ginger then cook for around 3 minutes until the onions become tender and start to caramelize.
Add the chicken meat and stir from time to time until the meat is almost cooked (3 to 4 mins).
Add the chopped carrots, cabbage, pepper bell, mushrooms, and allow to cook for 3 minutes. Make sure you stir every minute or so to avoid burning the food.
Throw the udon noodles into the mix with 3 tablespoons of water.
Cover your pan and cook for 2 minutes.
Add in the Mentsuyu, soy sauce, and vinegar and mix well.
Add 1 tbsp of chopped spring onions and turn off the heat.
Serve your Yaki Udon on a plate and sprinkle with Bonito flakes with the pickled ginger on top.
Notes
We assume you bought vacuum packed Udon noodles which should already be cooked. If you have dried udon noodles, cook them as per the instructions on your packet and add them as indicated in our recipe.
If you wish, you may season with salt and pepper.
Hot or cold sake nicely complements Yaki Udon very well.
Nutrition Information:
Yield:

4
Serving Size:

1
Amount Per Serving:
Calories:

387
Total Fat:

10g
Saturated Fat:

2g
Trans Fat:

0g
Unsaturated Fat:

7g
Cholesterol:

56mg
Sodium:

214mg
Carbohydrates:

46g
Fiber:

5g
Sugar:

8g
Protein:

28g
---
Like this post? Pin it