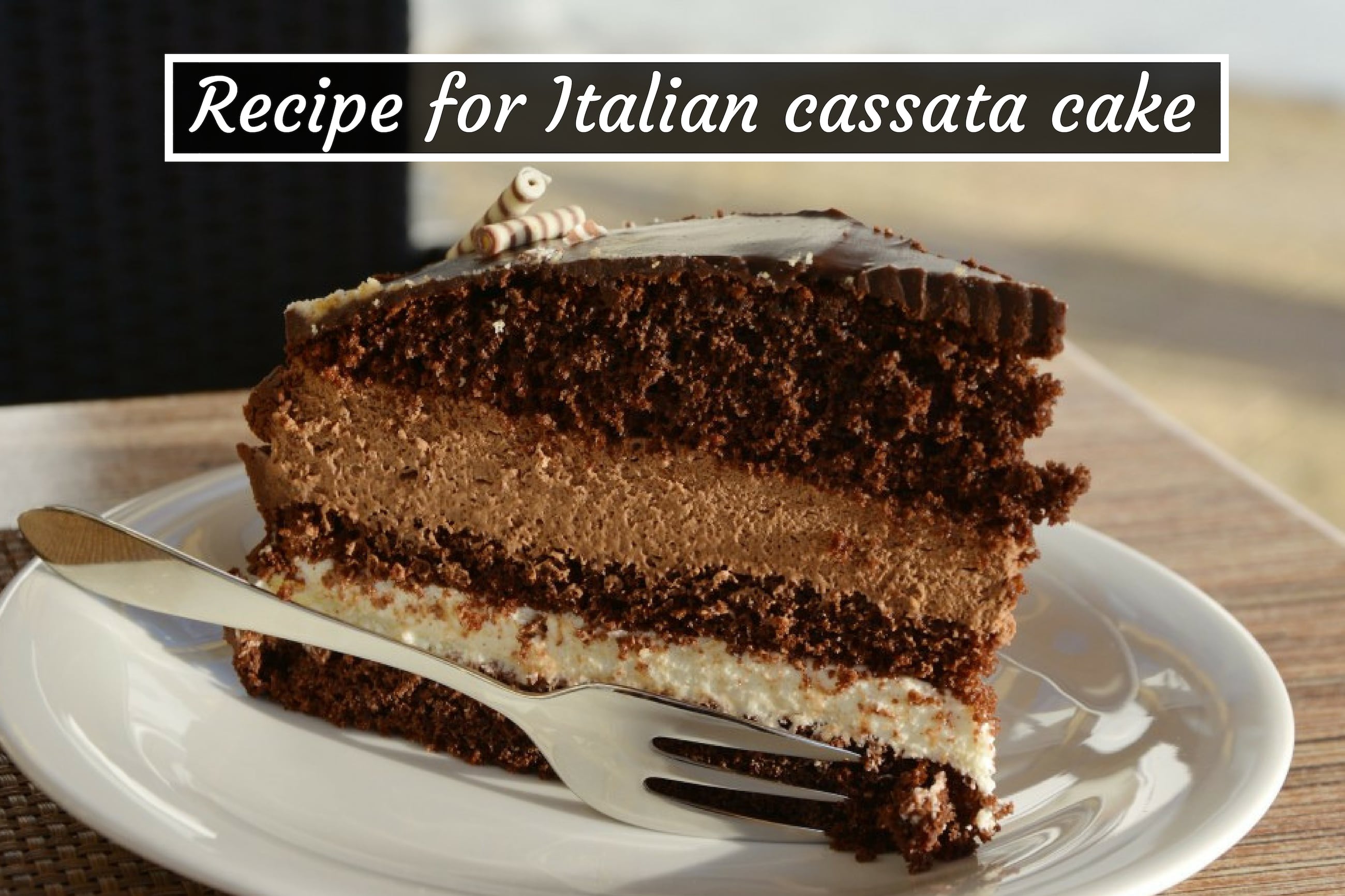 Cassata Siciliana is a delicious sponge cake, which originated from the island of Sicily in Italy. It is one of our favourite Italian desserts and so easy to make.
A cassata is a round sponge cake, which is moistened with fruit juices or liqueur, then layered with ricotta cheese and candied fruit. Like the Uruguayan chaja, a cassata is not too complicated to make and you can embellish this recipe with Jamie's rolled cassata or the BBC version.
Our recipe for Sicilian cassata serves around 15 people. Preparation time should take no more than 30 minutes and total baking time is 1 hour and 15 minutes.
Ingredients for Italian cassata cake
1 1/2 cups of cake flour
1/2 teaspoon baking powder
1/4 teaspoon salt
5 eggs
1/2 cup of cold water
1 1/4 cups of white sugar
1 teaspoon of vanilla extract
1/2 teaspoon of cream of tartar
2 pounds ricotta cheese
2 1/4 cups sugar
1/2 teaspoon ground cinnamon
1 1/2 teaspoons vanilla extract
2 squares semi-sweet chocolate
1/2 cup candied lemon peel
1/3 cup white sugar
1/4 cup water
2 tablespoons light rum
6 squares bittersweet chocolate, chopped
1/3 cup heavy whipping cream
3 tablespoons unsalted butter, cubed
How to make Italian cassata cake
STEP 1: the cake base
1. Preheat the oven to 165 degrees celsius then grease up two 9 inch round baking cake tins and line them with parchment paper.
2. Sift the cake flour, then mix in the baking powder and salt until it is all well combined.
3. Separate the egg whites from the yolk. For the egg yolks, use an electric mixer to whisk them for around 4 minutes until it thickens. Then slowly mix in half a cup of cold water, followed by the 1¼ cups of the white sugar, little by little. Beat the mixture well for around 5 minutes, then add 1 teaspoon of vanilla extract. Finally, fold in the flour mixture.
4. For the egg whites, add the tartar cream and whisk it together for around 10 minutes until it forms fluffy stiff peaks. Then gently fold this into the yolk mixture and mix it well. Now your batter is ready to bake into the oven.
5. Pour the batter evenly into the two prepared baking tins and bake for around 25 minutes. Use a toothpick to test if it's ready – if it comes out clean, it's fine. If it comes out with cake pieces stuck to it, then continue baking a little longer. You can also check the cake by pressing it lightly in the centre: if it springs back when touched, then you know it's ready. Once ready, leave the two baking trays on the wire racks until the cakes have completely cooled down.
STEP 2: prepare the filling, rum syrup and chocolate glaze
6. For the ricotta cheese filling, place the ricotta in a bowl with 2 1/4 cups sugar and ground cinnamon and beat it well until it is all well combined. Then add 1.5 teaspoons of vanilla extract and grate in the 2 squares of semi-sweet chocolate. Finally, add the candied lemon peel and mix it well. Chill the filling until it is ready to be used.
7. For rum syrup, mix 1/3 cup of sugar with 1/4 cup of cold water in a small saucepan. Boil it over a medium heat, then stir it until the sugar has dissolved. Then bring it to a boil on high heat for 2 minutes. Remove from heat and mix in the rum. Finally, let it cool at room temperature.
8. For the chocolate glaze, you need to mix together the 6 squares of the bittersweet chocolate and whipping cream, then melt it in the microwave, take out and whisk until it becomes smooth. Add the butter, then continue whisking the mixture until it all dissolves. Let it cool down until ready to use.
STEP 3: assemble the cake
9. Once the cake pieces have cooled down after being removed from the oven, cut each in half so you have 4 pieces. Place one quarter on a cake board and sprinkle it with a little bit of rum syrup to remove the dryness and moisten it. Then, place 1½ cups of the filling over the cake. Place the second layer of the cake on top and repeat until all layers have been used. Once completed, leave it in the fridge to cool for around 5 hours. When ready to serve, spread the chocolate glaze on top.
STEP 4: ENJOY!