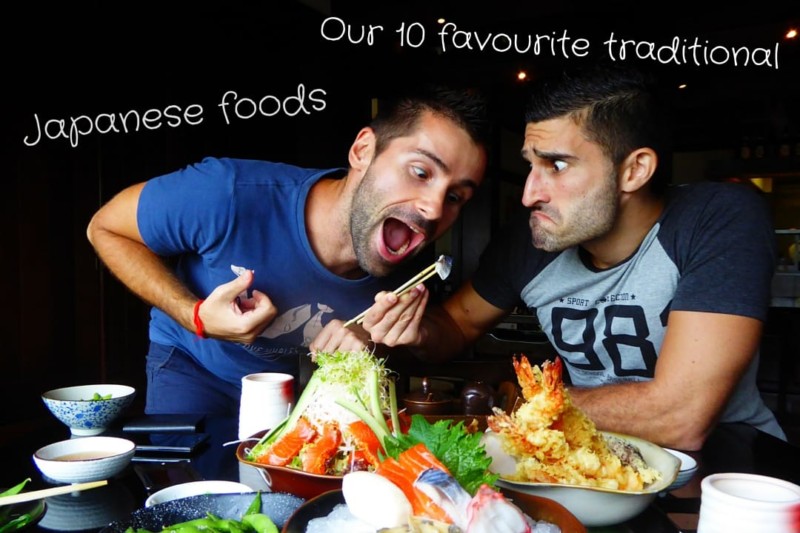 Japanese food is hands down one of the best in the world.
But don't just take our word for it: in December 2013, the Japanese cuisine (called Washoku), was added to UNESCO's list of intangible heritage list. Which other cuisines do you know are UNESCO listed?!!
We've been to Japan several times during our travels in Asia, and each time we fall more and more in love with its culinary prizes. So, get ready for some serious foodporn as we present you our 10 favourite traditional food of Japan.
Sushi and sashimi
When you first think of Japanese cuisine, sushi is probably the first thing that comes to mind.
Sushi is raw fish, sliced into small pieces and served on rice. When it's served without the rice it's called sashimi. It also raised eyebrows with sushi virgin Sebastien…
"RAW FISH? Are you CRAZY?!!"
Despite Sebastien's initial reaction, he quickly fell in love with it and now can't get enough of it.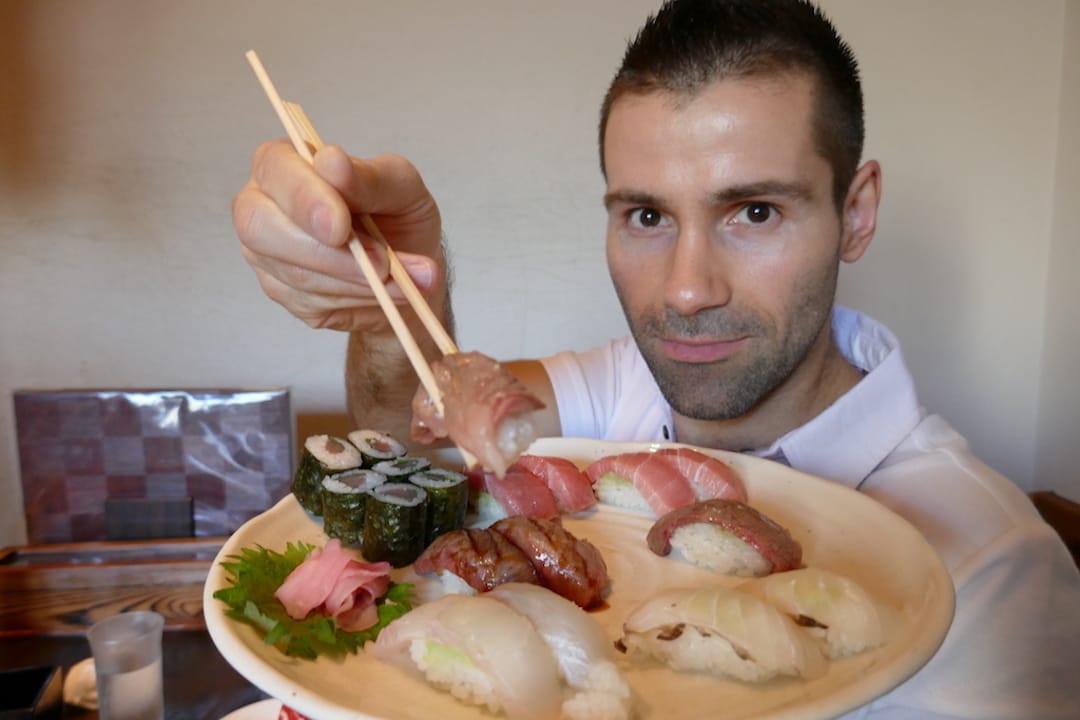 Are you also a sushi fan? If so, don't miss the annual International Sushi Day on 8 June, where lovers of this raw fish goodness around the world unite online and, er, eat sushi together! Read more about our sushi discoveries and surprises in Tokyo.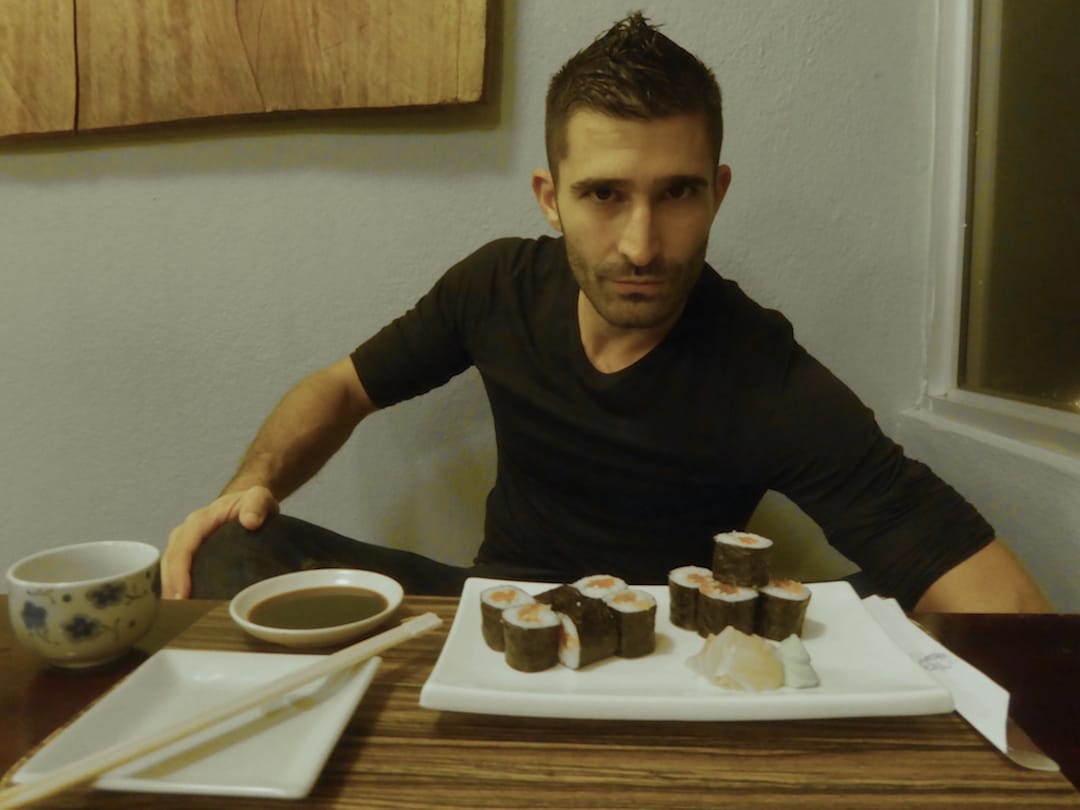 Ramen: the National dish
Ramen is wholesome, extremely tasty Japanese goodness! It is a meat or vegetable based broth served with noodles and topped with a boiled egg, ginger and/or vegetables, depending on the recipe. The longer the broth cooks, the tastier.
Our recipe for chicken ramen takes 3 hours to prepare the broth, but the more dedicated will take days, as shown in the Hollywood film "The Ramen Girl".
Hardcore ramen fans will want to check out the Ramen Museum in Yokohama where you get to try out different kinds of ramen and even buy ramen souvenirs to bring back home. Otherwise, ramen bars are everywhere, and a bowl of this freshly made heavenly goodness is less then $10. One bowl never really seems to be enough though…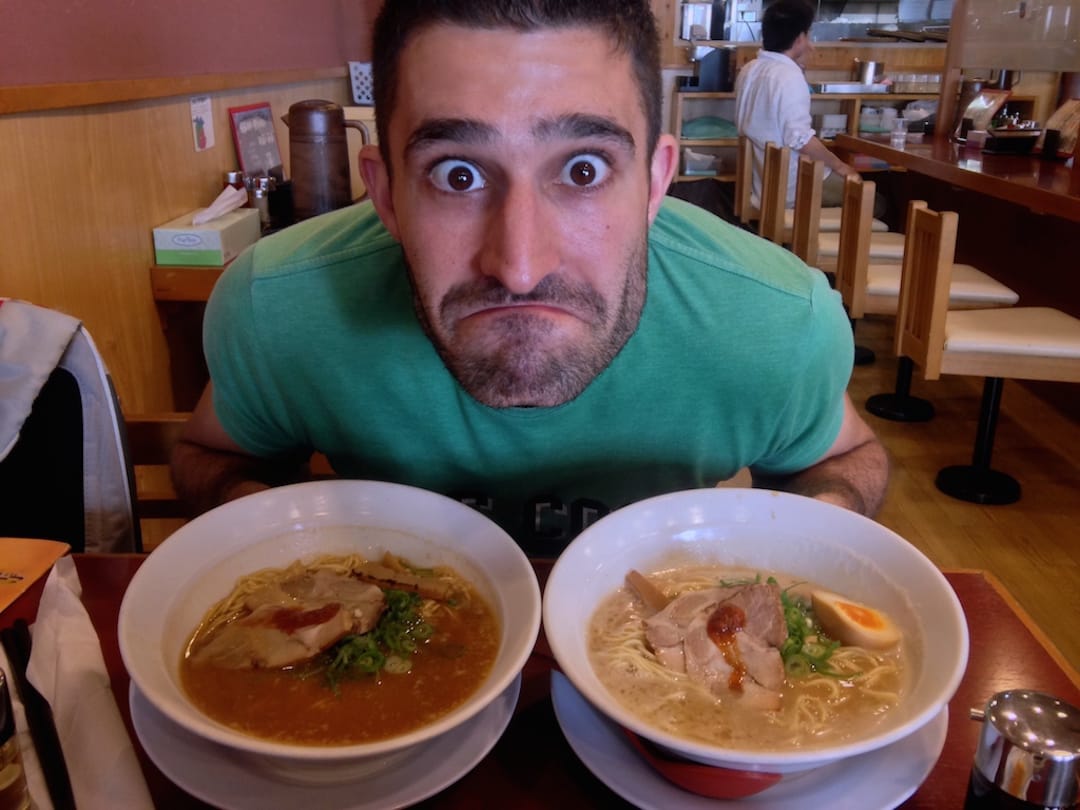 Tempura: Portuguese influence in Japan
Tempura is a popular Japanese snack or side dish to complement any meal. It is seafood or vegetables that have been battered and deep fried.
The idea of deep frying food in oil is thought to have originated from the Portuguese missionaries in Nagasaki in the mid 1500s. But the Japanese made it their own creating a unique batter without breadcrumbs and less grease then other frying methods.
The International Day celebrating Tempura is 7th January. You can follow the activities of fellow tempura geeks via the popular hashtag #nationaltempuraday.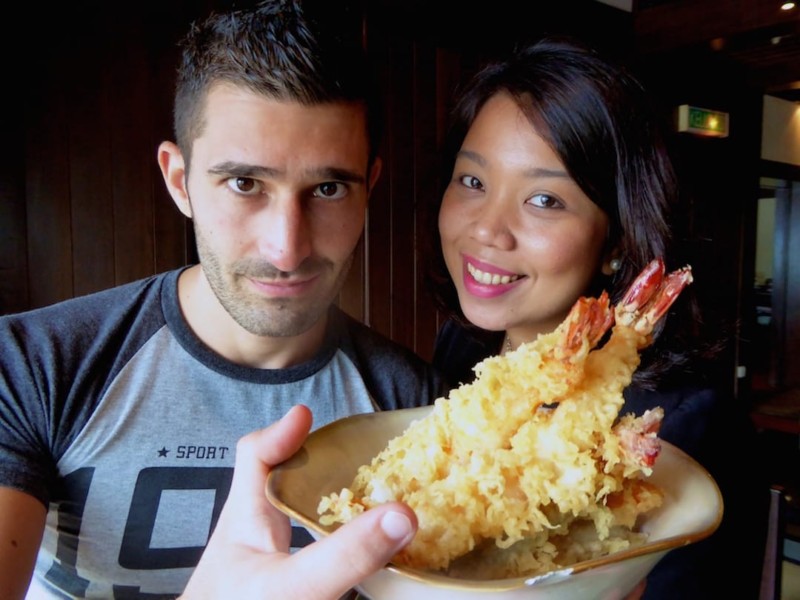 Gyoza: Japanese dumplings
Dumplings became a common theme throughout our travels in Asia whether it was Russian vareniki, Mongolian buuz, Nepalese momos or Cantonese dim sum.
Gyoza are Japanese dumplings. They are ear shaped, pan fried and wrapped in a thin dough. The filling usually consists of ground pork, chives, cabbage, ginger, lots of garlic, soy sauce and sesame oil. They are served with a dipping sauce made from soya sauce and rice vinegar.
They originated from the Chinese jiaozi but the Japanese gyoza is slightly smaller, has a stronger garlic flavour and the dough is thinner, making them more crispy.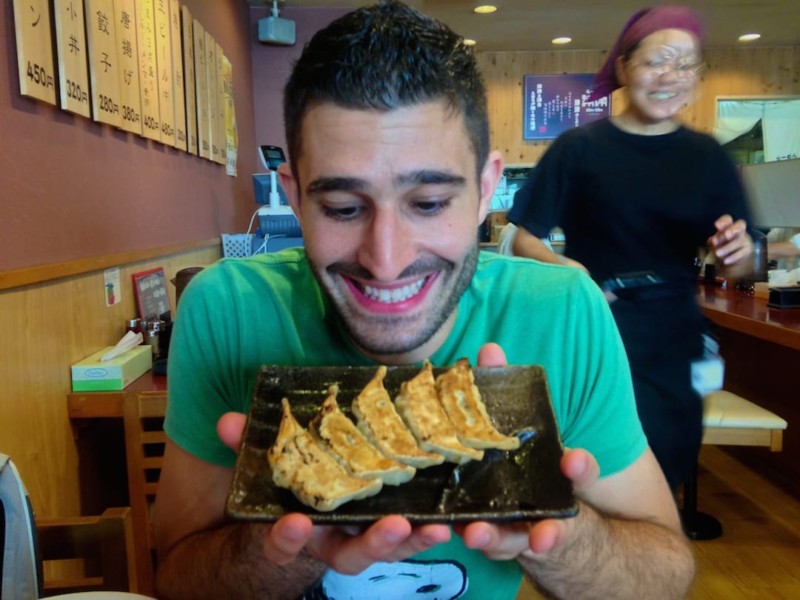 Okonomiyaki: the Japanese pizza
Okonomiyaki is a Japanese savoury pancake containing layers of ingredients, usually cabbage, pork and sometimes thick udon noodles. It is then topped with a sauce similar to Worcestershire, but thicker and sweeter along with Japanese mayonnaise. Okonomi means what you like and yaki means grilled.
As well as being delicious, okonomiyaki is a great way to stir up a bit of controversy with locals from Osaka and Hiroshima. Each claims it makes the better / more authentic okonomiyaki than the other.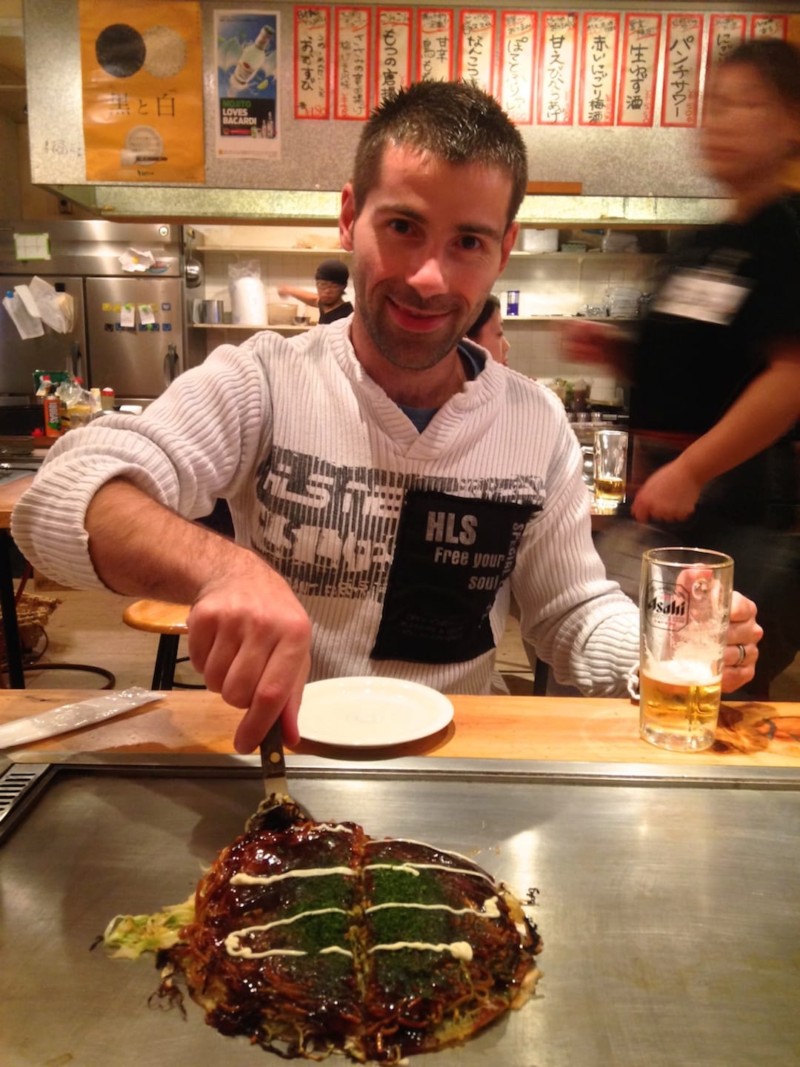 Wagyu: Japanese beef
Meat aficionados, you're gonna love this!
Wagyu is prime cut Japanese beef. It's famous for its melt-in-your-mouth flavour caused by the rich marbled texture. The meat fat has a very low melting point so it can literally melt in your mouth.
The most famous (and expensive) is kobe beef, but every province of Japan has its own unique wagyu specialty.
Wa means Japanese and gyu is cow. The wagyu cattle are a pure blood line and their upkeep, a closely guarded secret. But rumours include they are fed beer and massaged with sake!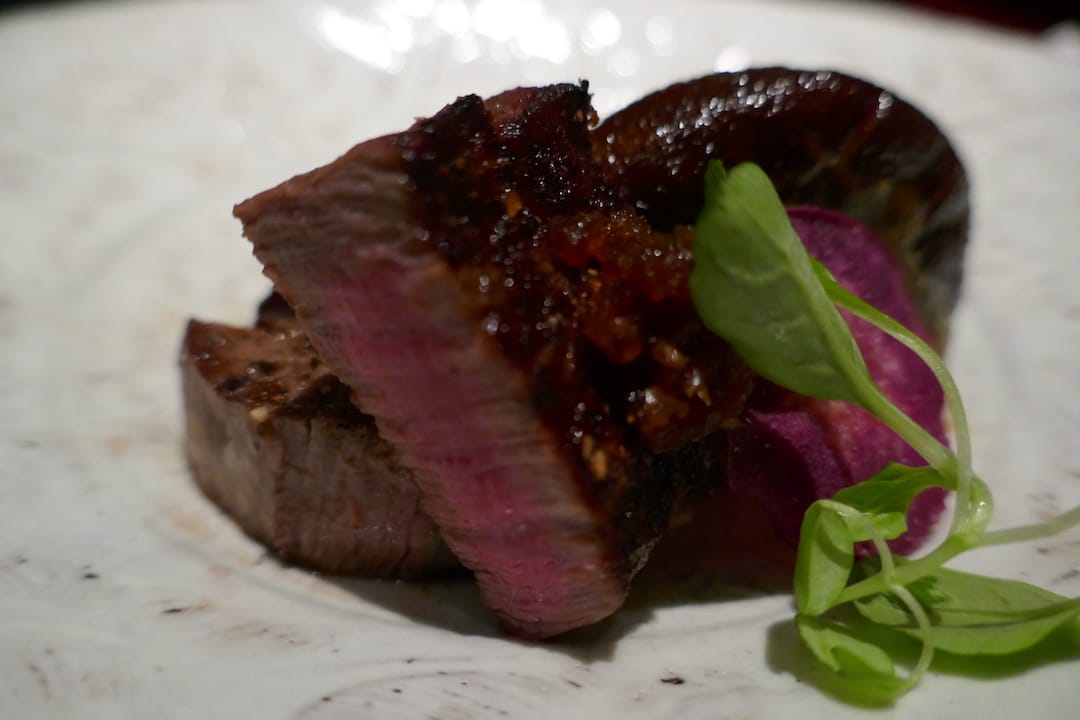 Yaki udon: our favourite noodle dish
Yaki udon is one of many delicious wok based foodgasms from Japan. It's like the Japanese version of the Pad Thai of Thailand.
Yaki means pan fried and udon describes the type of noodles used. The udon noodles are thick and chewy, made from wheat flour. Another type of dish is yaki soba using the thinner soba noodles made from buckwheat flour.
Our recipe for yaki udon is very simple. Once the ingredients are ready, it's simply a matter of throwing them in the wok in the right order (herbs, vegetables, noodles then the sauce/toppings).
Oh and when in Japan, feel free to slurp as loudly as you want when eating noodles – it's considered good manners and a sign you're enjoying your meal!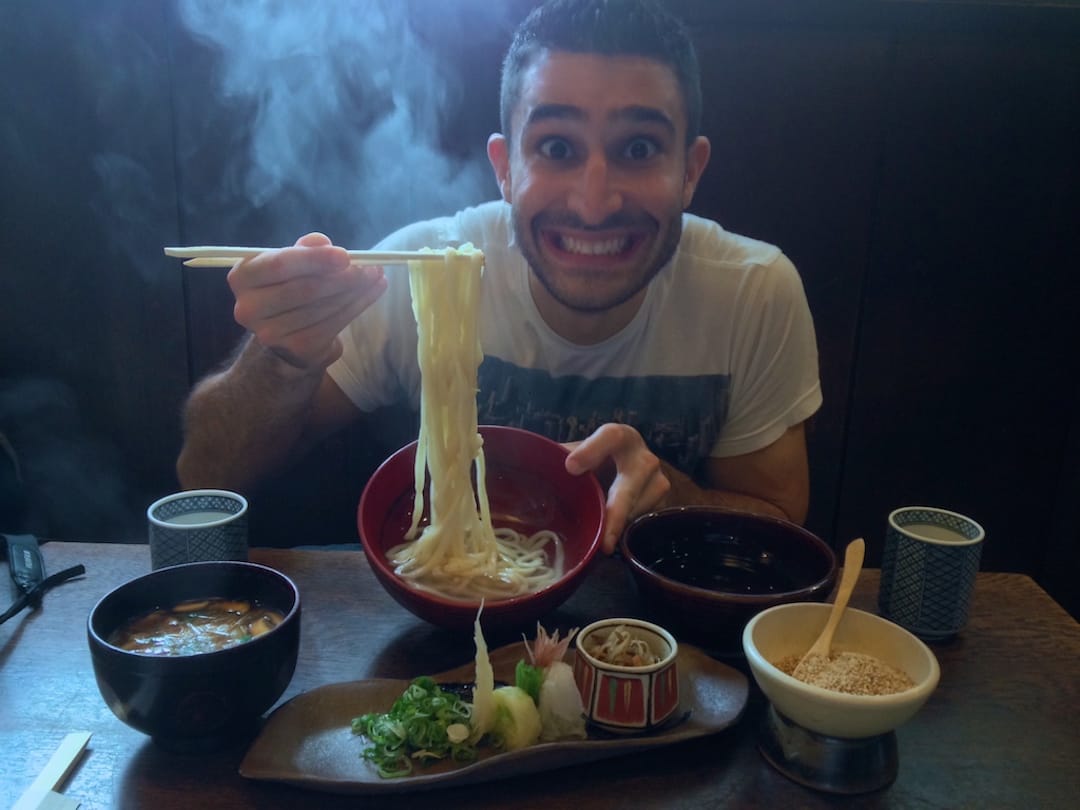 Mochi: delicious Japanese treats
Mochi is a paste made from pounding glutinous rice. And the Japanese do magical things with it.
Our favourite is the daifuku sweet treats. These are mochi prizes with a sweetened red bean paste filling: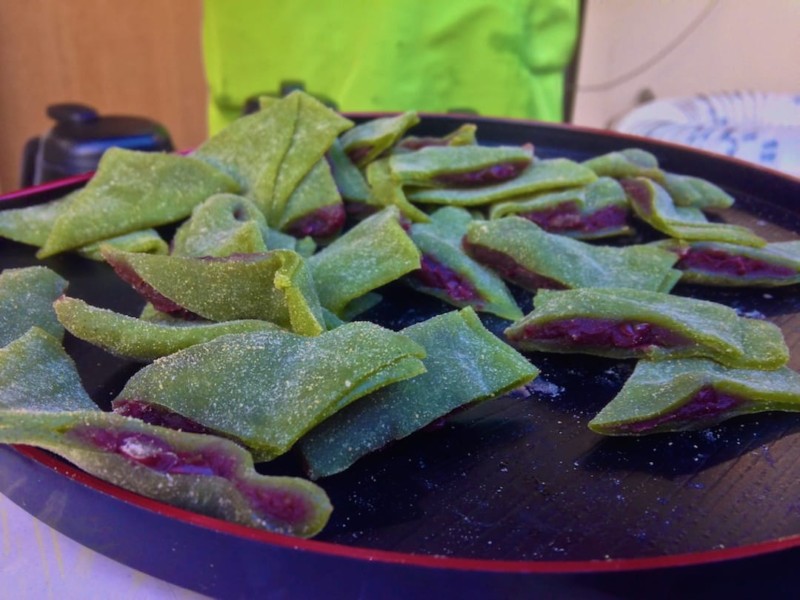 The Nishiki market in Kyoto is a paradise for mochi lovers with many shops selling a variety of daifuku treats. They spoke directly to Stefan's sweet tooth. Particularly the green tea flavoured ones: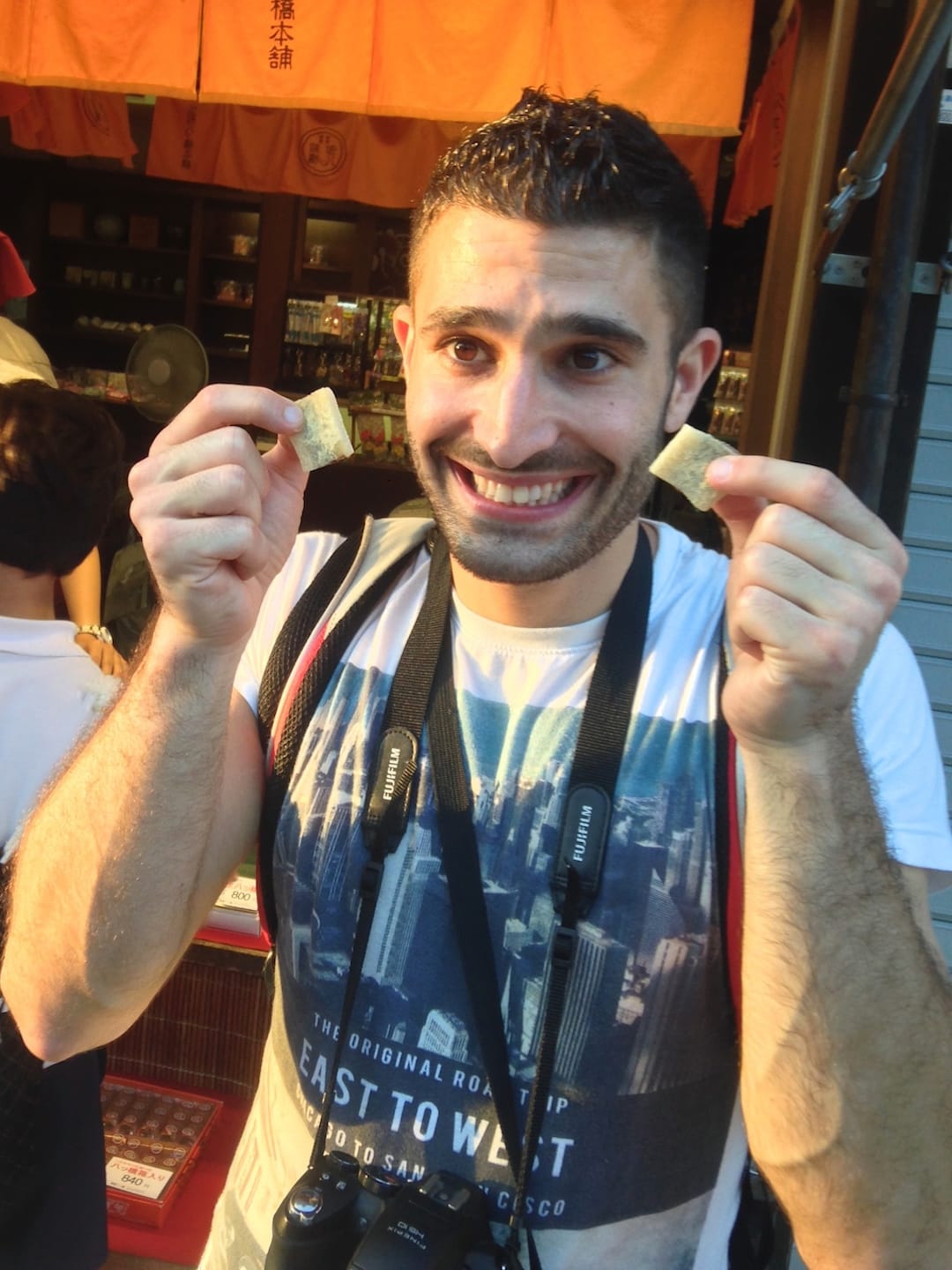 Matcha matcha matcha…
Matcha is finely ground green tea powder, used to make some delicious treats. It is the key ingredient for daifuku treats and also Japanese green tea cake.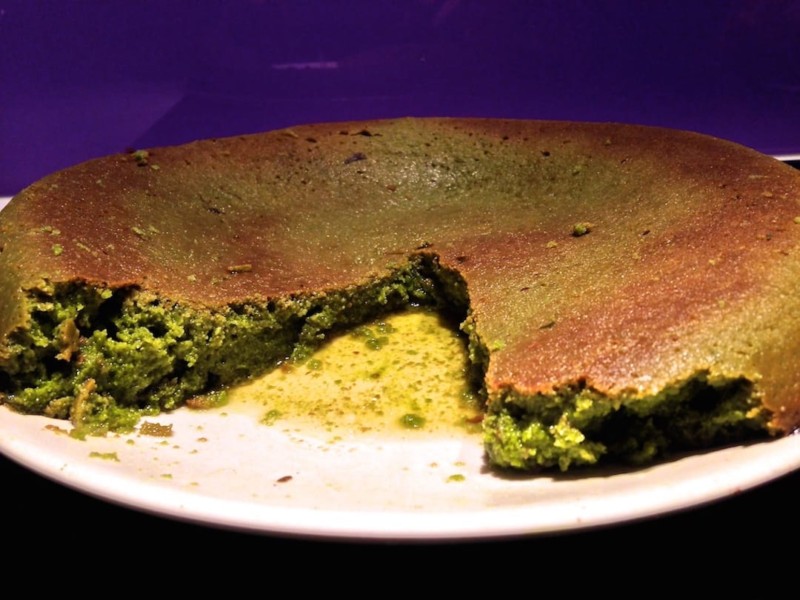 Anything flavoured with matcha is bound to be delicious, particularly matcha ice lollies, which are unbeatable.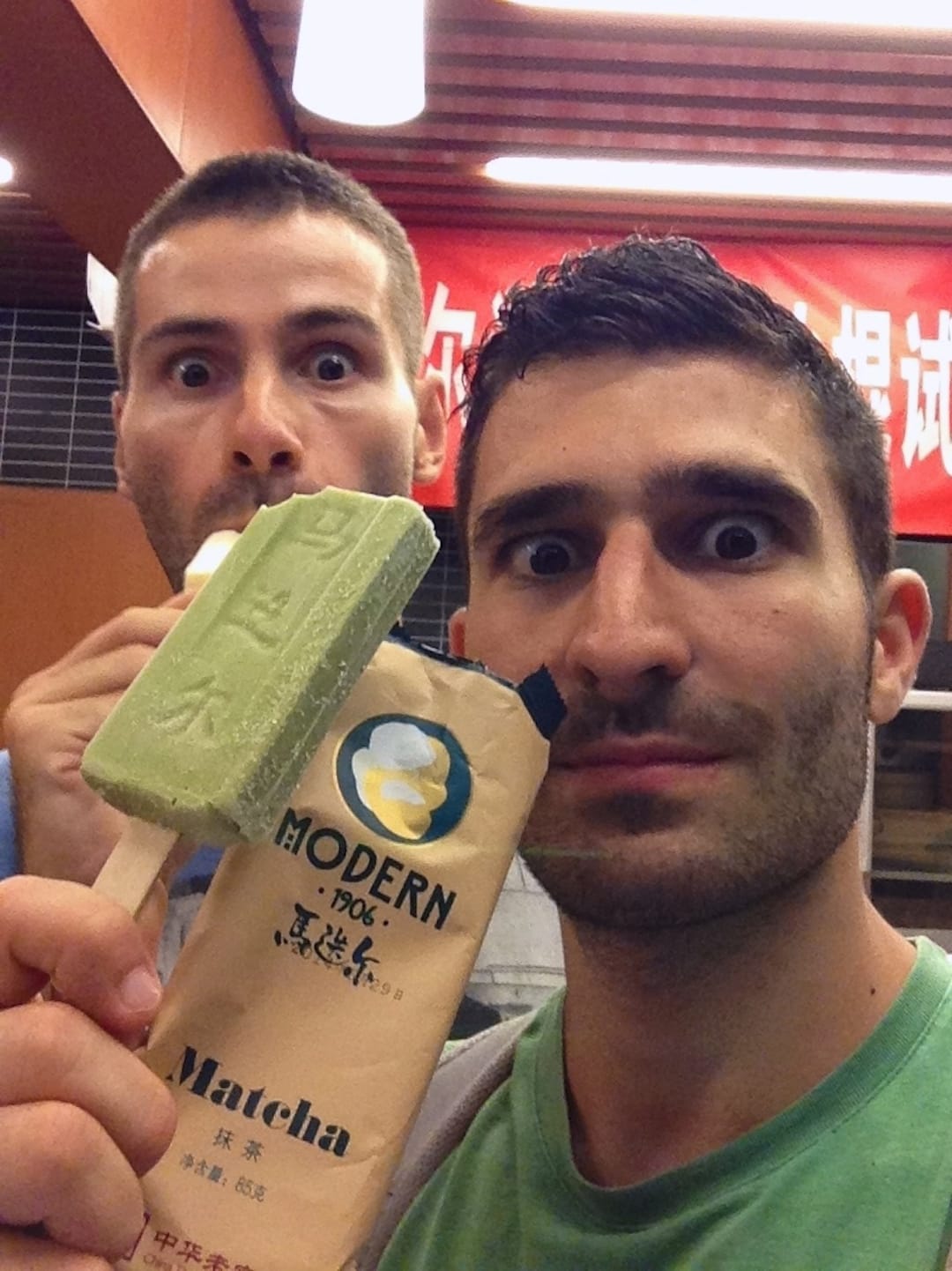 Sake: the National beverage
What better way to compliment all these Japanese dishes? If it's good enough for the prized wagyu cows to be massaged with, then it's good enough for us!
Sake is Japanese rice wine with a high alcohol content of around 15-20%. It can be served chilled or hot, in a small porcelain bottle (called a tokkuri) and sipped from a small porcelain cup called a sakazuki.
But be warned: if you reject an offer of sake, you are insulting the person by implying they are beneath you!
So drink up and kanpai! (cheers! in Japanese). Especially on World Sake Day every 1st October.
FOOD TOUR IN TOKYO
To find out more about Japanese food in Tokyo, a food tour is an excellent way of doing this.
We did a tour with Arigato Food Tours who we highly recommend. They will show you some of the best Izakayas (Japanese gastropubs) around Ginza, Yurakucho and Shinbashi. Tours cost $120 per person. They also offer a variety of cooking classes, which are definitely worth checking out.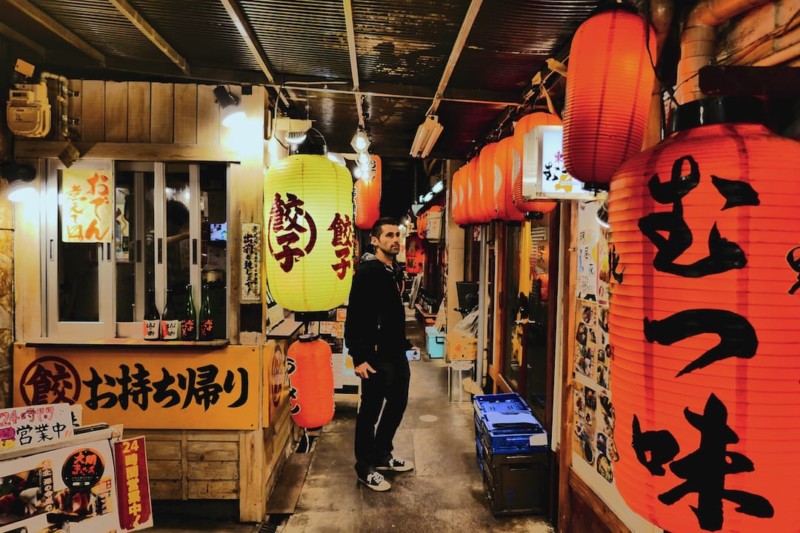 Travel recommendations to Japan
Train saving tips: Depending on how many trains you plan to take in Japan, it may be worth investing in a 7 days JR Pass ($250), which allows you unlimited travel throughout the country for 7 consecutive days. But you must buy it from an agent before you go.
We personally used Japan Rail Pass. They offered the best prices and would definitely recommend them.
Tour operator: We travelled independently to Japan but we're often asked if we can recommend a good tour company. We've partnered up with Out Asia travel who offer luxury private tours and tailored itineraries to Japan. These guys are locals, passionate travellers and have a real insight of Japanese culture. They are offering our readers an exclusive 5% discount for bookings of 7 days or more when you quote NOMADIC5 in your enquiry.
FILL OUT THIS FORM TO ENJOY A 5% DISCOUNT FOR YOUR HOLIDAY TO JAPAN
[wpforms id="37145″]
Travel insurance: Whether you go diving, hiking or just lay on the beach all day long, you need travel insurance. We use World Nomads because they offer considerable coverage especially for adventurous travellers. They also make it easy to make a claim as it's all done online.
Flights: To fly to Japan and within, we recommend Skyscanner. Their website is very easy to use and they always offer the best prices. You can even search for the cheapest flights for any given month.
Hotels: Japan has a huge diversity of accommodation options. It is not the cheapest country to travel in but we found that quality is consistent with the price you pay. When we plan a holiday, we use Tripadvisor to research about the best places to stay and activities to do. We also use Booking.com to find the best deals and to book accommodation online.
INSPIRED?