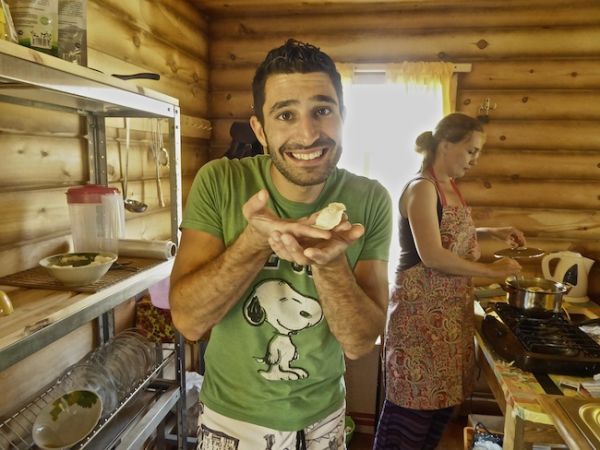 Vareniki are filled dumplings, usually either with a non meat base like potatoes or cabbage or a sweet base (like sour cherries or cottage cheese).
Vareniki are considered to be of Ukrainian origin but very popular throughout Russia. Pilmeni are their Russian meat variant. Both pilmeni and vareniki are made in the same way, except the filling for each varies.
This is a recipe for vareniki with a cabbage and egg filling. We learnt this recipe as part of a cooking course when we were in Olkhon island, part of our Trans Siberian adventure with fellow travel blogger, Claire McHale.
This recipe will make enough vareniki for around 4 people (but we found this was sufficient to fill up these two hungry boys).
Ingredients for the vareniki dough:
400g of flour (plus more for use later – so a 1kg packet should be enough)

200ml of water roughly

1 egg

1 tablespoon of oil
Ingredients for the vareniki filling:
oil for frying the ingredients

1 onion chopped into small pieces

1 clove of garlic chopped

half a heart of cabbage chopped

2 boiled eggs

1 teaspoon of salt
Preparing the vareniki dough:
1. Mix the flour, water, egg and salt with hands, kneading it well. This will take a good half hour.
2. Add more flour as is required to make the dough non sticky and keep kneading it well.
3. Add x1 tablespoon of oil to the centre of the dough and keep kneading it well.
4. The test for whether the dough is ready is that it should no longer stick to your hands or the bowl and if you press it with your finger it should spring back to normal.
5. Once finished place into a bowl and cover with a tea towel or cling film and leave it for 30 minutes.
Preparing the filling for the vareniki:
1. Sautéed the onions (fry the chopped onions in a pan for around 15 minutes until they are soft and change colour).
2. Boil x2 eggs so they are hard boiled.
3. Add the chopped cabbage to the onions and cook for around 10 minutes.
4. Add a little salt and cook for around 10 minutes
5. Add garlic and chopped boiled eggs and mix in and then cook for a few more minutes. Once finished remove pan from heat.
Filling the vareniki:
1. Retrieve the dough and add a table spoon of flour and knead it in.
2. Flour a large plate and also a work top to work on.
3. Cut a tangerine sized chunk from the dough roll it out into a large sausage shape and cut into small pieces the size of a large snail.
4. Flatten each small piece with your fingers around 5cm across and 7mm thick.
5. Roll out each piece into a circle using a rolling pin to about 10cm diameter, 3-4mm thick.
6. Add a teaspoon of filling into each disk:
7. Cross over each piece and pinch shut the edges well several times.
8. Place each vareniki into a plate of flour.
Boiling the vareniki:
1. Boil water in a kettle and add to a saucepan with some salt.
2. Reduce water to a simmer and slowly add the vareniki in batches.
3. Cook the vareniki on a medium heat (covered) until they float to the top.
4. Cook for a further 5 minutes stirring occasionally to avoid them sticking to the bottom of the pan.
5. Remove the vareniki with a clotted spoon and place into a deep serving bowl.
The vareniki can be served with butter or mayonnaise and go well with vodka shots.