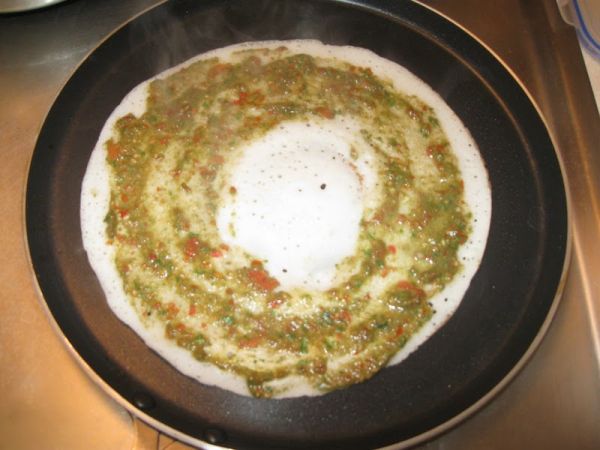 Dosa are south Indian rice/lentil based pancakes, made from a similar batter as idli (savoury cakes).
They are popular at breakfast time to soak up a tasty coconut chutney or sambar (lentils based vegetable stew).
As with idly, the ratio of rice to lentils (uril dal) is 3:1.
Ingredients for the dosa
600g of idli ponni rice (or a regular medium grained rice makes a good alternative)
200g of uril dal (buy from local Indian grocer, otherwise any lentils will do, but adjust cooking times to packet)
water for soaking and then to add to the mixture as necessary
salt
a ladle for scooping the mixture in the pan
ghee for spreading pan in between each dosa
How to make the dosa batter
Soak the ponni rice and uril dal for around 6 hours.
Retrieve the two separate mixtures, disregard the water from each and grind each one separately to form a paste.
Mix the two together and mix in around 250g of water, cover and leave at room temperature over night.
The following day, retrieve the mixture and mix in 2 teaspoons of salt and around 3 tablespoons of water to make the mixture more liquid.
How to cook the idlis
Heat a frying pan and reduce heat to a simmer.
Put a tablespoon of ghee into the hot frying pan and spread with a kitchen roll.
Using a ladle, take a scoop of the batter and place into the centre of the pan and gently with the ladle spread it outwards to almost fill the pan but so that the circle created doesn't break. Try to avoid this happening (!)
Drizzle a tablespoon of ghee around the dosa pancake for flavour and let it cook for a few minutes.
Carefully turn the dosa over for the other side to cook for a few minutes.
Remove when ready and repeat until all the batter is used up.