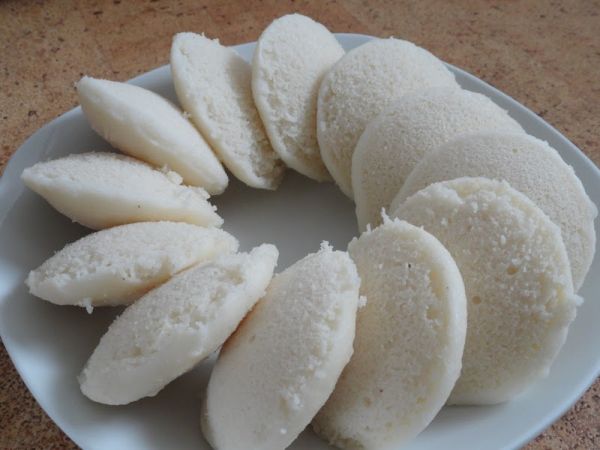 Sambar and coconut chutney are 'wet' curry like based foods popular for breakfast. They are commonly eaten with idli or dosa (fermented pancake) to soak them up.
This is the recipe we learnt for making idli, which is a small cylinder of pressed rice, almost like a savoury cake. The batter used to make the idli is the same as for dosa, so both can be made in one go.
This recipe involves using a particular steamer used for making idlies – see video below for more.
The ratio of rice to lentils (uril dal) is 3:1.
Ingredients for idli
600g of idli ponni rice (or a regular medium grained rice makes a good alternative)
200g of uril dal (buy from local Indian grocer, otherwise any lentils will do, but adjust cooking times to packet)
water for soaking and then to add to the mixture as necessary

salt

2 muffin baking like tray
coconut oil for greasing the baking tray
How to make south Indian idli batter
Soak the ponni rice and uril dal for around 6 hours.
Retrieve the two separate mixtures, disregard the water from each and grind each one separately to form a paste.
Mix the two together and mix in around 250g of water, cover and leave at room temperature over night.
The following day, retrieve the mixture and mix in 2 teaspoons of salt.
How to cook the idlis
Grease x2 muffin like baking trays with the coconut oil and with kitchen roll.
Place the batter in each baking tray space and place into the idli steamer, cover and cook for around 10 minutes. To test if it's ready, press a fork into the idli and if it comes out clean, they're cooked.