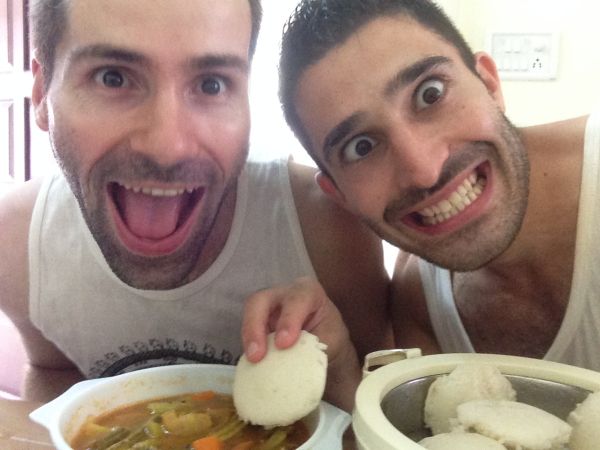 Sambar is a lentil based vegetable stew with tamarind popular in south India.
It is commonly served for breakfast usually with dosa (fermented pancake) or idli (savoury cake).
South Indian cuisine mainly uses coconut oil for cooking given the abundance of coconuts around the coast. In addition, samba powder is used, which should be available in a good local Indian supermarket.
This recipe was enough to fill up these two greedy boys but apparently it's good for 4 servings (ahem!)
Ingredients for sambar
250g of toor dal (otherwise yellow split lentils)
750ml of water (dal to water cooking ratio is 1:3) and water for boiling the vegetables
2 teaspoons of turmeric powder
2 tablespoons of fresh tamarind
1 chopped carrot
10 sliced green beans
1 chopped aubergine
10 sliced okras
1 chopped potato
2 chopped tomatoes
2-5 hot chillies (optional if you want it medium or very spicy)
1 tablespoon of mustard seeds
5 chopped onions
6 curry leaves
3 tablespoons of samba powder (a mix of various spices like coriander, green chilli, cumin and fenugreek)
coconut oil for cooking
salt
coriander leaves to garnish
How to cook sambar:
Sambar is usually made in three steps, first the lentils, then the vegetables and finally the spices. The quantity of vegetables used can be varied according to preference.
Step 1: prepare the dal
Put the dal and 900ml of water in a saucepan over medium heat. Bring it to a boil then reduce to a simmer and cook for around 25-30 minutes until the dal softens and looks like a thick soup.
While it's cooking mix in half a teaspoon of turmeric to the mixture and stir occasionally to avoid lentils sticking to the bottom of the pan.
While the lentils are cooking place the fresh tamarind into a bowl of water so that they are covered and squeeze the tamarind so that the fruit is released, leaving the stone naked. Leave to soak for around 5 minutes while the lentils cook.
Strain the tamarind water and disregard the stones and solids.
Mix in the tamarind water, 3 tablespoons of sambar powder and 1 teaspoon of salt to the simmering lentils and cook for a further 15 minutes. Add more water if needed to make the lentils mixture more like a thick soup consistency.
Once completed remove from the heat and keep aside.
Prepare the vegetables
Chop/slice the vegetables as set out in the ingredients list.
Place the carrots, green beans and potato in a pan and cover with enough water and cook on a high heat uncovered.
Bring the water to a boil, add 1 teaspoon of turmeric and 1 teaspoon of salt and cook for a further 5 minutes.
Mix in the chopped aubergines and cook for a further 5 minutes.
Stir in the okra and tomatoes and cook for a further 5 minutes, then remove from the heat and mix it into the dal mixture.
Spices for the sambar
In a separate pan heat 2 tablespoons of coconut oil over a medium flame and add the 5 chopped onions and cook them until they soften and brown.
Add the fresh chillies, 6 curry leaves and 1 teaspoon of mustard seeds; cook for around 30 seconds until the mustard seeds start to pop.
Once finished mix this into the lentils / vegetables mixture.
Add a few fresh coriander leaves to garnish and serve.