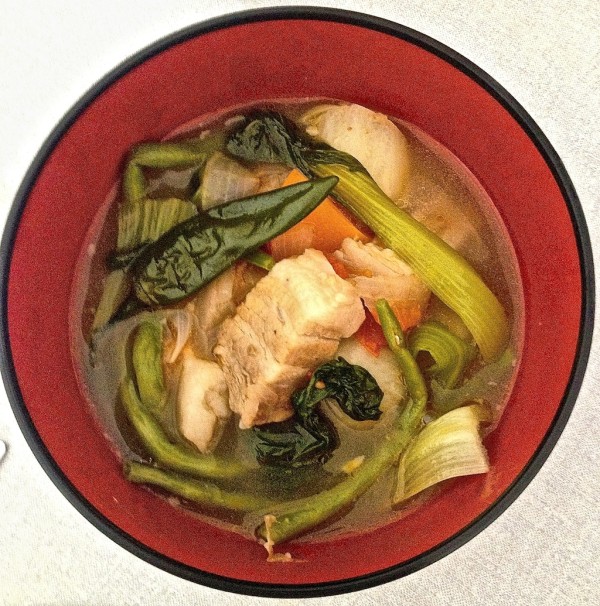 In Manila we tried and loved the yummy sour pork sinigang soup.
Sinigang ('stew') is a meat based stew or soup broth with lots of vegetables and flavoured with a variety of souring agents like tamarind ('sampalok').
We loved it so much that we kidnapped our lovely Filipina friend B.C.Lee to show us how to make it and she gave us this recipe.
"Hi Stefan and Sebastien. I am BC Lee and like you boys I love my food so much I keep a blog of my food discoveries called Wild Kitchen Rhythm.
This is my recipe for pork sinigang – a quintessential Filipino dish.
In some regions of the Philippines, people use alternative souring agents to tamarind like tomatoes, guavas, kalamansi (Filipino lime) or even kamias ('bilimbi fruit'). However, tamarind is the most common and my favourite.
My recipe is for pork sinigang, but chicken, beef and fish can also be used. The tamarind mix can be bought in packets, but it tastes so much better if you make it yourself.
This recipe is enough for 3-4 persons, or an average dinner for you two greedy boys.
Ingredients for Filipino pork sinigang
1kg of fatty pork meat like belly or ribs (cubed)
3 cloves of garlic, chopped
1 knob of ginger, sliced thinly
2 onions
4 tomatoes
1 white radish
1 bundle of bok choi or swamp cabbage (kangkong)
1 bundle of long beans
2 eggplants
1 carrot (not a traditional sinigang ingredient but it adds colour to the dish)
2 green chillies
2 taro roots (gabi)
300g of unripe tamarind fruits
1 litre of water
2 tablespoons of fish sauce
2 tablespoons vegetable oil
a pinch of salt to flavour
How to make Filipino pork sinigang
1. Heat 2 tablespoons of vegetable oil in a pan and on a low heat, uncovered cook the ginger, pork, onions, and garlic for a few minutes to render the fat (liquify the fat) out of the meat.
2. Add the tomatoes and cook for a further 5 minutes – until they become mushy.
3. Add enough water to cover the meat and on a high heat, uncovered, bring it to a boil.
4. Once boiling, reduce heat to a simmer, cover and cook for 15 minutes or until the pork is tender.
5. Whilst waiting for the pork to cook, prepare the tamarind juice. Start by washing the tamarind fruits thoroughly.
6. Boil the tamarind fruits for about half an hour in a pot with 1 litre of water or until the pods have softened.
7. Take out the fruits and place them in a separate bowl with a few scoops of the tamarind water.
8. Mash the fruits in this water.
9. Strain the liquid with a sieve into another bowl to ensure you don't get brown bits and seeds into the strained liquid.
10. You want a tart taste and a cloudy consistency. If the liquid is too thick, you can add a few tablespoons of water but be careful not to dilute it too much.
11. Add a teaspoon of salt to the mixture and set it aside for later.
12. Add the taros, carrots, radish and long beans, and cook for a further 10 minutes on a low heat, uncovered.
13. Mix in the eggplant, chillies and the bok choi or swamp cabbage and cook for a further 3 minutes.
14. Add 2 tablespoons of fish sauce, the tamarind mixture and a pinch of salt. Cook on a low heat, uncovered for 3 minutes.
Serve Filipino pork sinigang hot and with rice. A fish sauce is also sometimes served, which contains mashed chillies and kalamansi (Filipino limes).
Travel with us as we swam our way through Boracay and Palawan in our Philippines travel video.