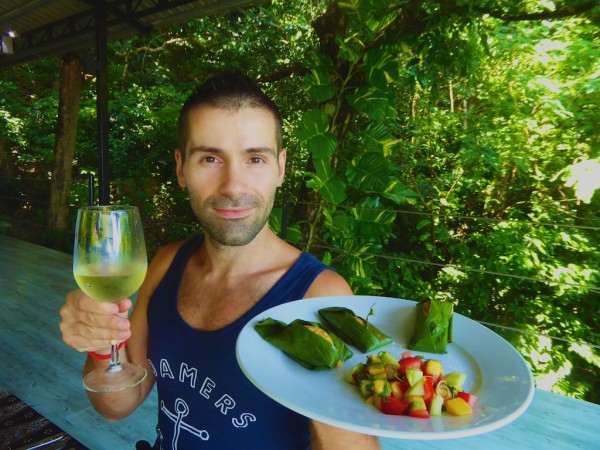 Otak otak are Malaysian fish cakes wrapped in banana leaves, which we saw being sold as snacks throughout hawker stalls in Malaysia:
Otak means 'brains' in Malay and the name of the dish derives from the idea that it resembles, er, brains (!)
We took a cooking class with celebrity Chef Annuar Hassan in Langkawi as part of our stay at Ambong Ambong.
Galangal is one of the key ingredients used, popular throughout Southeast Asian recipes. It is also known as blue ginger and is much larger than normal fresh ginger, with a stronger aroma.
Ingredients for the otak otak paste
2 large onions peeled
5 garlic cloves
1 stalk lemongrass sliced
thumb sized piece of fresh ginger
thumb sized piece of fresh galangal (if can find or use more ginger)
one inch of fresh turmeric (alternative is 1 teaspoon of dried turmeric)
200ml water
Remaining ingredients for Malaysian otak otak
3 tablespoons chilli paste to thicken
4 tablespoons vegetable oil
250g of white fish chopped finely like barracuda, sea bass, cod or even salmon
120ml coconut milk
90ml tamarind juice
1 pinch of salt
1 kaffir lime leaf sliced
2 Asian basil leaves (stronger than normal basil)
2 egg yolks
banana leaves for folding if using, or small oven cooking bowls
1 teaspoon of ground palm sugar (the sap from new branches of coconut leaves):
How to make Malaysian otak otak
1. Chop up the ingredients for the paste (onions, garlic, ginger, galangal, lemongrass and turmeric) and place in a food processor with 200ml water.
2. Heat up 4 tablespoons of veg oil in a pan.
3. Put the paste in the pan, mix in the 3 tablespoons of chilli paste and cook on medium heat, uncovered for around 20 minutes, or until the oil breaks: ie when the oil comes to the surface.
4. Take a bunch of fresh tamarind and squeeze the fruit in a bowl of water. Leave to stand for 10 minutes, strain and add 90ml of the juice into the pan.
5. Mix in 120ml of coconut milk, a pinch of salt and 1 teaspoon of ground palm sugar and keep cooking on a medium heat, uncovered for around 20 minutes, or until the mixture thickens and becomes a paste.
6. Mix into the mixture 1 sliced kafir leaf and 2 sliced Asian basil leaves.
7. Mix the fish with the 2 egg yolks in a separate plate and slowly add enough otak otak mixture to the fish, but not all of it: enough so it retains a solid consistency and doesn't become too liquid.
8a. Prepare banana leaves (if using) by places both sides on an open flame for a few seconds to toughen them. Then places a tablespoon of paste in each leaf, fold it up and then steam them for 10 minutes.
OR
8b. Places the paste into small cooking bowls and grill in the oven at 180 degrees Celsius for around 20 minutes. Don't cover the bowls because it's nice to have a burnt layer on top.
Serve the otak otak with an optional dipping salsa:
1. Use 1 chopped tomato (insides removed) and half a cucumber (insides and skin removed).
2. Add 1 chopped mango, 1 teaspoon of turmeric (or dried), 1 kaffir lime leaf, 1 basil leaf, a bunch of chopped coriander leaves, sliced lemongrass, 1 tablespoon of vinegar, 1 teaspoon of palm sugar and a pinch of salt.
For more about our adventures through Malaysia, please check out our Malaysia travel video: