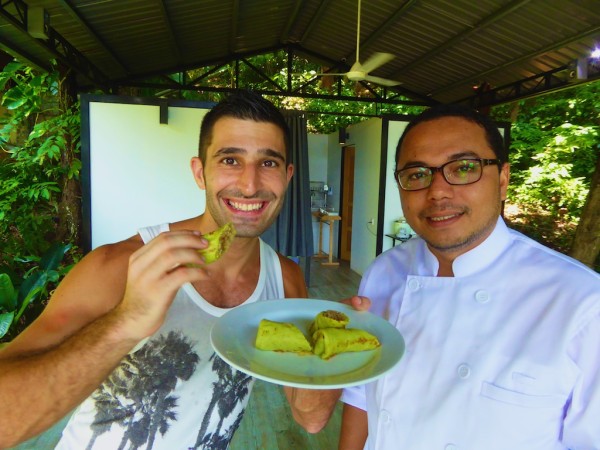 We love love LOVE pandan pancakes (kueh ketayap) and JUMPED at the chance to learn to make them with Malaysian celebrity Chef Annuar Hussan during our stay at Ambong Ambong on Langkawi island.
Pandan pancakes are made from pandan leaves with delicious and very naughty freshly grated coconut and palm sugar filling.
Palm sugar comes from the sap of the new branches of coconut leaves, sold in cylinder chunks. They are then chopped up ready for use in yummy prizes like pandan pancakes.
Pandan plants are common throughout Southeast Asia and their leaves are popular in a variety of recipes. Pandan leaves are like the Southeast Asian alternative to vanilla for us back in Europe.
Ingredients for Malaysian pandan pancakes
200ml of water
4 chunks of palm sugar
100g grated coconut
vegetable oil for cooking (use 1 tablespoon between each scoop of pancake batter)
1 ladle for scooping the pancake mixture into the pan
1 pandan leaf to be folded
4 extra pandan leaves sliced into 1 inch pieces:
Ingredients for the pandan pancakes paste
5 pandan leaves roughly chopped
50g of flour
2 eggs
150ml of coconut milk
pinch of salt
1 tablespoon of coconut oil (use canola or olive oil as an alternative)
90ml of water
How to make Malaysian pandan pancakes
1. Put 200ml of water in a pan on high heat, uncovered and add one pandan leaf folded up, 4 chunks of palm sugar, and the sliced up 4 pandan leaves. Stir until the sugar has melted in the water.
2. Mix in 100g grated coconut and cook on high heat, uncovered for around 10 minutes, or until the mixture has dried out, then remove from the heat and save for later.
3. In a food processor mix the 5 chopped pandan leaves, 50g of flour, 2 eggs, 150ml of coconut milk, pinch of salt and 1 tablespoon of coconut oil.
4. In a separate pan, heat up one tablespoon of vegetable oil and ladle in 1.5 scoops and let it cook on a low heat uncovered for a few minutes until it browns in colour. Only cook one side.
5. Once cooked, remove and place on a plate with kitchen roll and cover with another piece of kitchen roll and repeat steps 4-5 until all the pancake patter is used up.
6. Place 2 tablespoons of filling in each pancake, roll them up and get ready to go face down.
For more about our adventures through Malaysia, please check out our Malaysia travel video: