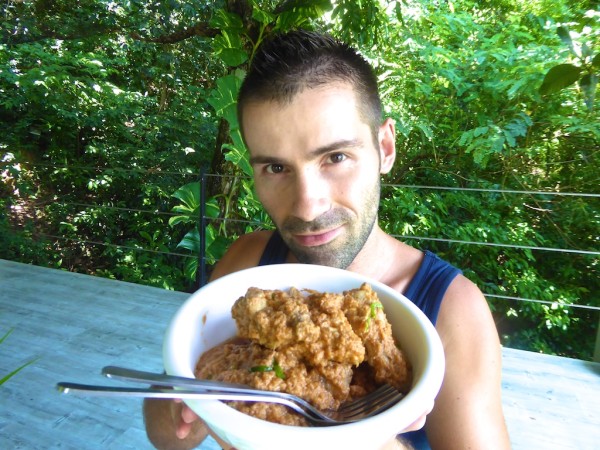 Chicken rendang is a very distinctive Malaysian curry with a strong lemongrass aroma and flavour.
Rendang literally means a dried curry in Malay and as the name suggests, a rendang is cooked until the liquid has dried and a layer of oil is visible on the top.
Chicken is quicker to cook than beef rendang, which can sometimes be cooked over night.
In Malaysia, traditionally all parts of the chicken are cooked, including bones and wings – to enhance the flavour. We however chose to stick to chicken breasts.
Ingredients for Malaysian chicken rendang
1.2kg of chicken breast cut into small chunks
3 large onions
4 garlic cloves
one piece of fresh ginger
one piece of fresh galangal (or use more ginger if can't find)
3 stalks of lemongrass – smashed, not sliced
4 tablespoons of chilli paste
250ml water
1 teaspoon fennel
1 teaspoon cumin seeds
5 tablespoons of vegetable oil for cooking
700ml coconut milk
90ml tamarind juice
40g of desiccated coconut
Pinch of salt
1 tablespoon of palm sugar
1 kaffir lime leaf – sliced
How to make Malaysian chicken rendang
1. In large pan (no oil!), on medium heat, add 1 teaspoon each of cumin and fennel seeds and toast, stirring all the time, for 1 minute.
2. Remove from heat and grind them in a pestle and mortar.
3. In a food processor mix the 4 garlic cloves, 3 onions, galangal and 250ml of water.
4. Heat up 5 tablespoons of vegetable oil in a pan and add the food processor mixture and cook on high heat uncovered and mix in 4 tablespoons of chilli paste.
5. Add the smashed lemongrass stalks to the pan and cook on high heat uncovered for around 15 minutes.
6. Mix in the chicken pieces and continue cooking for a further 5 minutes.
7. Take a bunch of fresh tamarind and squeeze the fruit in a bowl of water. Leave to stand for 10 minutes, strain and add 90ml of the juice into the pan.
8. Mix in 700ml of coconut milk and let it cook on high heat, uncovered, until it starts boiling. Then reduce to a simmer and cook for around 1.5 hour or until it reduces, becomes dry and the oil starts to show at the surface:
9. Around 30 minutes in, mix in 40g of desiccated coconut, a pinch of salt, 1 tablespoon of palm sugar and 1 sliced kaffir lime leaf, and continue cooking as set out in paragraph 8.
Serve with steamed rice and a glass of chilled white wine of course (!)
For more about our adventures through Malaysia, please check out our Malaysia travel video:
PLEASE PIN ME: