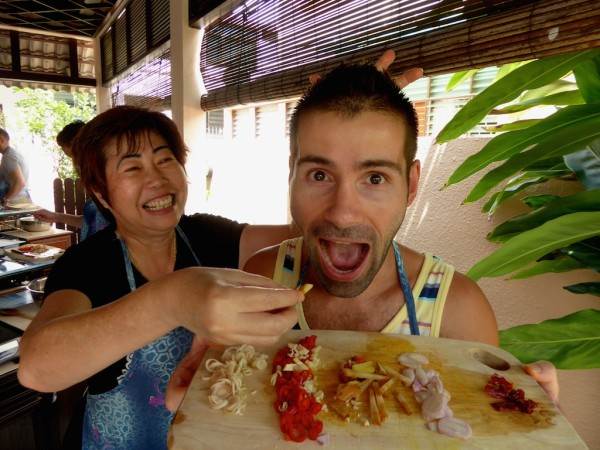 Curry Kapitan is a popular Malaysian chicken curry combining sourness from tamarind and lime, mixed with coconut milk. It's a richer and drier version of the standard chicken curry, like the Burmese chicken curry recipe we learnt in Mandalay.
Kapitan is also an example of peranakan nonya influenced food, which is Malaysian food with Chinese influence, popular across peninsular Malaysia. We did a cooking class with the amazing Pearly Kee in Penang, who specialises in nonya style cooking.
The exact origin of Curry Kapitan is a mystery but one fun story is from the colonial times, when one Chinese captain demanded a new type of dish to be made. One chef served up this chicken curry to the Captain and it was well received. When the Captain asked the chef what it was, the chef simply replied saying "ayam, Kapitan", ie "chicken, Captain". The Captain misunderstood and took this to be the name. So in future he demanded "ayam Kapitan".
This Malaysian curry Kapitan recipe is suitable for around 4 people.
Ingredients for Malaysian Curry Kapitan paste
3 lemon grass stalks: remove the head and any loose leaves
3 candle nuts (slit in half) – must be cooked before eating as they're toxic when raw
1 red chilli, deseeded and roughly chopped
2 dried chilli (for medium spice, use less for milder), deseeded and chopped
1 inch piece of fresh turmeric (or 2 teaspoons of dried turmeric powder)
1 inch piece of fresh galangal if can find otherwise use fresh ginger
2 cloves of garlic peeled and roughly chopped
Remaining ingredients for Malaysian Curry Kapitan
1kg of chicken pieces
water: enough to cover chicken for cooking
3 tablespoons of vegetable oil
2 onions chopped
90ml of coconut milk
1 lime
1 teaspoon of salt
1 tablespoon of sugar
How to make Malaysian Curry Kapitan
1. Place all the ingredients for the curry paste in a blender with enough water to cover and pulverise until it becomes a fine paste.
2. Put the paste in a pan and cook for a few minutes on a medium heat until it dries. Then lower the heat and add 3 tablespoons of vegetable oil and cook for a few minutes.
3. Add the chicken pieces with the flesh facing down and skin up and cook on medium heat for 2 minutes, stirring carefully.
4. Add enough water to cover the chicken and bring mixture to the boil, on high heat.
5. Once boiling, reduce to a simmer and part cover and let it cook for a further 10 minutes.
6. Mix in the chopped onions, 1 tablespoon of sugar, 1 teaspoon of salt, juice from 1 lime and 90g of coconut milk and cook on high heat, bringing mixture to a boil and cook for a further minute.
7. Remove from the heat and serve with rice.
For more about our adventures through Malaysia, please check out our Malaysia travel video:
PLEASE PIN ME: