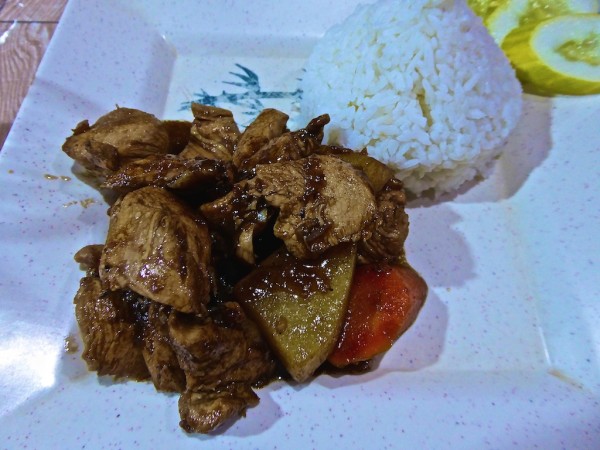 Chicken adobo is the distinct and popular national dish of the Philippines.
Adobo means "marinade" in Spanish and this dish is a yummy chicken marinade of soya sauce and vinegar cooked for hours.
Cooking with vinegar was traditionally used as a means to preserve the meat.
This is our simple recipe for Filipino chicken adobo cooked with our friend Ryan in El Nido and enough for 3-4 people.
Ingredients for Filipino chicken adobo
1.2kg of chicken (we personally prefer breast meat but others the wing, leg or mix)
4 bay leaves
80ml of soya sauce
125ml of vinegar
6 cloves of garlic, peeled and crushed
3cm of finely grated ginger
1 red chilli for a bit of kick (optional!)
500ml of water
3 tablespoons of vegetable oil
50g of brown sugar
1 tablespoon of crushed black pepper
1 large onion thinly sliced
Salt to flavour
How to make Filipino chicken adobo
In a deep bowl, mix the ginger, chillies, bay leaves, sugar, crushed pepper, chopped onions, vinegar, soy sauce, garlic, the chicken pieces and 500ml of water. Stir it well to combine and leave it aside to rest in the refrigerator for as long as you can. 3 hours is ideal, but if pushed for time, 30 minutes. The longer, the tastier it will be.
Transfer the chicken and marinade to a deep saucepan and bring to a boil, uncovered, high heat.
Reduce heat to medium, half cover the pan and cook for a further 25 minutes or until the chicken is tender.
Transfer the chicken to a separate bowl and continue to cook the sauce (medium heat, half) for a further 10 minutes or until it reduces by half and thickened slightly.
Return the chicken to the juice and stir it to combine on a medium heat, uncovered. Cook for a further 5 minutes to ensure the chicken is cooked through, then remove pan from the heat.
Serve the chicken adobo with rice.
Travel with us as we swam our way through Boracay and Palawan in our Philippines travel video.
PLEASE PIN ME: