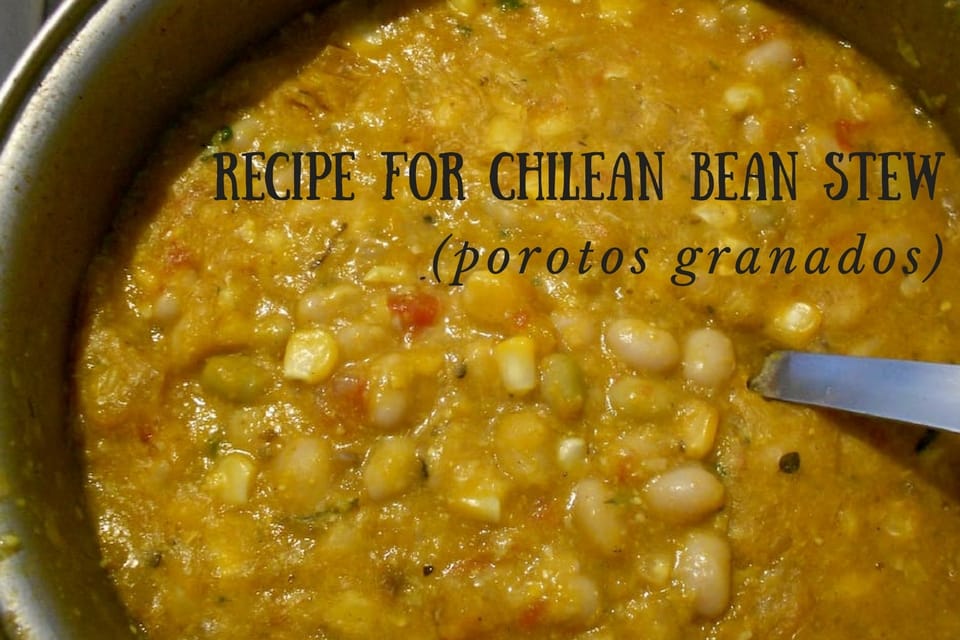 Porotos granados is a traditional Chilean countryside stew made from cranberry beans, maize kernals and squash. It's associated with the summer months because this is when the maize and summer squash are harvested in central and southern Chile.
Cranberry beans (also known as Roman beans) are similar to normal beans but slightly larger, popular in Latin America.
Porotos granados originates from the Mapuche indigenous people of Chile, who first cultivated bean. The word granados means pomegranates and word poroto comes from the Quechua word for bean: purutu.
This vegetarian recipe is courtesy of the Chilean Cooking School in Valparaiso and is for 6 people.
Ingredients for Chilean porotos granados
750ml of water
vegetable stock
3 tablespoons of cooking oil
1 onion, chopped
3 cloves garlic, minced
1 teaspoon of paprika
1 teaspoon of cumin
1 teaspoon of oregano
450g of pumpkin, diced
2kg of fresh cranberry beans (you can get them from your local whole foods store, or use normal beans)
3 cobs of fresh corn, remove the corn (or use canned corn)
6 basil leaves, chopped
Salt and pepper
How to make Chilean porotos granados
1. Heat the oil in a large pot, then add the chopped onions and cook on a low heat, for around 10 minutes until they soften.
2. Add the chopped garlic, 1 teaspoon of paprika, cumin and oregano and continue to cook on low heat for 2 minutes.
3. Mix in the vegetable stock, beans, pumpkin, corn, chopped basil, add 750ml of water, cover and cook on a medium heat/low heat for 45 minutes.
4. Season with salt and pepper according to preference and serve.
You can read more about our 10 favourite famous foods in Chile that you need to try.
IF YOU ENJOYED READING, PLEASE PIN ME: