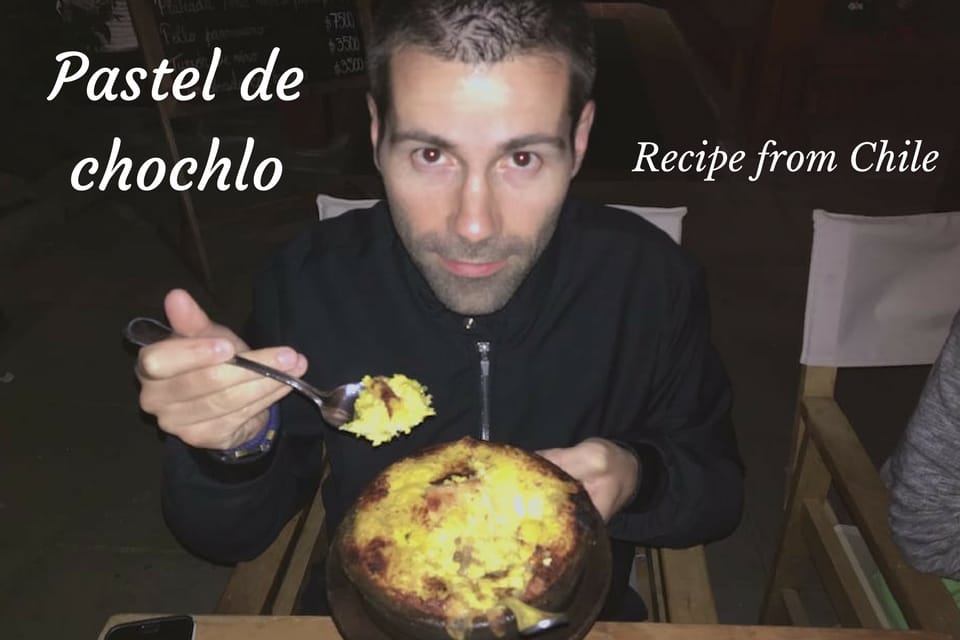 Pastel de choclo is one of the most famous Chilean dishes and considered comfort food. It's a beef and corn pie, with a corn crust, similar to a Shepherd's Pie.
Choclo is an Andean type of corn with large starchy kernels, but you can use any corn as an alternative.
Pastel de choclo is typically served in a clay bowl either as a main dish, or as a starter in a small individual portions. This recipe is courtesy of the Chilean Cooking School in Valparaiso and serves 6 people.
Ingredients for Chilean pastel de choclo
For the corn mixture
6 large fresh corns: remove corn kernels from the cob (use 200g of frozen corn as an alternative)
3 tablespoons of butter
15 fresh basil leaves, minced
475ml of milk
1 teaspoon of granulated sugar
1 teaspoon of salt
For the filling of the pie
500g of skinless, boneless chicken legs (ideally two of them)
1 onion, finely sliced
1 clove of garlic, peeled and chopped
olive oil
1 teaspoon cumin
2 teaspoons of paprika
400g of ground beef
1 teaspoon of flour
2 teaspoons of sugar
2 eggs, hardboiled and shelled
6 olives
24 raisins
salt to taste
How to make Chilean pastel de choclo
1. Pre heat the oven at 205 degrees celsius.
2. Peel the corn and remove the kernels if not using frozen corn, then grind the corn kernels in a food processor until the mixture is very fine.
3. In a large cooking pot, bring salt water to the boil then add the chicken legs and cook for approximately 20 minutes on high heat.
4. In a separate large cooking pot, heat up the butter. When melted, add the corn paste, chopped basil and 1 teaspoon of salt.
5. Slowly incorporate the 475ml of milk to the corn mixture, a little bit at a time, stirring constantly until it thickens, always on a low heat.
6. Add 3 tablespoons of sugar to the corn/milk mixture and continue to cook over a low heat for around 5 minutes. Then, set it aside.
7. Heat up 1 tablespoon of oil in a pan, then on a low heat add the chopped onions and garlic. Cook for around 10 minutes until onions are soft, then add 1 teaspoon of cumin, 2 teaspoons of paprika and the ground beef. Continue to cook on a low heat for around 10 minutes until the meat browns, stirring regularly. When finished, mix in 1 teaspoon of flour and 1 teaspoon of sugar.
8. Quarter the hardboiled eggs and cut the cooked chicken into six equal parts, ready for everything to be arranged into the clay bowls for baking.
9. Lightly grease a clay bowl, then spread one sixth of the beef filling at the bottom. Then place in the boiled egg quarters, chicken pieces, olives and raisins. Cover the filling with the corn paste and sprinkle sugar over the top.
9. Bake in oven at 205 °C for around 30 minutes, until the crust is golden brown.
You can read more about our 10 favourite famous foods in Chile that you need to try.
IF YOU ENJOYED READING, PLEASE PIN ME: