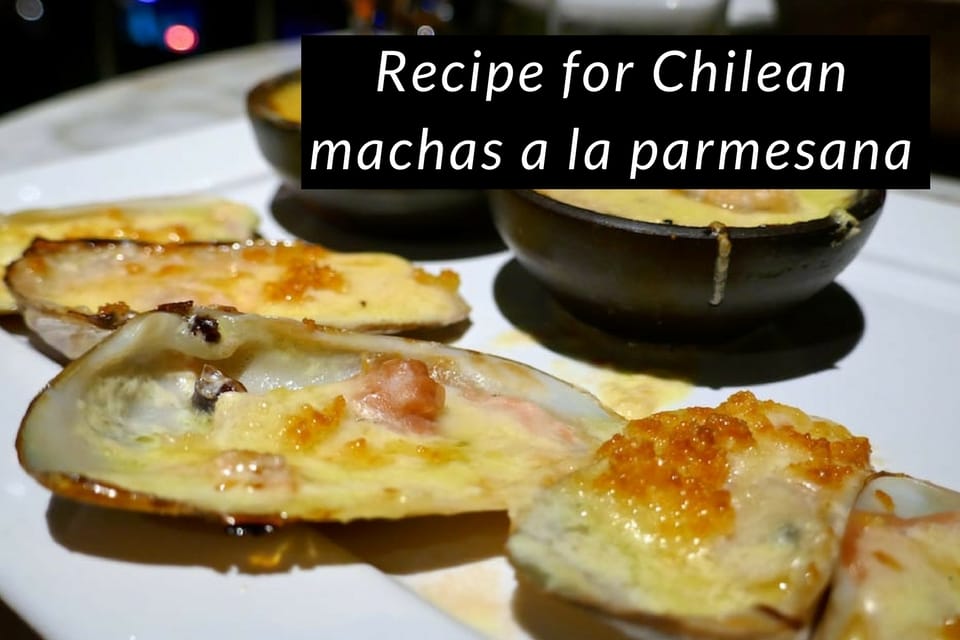 Machas a la parmesana is a classic starter dish in Chile. It is razor clams baked in their shell, mixed with cheese, wine and more, depending on the recipe.
It was created in the 1950s in Viña del Mar by Italian immigrant, Edoardo Melotti Ferrari.
Parmesan cheese is traditionally used, but it can be replaced with the famous Chilean mantecoso. This recipe is courtesy of the Chilean Cooking School who we did a class with in Valparaiso and highly recommend them.
This recipe is enough for 2 people.
Ingredients for Chilean machas a la parmesana
12 razor clams
12 teaspoons sizes of butter
12 teaspoons of white wine like Concha y Torro
12 teaspoons of fresh cream
12 small pieces of garlic
12 teaspoons of lemon juice
6 teaspoons of Parmesan cheese
salt & pepper to flavour
How to make Chilean machas a la parmesana
1. Pre heat the oven at 180 degrees celsius.
2. Open the shells with a knife and clean them in cold water, removing any black bits and sand, retaining the meat in each shell.
3. Put the shells in a baking pan, add butter, white wine, cream, garlic, lemon juice in each, then season with salt and pepper.
4. Generously sprinkle parmesan cheese on each.
5. Cook in the oven for around 5-7 minutes until the cheese has melted and the clams turn pink.
Machas a la parmesana are usually served alongside a plate of other gratin-like melted cheese based prizes:
You can read more about our 10 favourite famous foods in Chile that you need to try.
IF YOU ENJOYED READING, PLEASE PIN ME: